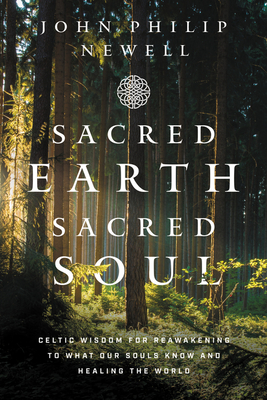 Sacred Earth, Sacred Soul
Celtic Wisdom for Reawakening to What Our Souls Know and Healing the World
Hardcover

* Individual store prices may vary.
Other Editions of This Title:
Digital Audiobook (7/5/2021)
Compact Disc (7/6/2021)
Compact Disc (7/6/2021)
MP3 CD (7/6/2021)
Description
A leading spiritual teacher reveals how Celtic spirituality—listening to the sacred around us and inside of us—can help us heal the earth, overcome our conflicts, and reconnect with ourselves.

John Philip Newell shares the long, hidden tradition of Celtic Christianity, explaining how this earth-based spirituality can help us rediscover the natural rhythms of life and deepen our spiritual connection with God, with each other, and with the earth. Newell introduces some of Celtic Christianity's leading practitioners, both saints and pioneers of faith, whose timeless wisdom is more necessary than ever, including:  
Pelagius, who shows us how to look beyond sin to affirm our sacredness as part of all God's creation, and courageously stand up for our principles in the face of oppression.
Brigid of Kildare, who illuminates the interrelationship of all things and reminds us of the power of the sacred feminine to overcome those seeking to control us.
John Muir, who encourages us to see the holiness and beauty of wilderness and what we must do to protect these gifts.
Teilhard de Chardin, who inspires us to see how science, faith, and our future tell one universal story that begins with sacredness.
By embracing the wisdom of Celtic Christianity, we can learn how to listen to the sacred and see the divine in all of creation and within each of us. Human beings are inherently spiritual creatures who intuitively see the sacred in nature and within one another, but our cultures—and at times even our faiths—have made us forget what each of us already know deep in our souls but have learned to suppress. Sacred Earth, Sacred Soul offers a new spiritual foundation for our lives, once centered on encouragement, guidance, and hope for creating a better world. 
Praise For Sacred Earth, Sacred Soul: Celtic Wisdom for Reawakening to What Our Souls Know and Healing the World…
"As this book makes clear, the Celtic spiritual tradition is a clear-flowing stream that can help us in the hot and thirsty moment. There are deep lessons to be learned from these remarkable women and men."
— Bill McKibben, author of Falter

"Newell offered me a new creation story for Christian faith, one that matched my deep sense of what it means to be made in the image of God and called to communion with all living things.  I commend his book to anyone who is ready to be born again."
— Barbara Brown Taylor, New York Times bestselling author of Holy Envy

"Many of us have been indebted to John Philip Newell's writings for years but, in this book, he reaches new depths in his vision of the earth and the human journey. We, including a new generation of readers, need this Celtic wisdom urgently." 
— Richard Rohr, New York Times bestselling author of The Universal Christ

"Newell invites us into the counterintuitive truth that much of the wisdom we need to navigate this moment has already been spoken in the past. I'm convinced that we've only begun to see just how far and wide his voice is going to be heard." 
— Rob Bell, New York Times bestselling author of Love Wins

"Not just a book about the wisdom of Celtic saints and seers of the past, this is the work of a contemporary Celtic prophet urging the world to awaken to the beauty and justice that is the heartbeat of all that is. Savor its words; live its wisdom." 
— Diana Butler Bass, author of Grounded and Grateful

"This wonderful book draws deeply from the well of Celtic wisdom across the centuries to help us to recognize the sacred both around us and in us, calling us to wake up and see that there's no going back to small, limited notions of God and the sacred."  
— Michael Curry, Presiding Bishop of the Episcopal Church, and author of Love is the Way

"This powerful, insightful, and refreshing book takes us back to where our tradition took some bad turns in the past and then sends us forward into the future with exactly the treasures we need. I love this book. I learned from it. I recommend it with highest enthusiasm!" 
— Brian D. McLaren, author of A New Kind of Christianity

"In this wonderful book, Newell dives deeply into the life-affirming wisdom of Celtic tradition to deliver a powerful message of hope to our frightened and disoriented world. With the help of venerable exemplars, he lays before us a path of reconnection: with our earth and with our own deepest humanity." 
— Cynthia Bourgeault, author of The Meaning of Mary Magdalene

"An inspiring, informative, timely, and beautifully written book—it will help not only Christian readers but readers at large who wish to re-evaluate our relationship with the earth."
— Satish Kumar, Editor Emeritus, Resurgence & Ecologist Magazine

"A roll call of great teachers, sources and subjects that awaken us to the sacred that we already know deep down and that might still save us, laid out with a clarity and beauty that leaves us inspired--this book is a gem." 
— Larry Rasmussen, Reinhold Niebuhr Professor Emeritus of Social Ethics, Union Theological Seminary
HarperOne, 9780063023499, 288pp.
Publication Date: July 6, 2021
About the Author
John Philip Newell is an internationally acclaimed spiritual teacher, speaker, and author of several books, including Listening for the Heartbeat of God, and A New Harmony. The former Warden of Iona Abbey in the Western Isles of Scotland, he is the founder of Earth and Soul (a Celtic Initiative of Study, Spiritual Practice, and Compassionate Action) and teaches regularly in California, New England, Virginia, Colorado, New Mexico, and Canada and leads international pilgrimages to Iona. He lives with his wife in Edinburgh, Scotland.