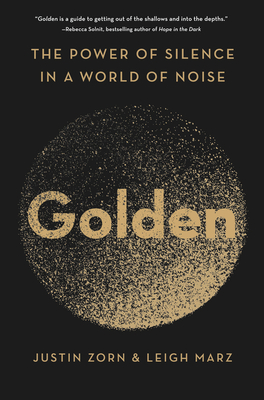 Golden
The Power of Silence in a World of Noise
Hardcover

* Individual store prices may vary.
Other Editions of This Title:
Digital Audiobook (5/16/2022)
Description
Silence isn't just the absence of noise. It's a presence that brings us energy, clarity, and deeper connection.
Justin Zorn and Leigh Marz take us on an unlikely journey—from the West Wing of the White House to San Quentin's death row; from Ivy League brain research laboratories to underground psychedelic circles; from the temperate rainforests of Olympic National Park to the main stage at a heavy metal festival—to explore the meaning of silence and the art of finding it in any situation.
Golden reveals how to go beyond the ordinary rules and tools of mindfulness. It's a field guide for navigating the noise of the modern world—not just the noise in our ears but also on our screens and in our heads. Drawing on lessons from neuroscience, business, spirituality, politics, and the arts, Marz and Zorn explore why auditory, informational, and internal silence is essential for physical health, mental clarity, ecological sustainability, and vibrant community.
With vital lessons for individuals, families, workplaces, and whole societies, Golden is an engaging and unexpected rethinking of the meaning of quiet. Marz and Zorn make the bold and convincing argument that we can repair our world by reclaiming the presence of silence in our lives.
Praise For Golden: The Power of Silence in a World of Noise…
"Golden is a guide to getting out of the shallows and into the depths. It's a synthesis of many disciplines to chart a path toward a deeper, livelier, more aware, and more peaceful way of being in the world."  — Rebecca Solnit, bestselling author of more than twenty books, including Hope in the Dark
"Marz and Zorn make a convincing link between humanity's modern obsession with the pursuit of dopamine and our addiction to noise. Through extensive research and engaging storytelling, they point the way to more clarity, expansiveness, and calm." — Judson Brewer, MD, PhD, New York Times bestselling author of Unwinding Anxiety
"Through the heartfelt stories of teachers like Jarvis Jay Masters, this book shows how to practice patience and compassion in times of fear and distraction. Golden explores why equanimity matters not just for our own resilience and joy but also for the social and ecological sustainability of this world that we love."  — Pema Chodrön, Buddhist teacher and bestselling author of When Things Fall Apart
"In a world where information overload has become the norm and indeed a badge of honor, Golden makes a radical claim: Unplugging and savoring silence is one of the best things we can do for ourselves and our world. Golden weaves a gorgeous thread from neuroscience to politics, from spirituality to business, showing us the way to peace and renewal. I'm grateful for this profound yet practical exploration of silence and how to find it."  — Arianna Huffington, New York Times bestselling author of Thrive
"Golden is an ode to the silence that can heal trauma and awaken creativity. In a plugged-in world of overwhelming noise and distractions, it's all too easy to dehumanize each other, losing our sense of connectedness to other people and nature. This book offers a much-needed antidote." — Rick Doblin, executive director at Multidisciplinary Association for Psychedelic Studies (MAPS)  
"Justin Zorn and Leigh Marz offer us a powerful vision and valuable roadmap for how to repair our society: find more silence. We can do this not only as individuals but also as families, organizations, and even whole nations."  — U.S. Representative Tim Ryan, member of Congress from Ohio and author of A Mindful Nation
"Golden is an essential journey filled with a galaxy of relevant teachers. Elaborate, yet simple. A first step in finding balance. At its heart, the practice of listening, honestly told."
— John Francis, PhD, author of Planetwalker and former UN Environment Program Goodwill Ambassador
Harper Wave, 9780063027602, 384pp.
Publication Date: May 17, 2022
About the Author
Justin Talbot Zorn has served as both a policymaker and a meditation teacher in the U.S. Congress. A Harvard- and Oxford-trained specialist in the economics and psychology of well-being, Justin has written for the Washington Post, The Atlantic, Harvard Business Review, Foreign Policy, and other publications. He is cofounder of Astrea Strategies, a consultancy that bridges contemplation and action, helping leaders and teams envision and communicate solutions to complex challenges. He lives in Santa Fe, New Mexico, with his wife and three children.
Leigh Marz is a collaboration consultant and leadership coach for major universities, corporations, and federal agencies as well as a longtime student of pioneering researchers and practitioners of the ritualized use of psychedelic medicines in the West. In her professional work, she has led diverse initiatives, including a training program to promote an experimental mindset among teams at NASA and a decade-long cross-sector collaboration to reduce toxic chemicals in products, in partnership with Green Science Policy Institute, Harvard University, IKEA, Google, and Kaiser Permanente. She is the cofounder of Astrea Strategies. Leigh lives in Berkeley, California, with her husband and daughter.