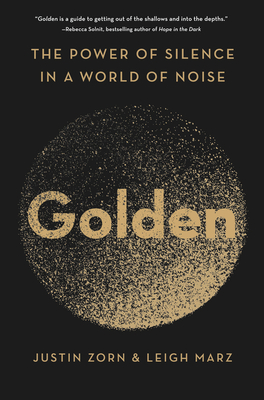 Golden
The Power of Silence in a World of Noise
Hardcover

* Individual store prices may vary.
Description
What if the most serious personal and global challenges won't be solved with more thinking or talking? 
Justin Zorn and Leigh Marz take us on an unlikely journey—from the West Wing of the White House to San Quentin's death row; from Ivy League brain research laboratories to underground psychedelic circles; from the temperate rainforests of Olympic National Park to the main stage at a heavy metal festival—to explore the meaning and importance of silence and the art of finding it in any situation. 
Golden is a field guide to getting beyond the noise—not just the noise in our ears, but also on our screens and in our heads. Drawing on lessons from neuroscience, business, spirituality, politics, and the arts, Marz and Zorn explore why auditory, informational, and internal silence is essential for physical health, mental clarity, ecological sustainability, and vibrant community. They show how to go beyond the ordinary rules and tools of mindfulness to help individuals, families, organizations, and whole societies dial down the noise and find pristine attention. 
In this engaging and unexpected rethinking of the meaning of quiet, Marz and Zorn make the bold and convincing argument that we can repair our world by reclaiming the presence of silence in our lives.
Praise For Golden: The Power of Silence in a World of Noise…
"Golden is a guide to getting out of the shallows and into the depths."
— Rebecca Solnit, bestselling author of more than twenty books, including Hope in the Dark, A Field Guide to Getting Lost, and Wanderlust

"Justin Zorn and Leigh Marz offer us a powerful vision and valuable roadmap for how to repair our society: Find more silence. We can do this not only as individuals but also as families, organizations, and even whole nations. Golden shows us how to find a kind of silence that's more than the absence of noise—it's a presence that offers us health, clarity, understanding, and happiness."
— Congressman Tim Ryan, U.S. Representative from Ohio and author of A Mindful Nation

"Justin Zorn and Leigh Marz make a convincing link between humanity's modern obsession with the pursuit of dopamine and our addiction to noise. Through extensive research and engaging storytelling, they point the way to more clarity, expansiveness, and calm."
— Judson Brewer, MD. PhD, and New York Times bestselling author of Unwinding Anxiety and The Craving Mind
Harper Wave, 9780063027602, 352pp.
Publication Date: May 17, 2022
About the Author
Justin Talbot Zorn has served as both a policymaker and a meditation teacher in the US Congress. A Harvard-and-Oxford-trained specialist in the economics and psychology of wellbeing, Justin has written for the Washington Post, the Atlantic, Harvard Business Review, Foreign Policy, and other publications. He is co-founder of Astrea Strategies, a consultancy that bridges deep visioning with impactful communications and action. He lives in Santa Fe, New Mexico, with his wife and three children.
Leigh Marz is a leadership coach and collaboration consultant who has led diverse initiatives, including a training program to promote an experimental mindset among multi-generational teams at the NASA Goddard Space Flight Center and a decade-long cross-sector collaboration to reduce toxic chemicals, in partnership with the Green Science Policy Institute, Harvard University, IKEA, Google Green Team, and Kaiser Permanente. She is the co-founder of Astrea Strategies. Leigh lives in Berkeley, California, with her husband and daughter.