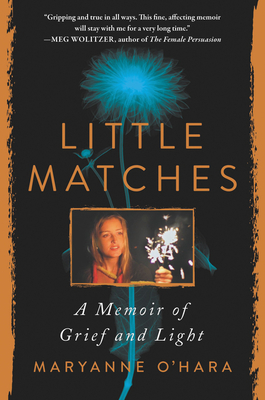 Little Matches
A Memoir of Grief and Light
Hardcover

* Individual store prices may vary.
Other Editions of This Title:
MP3 CD (4/20/2021)
Compact Disc (4/20/2021)
Description
In the vein of The Year of Magical Thinking and Beautiful Boy, an emotionally raw and inspiring memoir that illuminates a mother's grief over the loss of her adult child and considers the hope of soulful connections that transcend the boundary of life and death.

When their only child was diagnosed with cystic fibrosis (CF) at the age of two, Maryanne O'Hara and her husband were told that Caitlin could live a long life or be dead in a matter of months. Thirty-one years later, Caitlin lost her battle with this devastating disease following an excruciating two-year wait on the transplant list and a last-minute race to locate a pair of healthy lungs. 
The sudden spiral of events left Maryanne in an existential crisis, searching to find an answer to the eternal question: Why we are here? During her final years, Caitlin had become a source of wisdom and comfort for her mother—the partner with whom she shared a deep spiritual quest to understand what it meant to have a soul. After Caitlin's passing, Maryanne began to notice signs—poignant, persistent synchronicities that seemed to lean toward proof of Caitlin's enduring presence.
Weaving together a series of interconnected meditations with illuminating glimpses of life rendered via text messages, e-mails, and journal entries, Little Matches is a profound reflection on life and death, motherhood, the pain of chronic uncertainty, and finding inspiration in the unexpected sparks that light our way through the darkness.
Praise For Little Matches: A Memoir of Grief and Light…
"Little Matches is gripping and true in all ways, and I am so glad to have spent time in the company of Maryanne and Caitlin. This is a fine, affecting memoir that will stay with me for a very long time." 
— Meg Wolitzer, author of The Female Persuasion and The Interestings


"The bravest and most generous of memoirs, Little Matches is the diary of your dearest friend, intimate and universal, an exquisitely written poem of deepest love, grief, and devotion. This is a journey of the soul. I feel haunted by these pages and profoundly blessed to have read them." 
— Lisa Genova, author of Still Alice and Every Note Played

"A brave exploration into the power and depth of what it means to love and be loved, and the grief that is both the cost and measure of that love.  It is a book about hope, revealing the light that continues to connect us to all those we've loved." 
— Laura Lynne Jackson, NYT bestselling author of Signs and The Light Between Us

"To the stalwart scientists and physicians who go to battle in service of the seriously sick, who peer into microscopes and imagine the unseeable deep within to discover cures, I urge you to pick up your heads and look through the lens of Maryanne O'Hara's Little Matches to fully understand your power, to know what is at stake in your pursuits to transform hope to joy, tears to laughter, and to feel the weight of what happens if we fail."
— Patrick R. Connelly, PhD, Senior Vertex Fellow, Vertex Pharmaceuticals 

"Maryanne O'Hara has written an extraordinary book, beautiful, heartbreaking, and so full of life on every page that I was reminded that loving deeply is full of risk and the only way to live.  This is the most meaningful book I've read in a very long time."
— Jane Bernstein, author of The Face Tells the Secret and Rachel in the World

"Here is love in ink, and you will feel it: a book about life, including death.  O'Hara's great achievement is showing us that inside of human connection, everything has a home—despair, hope, fear, beauty, decay. It turns out that death poses no threat to love."
— B. J. Miller, author of A Beginner's Guide to the End

"This luminous, harrowing memoir is a tale of a mother's devotion and grief, yes, but when I closed Little Matches, tears standing still in my eyes, I was left with a sense that I had met not one but two remarkable spirits, my world enlarged." 
— Dani Shapiro, author of Inheritance and Hourglass
HarperOne, 9780063027763, 368pp.
Publication Date: April 20, 2021
About the Author
Maryanne O'Hara is the author of the novel Cascade. Little Matches is based on 9LivesNotes.com, a blog that Maryanne kept while her daughter, Caitlin, waited for a lung transplant. She lives in Boston, Massachusetts.