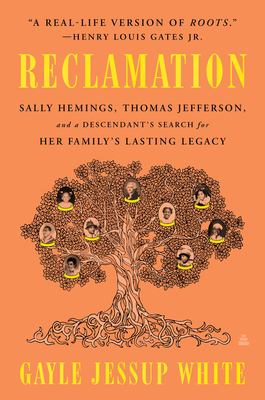 Reclamation
Sally Hemings, Thomas Jefferson, and a Descendant's Search for Her Family's Lasting Legacy
Paperback

* Individual store prices may vary.
Other Editions of This Title:
Digital Audiobook (11/15/2021)
Hardcover (11/16/2021)
Compact Disc (11/16/2021)
MP3 CD (11/16/2021)
Description
A Black descendant of Thomas Jefferson and Sally Hemings' family explores America's racial reckoning through the prism of her ancestors—both the enslaver and the enslaved.

Gayle Jessup White had long heard the stories passed down from her father's family, that they were direct descendants of Thomas Jefferson—lore she firmly believed, though others did not. For four decades the acclaimed journalist and genealogy enthusiast researched her connection to Thomas Jefferson, to confirm its truth once and for all. 
After she was named a Jefferson Studies Fellow, Jessup White discovered her family lore was correct. Poring through photos and documents and pursuing DNA evidence, she learned that not only was she a descendant of Jefferson on his father's side; she was also the great-great-great-granddaughter of Peter Hemings, Sally Hemings's brother.
In Reclamation she chronicles her remarkable journey to definitively understand her heritage and reclaim it, and offers a compelling portrait of what it means to be a black woman in America, to pursue the American dream, to reconcile the legacy of racism, and to ensure the nation lives up to the ideals advocated by her legendary ancestor.
Praise For Reclamation: Sally Hemings, Thomas Jefferson, and a Descendant's Search for Her Family's Lasting Legacy…
 "She's a totally charming and frank memoirist, and I loved her candid, sometimes difficult to read story,"--Rumaan Alam, author of Leave the World Behind on the Best December 2021 Books — Today Show
"In a real-life version of 'Roots,' Gayle Jessup White's compelling exploration of her family ties to Thomas Jefferson and Sally Hemings' family demonstrates that America's complex racial history is written in our DNA." — Henry Louis Gates, Jr.   
"Reclamation is a quintessential American story that should be required reading for anyone who doesn't understand the true contributions of African-Americans to this nation and how vital our presence was and remains to the core principles of democracy and freedom." — Bakari Sellers, New York Times best-selling author of My Vanishing Country  
"In her quest to discover the truth behind her family's oral legend of its connection to Thomas Jefferson, Gayle Jessup White reveals the truth of our national history: that 'white' and 'black' are inextricably bound by blood and heritage. In so doing, she 'reclaims' our common humanity and gives new meaning to 'one nation, indivisible.'" — Susan Fales-Hill, television producer and author of Always Wear Joy  
"Reclamation instantly reverberates with those of us who are desperate to rebuild our family trees, especially for Americans who lived during the colonial era. White proves that her transformative research and discovery is well worth the journey. Her epic family legacy, interwoven with one of the nation's founding fathers, is an emotional trip back in time. Indeed, it is a homecoming for us all." — Cheryl Wills, Emmy Award-winning journalist and author of The Emancipation of Grandpa Sandy Wills  
"From a girl of Black middle-class privilege to a politically charged race woman driven to unearth the truth of her ancestry, Gayle Jessup White takes us on a journey of self-discovery. White's memoir not only proves her ancestral connection to Thomas Jefferson but is a more graphic and sweeping look at how the politics of race and class play out at the highest and the lowest levels of American life."  — Audrey Edwards, author of American Runaway: Black and Free in Paris in the Trump Years 
"Thanks to Gayle Jessup White who sometimes feels 'battle scarred after another day spent fighting for equal recognition of Black History that for many is an afterthought.'    Reclamation is about all of us who may not be descended from a President but who are descended from the same racial /racist history. It behooves us all to know that history. Doing so, will help contribute to a better America and, yes, a better world for all who live in it." — Charlayne Hunter Gault  
"Armed with her newfound familial truth, the author . . . helps rewrite the estate's well-known narrative to include the hundreds of enslaved people who worked for Jefferson. . . [a] timely, relevant, and important book." — Booklist
"Jessup White tells a story that will be meaningful to many readers. Through her account, the author fleshes out many of the genealogical questions concerning Jefferson that have emerged in recent decades." — Kirkus Reviews
"19 Books We Can't Wait to Curl Up with This Fall!" — Essence
"One of November's Eagerly Anticipated Reads" — Ms. magazine
"A November 2021 Top Ten Pick" — Time
"Gayle Jessup White's multilayered autobiography . . . will be especially interesting to amateur genealogists. But it is also of great interest in general. [Her feats] required superhuman persistence." — BookPage
Amistad, 9780063028661, 288pp.
Publication Date: December 6, 2022
About the Author
Gayle Jessup White is the Public Relations & Community Engagement Officer at Monticello, Thomas Jefferson's legendary estate. A former award-winning television reporter and anchor, Jessup White started her career at the New York Times. She's written and spoken extensively about her work at Monticello. She is a direct Jefferson descendant, and is also related to two well-documented families enslaved at Monticello—the Hemingses and the Hubbards. She lives in Virginia.