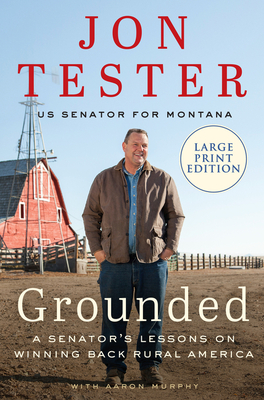 Grounded
A Senator's Lessons on Winning Back Rural America
Paperback

* Individual store prices may vary.
Other Editions of This Title:
Digital Audiobook (9/14/2020)
Hardcover (9/15/2020)
MP3 CD (9/15/2020)
Compact Disc (9/15/2020)
Description
An inspiring and eye-opening memoir showing how Democrats can reconnect with rural and red-state voters, from Montana's three-term democratic senator
Senator Jon Tester is a rare voice in Congress. He is the only United States senator who manages a full-time job outside of the Senate—as a farmer. But what has really come to distinguish Tester in the Senate is his commitment to accountability, his ability to stand up to Donald Trump, and his success in, time and again, winning red state voters back to the Democratic Party. 
In Grounded, Tester shares his early life, his rise in the Democratic party, his vision for helping rural America, and his strategies for reaching red state voters. Leaning deeply into lessons on the value of authenticity and hard work that he learned growing up on his family's 1,800-acre farm near the small town of Big Sandy, Montana—the same farm he continues to work today with his wife, Sharla—Tester has made his political career a testament to crossing the divides of class and geography. The media and Democrats too often discount rural people as Trump supporters; Tester knows better. His voice is vital to the public discourse as we seek to understand the issues that are important to rural and working-class America in not just the 2020 election but also for years to come. 
A heartfelt and inspiring memoir from a courageous voice, Grounded shows us that the biggest threat to our democracy isn't a president who has no moral compass. It's politicians who don't understand the value of accountability and hard work. Tester demonstrates that if American democracy is to survive, we must put our trust in the values that keep us grounded.
Praise For Grounded: A Senator's Lessons on Winning Back Rural America…
"Why do most Democrats keep faring so poorly in rural America? Mr. Tester, a farmer from Big Sandy, Mont. — and the only full-time farmer in the Senate — has a few ideas. He lays them out at length in Grounded, a memoir that doubles as a policy manifesto." — New York Times
"Candid and appealing. . . . Tester relates his unique personal story with plainspoken charm, and offers helpful advice for red-state Democrats. This political memoir stands apart from the pack." — Publishers Weekly
"Politics junkies, especially those following Western issues, will enjoy Tester's fluent storytelling." — Kirkus Reviews
"Jon Tester and I were raised in the same small town of Big Sandy, Montana.  He has an authentic and unique perspective of America that should never be ignored. This is a story about the truest way we can progress as a nation, and to hold our government accountable, without dismissing the beating heart and working soul of those who live in rural America. Nobody cares more than Jon." — Jeff Ament, Pearl Jam
"'Remember those who work with their hands' is one of Jon Tester's guiding principles. As the only farmer in the U.S. Senate, Tester has fought for a food system that's independent, sustainable, and free of corporate domination. The values that he embodies could not be more important today, more relevant—or more endangered by the greed of multinational corporations. In this book you will find a deep respect for the traditions of the American heartland and a guide for how this country can become more prosperous, more fair, and more compassionate in the future." — Eric Schlosser, author of Fast Food Nation
"Jon Tester is the essence of a true Montanan. He works hard, stands up to bullies, helps his neighbors, and does it all with such authentic empathy, Democrats and Republicans alike in a deeply red state continue to proudly call him their Senator. His story is one of bravery. Of tirelessly fighting for justice while learning to do better. He is, truly, a fine example of what makes America great." — Stephanie Land, New York Times bestselling author of Maid: Hard Work, Low Pay, and A Mother's Will to Survive
"Jon is a farmer, a teacher, and an advocate for causes that I believe in. He is open minded, open handed, fair. and authentic. He is a beacon for promoting good in the world." — Jeff Bridges 
"Jon Tester shares with the reader some refreshingly honest and straightforward lessons on life and leadership. In Grounded, this farmer-senator reminds us why authenticity, bipartisanship, and honest leadership still play an important role in our government. This is a powerful contribution to us all at a defining time in our country and the world." — Former U.S. Defense Secretary Chuck Hagel, R-Nebraska, and author of America: Our Next Chapter
HarperLuxe, 9780063029194, 656pp.
Publication Date: October 6, 2020
About the Author
Jon?Tester is a third-generation farmer and a US senator representing Montana. He and his wife Sharla operate the same farm near Big Sandy, Montana, homesteaded by Tester's maternal grand­parents more than a century ago. Elected to the US Senate in 2006, Tester serves on the Appropriations, Commerce, Indian Affairs, and Banking committees. He is also the ranking member of the Veterans' Affairs Committee.