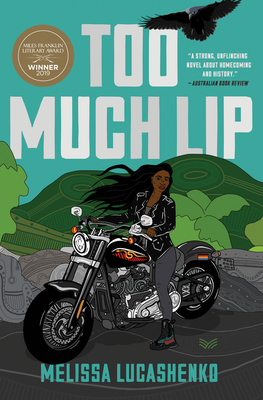 Too Much Lip
A Novel
Hardcover

* Individual store prices may vary.
Other Editions of This Title:
Paperback (11/1/2018)
MP3 CD (11/3/2020)
Compact Disc (11/3/2020)
Paperback (11/16/2021)
Description
A gritty and darkly hilarious novel quaking with life—winner of Australia's Miles Franklin Award—that follows a queer, First Nations Australian woman as she returns home to face her family and protect the land of their ancestors.
Wise-cracking Kerry Salter has spent her adulthood avoiding two things: her hometown and prison. A tough, generous, reckless woman accused of having too much lip, Kerry uses anger to fight the avalanche of bullshit the world spews. But now her Pop is dying and she's an inch away from the lockup, so she heads south on a stolen Harley for one last visit.
Kerry plans to spend twenty-four hours, tops, across the border. She quickly discovers, though, that Bundjalung country has a funny way of latching on to people—not to mention her chaotic family and the threat of a proposal to develop a prison on Granny Ava's Island, the family's spiritual home. On top of that, love may have found Kerry again when a good-looking white fella appears out of nowhere with eyes only for her. 
As the fight mounts to stop the development, old wounds open. Surrounded by the ghosts of their Elders and the memories of their ancestors, the Salters are driven by the deep need to make peace with their past while scrabbling to make sense of their present. Kerry just hopes they can come together in time to preserve Granny Ava's legacy and save their ancestral land. 
Praise For Too Much Lip: A Novel…
This intense yet sensitive dark comedy by Australian Goorie-European author Melissa Lucashenko (Mullumbimby) never holds back in its portrayal of an Indigenous family in crisis… Crows talk and ancestors appear in this #ownvoices triumph about a family who find each other difficult to live with but impossible to stop loving. Too Much Lip's stark honesty illuminates a version of Indigenous life, the crippling influence of colonization and the hard-won power of resilience and healing.
— Shelf Awareness Starred Review

Because this is an authentic voice writing about what it means to be an Indigenous Australian in contemporary times, Lucashenko has taken on the tough issues that come with generational trauma – displacement, incarceration, abuse, racism, substance abuse, poverty, marginalisation. She doesn't shy away from any of it, nor is she preachy or bitter. She does it with humour, satire, dialogue with the kind of wild wit that can come with profanity. It is the voice of her people, her world. Measured and layered, the comedy leavens the tragedy. The great achievement is finding the balance; the redemption and understanding.
— Sydney Morning Herald

A daughter gets caught in her Aboriginal Australian family's complicated legacy in Indigenous Australian writer Lucashenko's darkly funny U.S. debut….With strong voices and kinetic prose, Lucashenko's engrossing narrative speaks to the ongoing traumas of indigenous life in Australia. This deserves to make a splash.
— Publishers Weekly

In this vividly voiced novel, the ghosts of the past are never far away.
— Booklist

Too Much Lip's language is addictively poetic, its cry for social justice real; it's powered by literary rocket fuel. 
— Zoë Morrison

This is not a story of suffering. This is a story of fighting back. … Vibrating with energy, both heartrending and hilarious, Too Much Lip offers a compelling multi-dimensional portrait of human strength in the face of human failure. ...We see the prismatic effects of colonialism's violence and racism, damage cascading down through generations. [The author] deftly voices these characters' pain and rage, but her humor also crackles across the pages. … The writing is consistently funny, but rather than serving to soften or balance, the humor instead lances and sharpens and reveals.
— Chicago Review of Books

An award-winning Australian author explores family dysfunction and the legacy of colonial oppression in her American debut. . . . Original, honest, and surprisingly funny.
— Kirkus Reviews

In Too Much Lip, Lucashenko has created an iconic Australian regional community, one that you would expect to stumble into while driving through the backroads of northern New South Wales.
— Sydney Review of Books 

Melissa Lucashenko is one of Australia's most prolific contemporary writers, producing funny and gritty realist novels. The Miles Franklin award-winning Too Much Lip...is no exception. 
— The Australian

Too Much Lip is a worthy addition to the work of such original and passionate writers as Kim Scott and Alexis Wright. Talking crows, a talking shark: these are the surreal and symbolic bookends to a story that so often feels hopeless, yet is still the crucible of hope.
— Australian Book Review

Too Much Lip ... brilliantly showcases Lucashenko's talent for constructing funny, fraught and powerful stories driven by complex characters and compelling, true-to-life dramas.
— Readings

Melissa Lucashenko's angry Australian Western is a thrilling read. 
— The Saturday Paper

Melissa Lucashenko writes about class and race in Australia with so much guts and heart and brains. 
— Kate Evans

"What makes Too Much Lip not only engaging while reading, but memorable, is its tangible roots, which burrow deeply into the realities of Australian existence, through the author, this country, and now, this reader."

— Mascara Literary Review 

Where to start with the delights of Too Much Lip?  Lucashenko's dialog is absolutely true yet fabulously entertaining ... [and] each character is a gem.
— Spectrum
HarperVia, 9780063032538, 336pp.
Publication Date: November 3, 2020
About the Author
Melissa Lucashenko is a Goorie author of Bundjalung and European heritage. Her first novel, Steam Pigs, was published in 1997 and since then her work has received acclaim in many literary awards. Too Much Lip is her sixth novel and won the 2019 Miles Franklin Literary Award and the Queensland Premier's Award for a Work of State Significance. It was also shortlisted for the Prime Minister's Literary Award for Fiction, the Stella Prize, two Victorian Premier's Literary Awards, two Queensland Literary Awards and two NSW Premier's Literary Awards. Melissa is a Walkley Award winner for her non-fiction, and a founding member of human rights organization Sisters Inside. She writes about ordinary Australians and the extraordinary lives they lead.