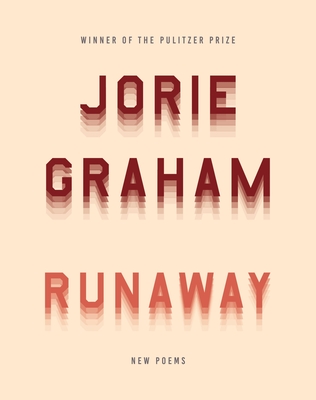 Runaway
New Poems
Paperback

* Individual store prices may vary.
Other Editions of This Title:
Digital Audiobook (8/31/2020)
Hardcover (9/1/2020)
MP3 CD (9/1/2020)
Compact Disc (9/1/2020)
Description
An NPR Best Book of the Year
A new collection of poetry from one of our most acclaimed contemporary poets, Pulitzer Prize winner Jorie Graham

In her formidable and clairvoyant new collection, Runaway, Jorie Graham deepens her vision of our futurity. What of us will survive? Identity may be precarious, but perhaps love is not? Keeping pace with the desperate runaway of climate change, social disruption, our new mass migrations, she struggles to reimagine a habitable present—a now—in which we might endure, wary, undaunted, ever-inventive, "counting silently towards infinity." Graham's essential voice guides us fluently "as we pass here now into the next-on world," what future we have surging powerfully through these pages, where the poet implores us "to the last be human."

Praise For Runaway: New Poems…
"Every new book by Jorie Graham is worth reading. . . . Frustrating, frustrated, afraid, panicked, pleading, Graham has once again written the poems of our moment."
— NPR.org

"This engaging, evocative collection from Graham explores the experience of struggle in a rapidly-changing world plagued by existential threats. The poems consider the present and interpret it through a critical eye, carefully mindful of each subject's impact on daily lives. More than anything, the collection invites readers to tap into a deeper state of consciousness."
— Chicago Tribune, "Best Books of Fall 2020"

"Challenging as [these poems] are, many of them seem like prayers. For all poetry fans.'
— Library Journal

"[Graham's] most thrilling poems hurtle through long, unpredictable lines that devour and spit out ancient echoes and internet detritus as they go...She in her poems remakes a world you can inhabit, one in which you can sense what it is you're letting go of, now, before it's gone." 
— Harper's Magazine

"Graham's 15th collection of poetry has the heightened urgency of a young writer's debut . . . Runaway taps into a free-floating end-of-the-worldness (is there a German word for that?) that so many of us feel even if we can't express it. . . .  Her latter-day poems arrive . . .  like effusions, Whitmanic gusts of words, as if she's channeling a sort of emergency scripture. Runaway feels as though it has been written for right now...but also for a target audience that might emerge 100 years on." 
— New York Times Book Review

"Jorie Graham's poetry uniquely portrays the struggle to do the right thing, and above all to find meaning in the world's "rich concentrate". Her characteristically questioning work previously engaged with physics, history and personal morality, now turns its attention to accelerating planetary crisis. Runaway was completed before the pandemic, but its capacious understanding makes it as able to speak to this as to climate breakdown and global suffering. Graham juxtaposes individual experience with an almost incomprehensible scale of disaster with an urgency and an attention so exceptional it comes out as tenderness."
— The Guardian

"Graham (Fast) begins her fifth decade of publishing with a bravura performance that probes the present for what the future will bring...Through her signature urgent questioning, Graham makes plain the psychic and physical cost to humans of wrecking the Earth."
— Publishers Weekly (starred review)
Ecco, 9780063036710, 96pp.
Publication Date: August 3, 2021
About the Author
Jorie Graham is the author of fourteen collections of poems. She has been widely translated and has been the recipient of numerous awards, among them the Pulitzer Prize, the Forward Prize, the Los Angeles Times Book Award, and the International Nonino Prize. She lives in Massachusetts and teaches at Harvard University.