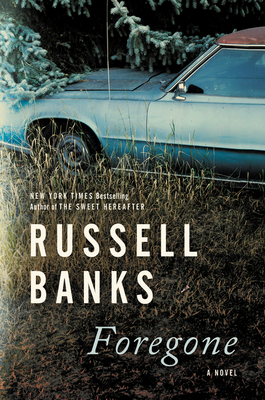 Foregone
A Novel
Hardcover

* Individual store prices may vary.
Other Editions of This Title:
Digital Audiobook (3/1/2021)
Paperback (3/15/2022)
Library Binding, Large Print (8/25/2021)
Compact Disc (3/2/2021)
MP3 CD (3/2/2021)
Description
A searing novel about memory, abandonment, and betrayal from the acclaimed and bestselling Russell Banks 

At the center of Foregone is famed Canadian American leftist documentary filmmaker Leonard Fife, one of sixty thousand draft evaders and deserters who fled to Canada to avoid serving in Vietnam. Fife, now in his late seventies, is dying of cancer in Montreal and has agreed to a final interview in which he is determined to bare all his secrets at last, to demythologize his mythologized life. The interview is filmed by his acolyte and ex–star student, Malcolm MacLeod, in the presence of Fife's wife and alongside Malcolm's producer, cinematographer, and sound technician, all of whom have long admired Fife but who must now absorb the meaning of his astonishing, dark confession.
Imaginatively structured around Fife's secret memories and alternating between the experiences of the characters who are filming his confession, the novel challenges our assumptions and understanding about a significant lost chapter in American history and the nature of memory itself. Russell Banks gives us a daring and resonant work about the scope of one man's mysterious life, revealed through the fragments of his recovered past.
Praise For Foregone: A Novel…
"An unsettling and lasting novel. . . . Foregone becomes most powerful as a meditation on storytelling itself. . . . The novel is harrowing and lonely and familiar and sober beyond words. . . . Foregone is a powerful act of both love and vengeance."
— Pittsburg Post-Gazette

"Russell Banks' exuberant new novel . . . unfolds as a series of confessions that may or may not be grounded in fact; that tension is just one of the book's many delights. . . . Few writers have explored the regrets of aging and the door-knock of mortality with Banks' steely-eyed grace and gorgeous language. Foregone is a subtle yet unsparing achievement from a master."
— Minneapolis Star Tribune

"Banks carefully layers the strata of a life, showing that the past is always more ambiguous than we think."
— The New Yorker

"The mixture of bravado and vulnerability is characteristic of Mr. Banks's impressive body of work, whose range has been underappreciated."
— Wall Street Journal

"During a career stretching almost half a century, Russell Banks has published an extraordinary collection of brave, morally imperative novels. The same marrow-delving impulse runs through them all, but otherwise it would be difficult to characterize such a vast and diverse body of work. . . . Banks presents the story of a man tearing through the affections of others in search of a sense of purpose commensurate with his ego. . . . In this complex and powerful novel, we come face to face with the excruciating allure of redemption."
— Washington Post

"Furiously driven. . . . Banks's prose has remarkable force to it. . . . there is such brio in the writing, such propulsion as the lashes are applied, that we follow Fife into the depths. . . . Banks has never solicited his readers' approval of his characters, and many are unlikely to be charmed by Leo Fife. But what they will find in 'Foregone' is a character, a novel and a writer determined not to go gentle into that good night." 
— New York Times Book Review

"Banks has crafted a powerful novel about what remains."
— Boston Globe

"Strikingly effective. . . . Banks explores aging, memory, and reputation in thoughtful and touching ways. . . . A challenging, risk-taking work marked by a wry and compassionate intelligence."
— Kirkus Reviews (starred review)

"Banks, a conduit for the confounded and the unlucky, a writer acutely attuned to place and ambiance, is at his most magnetic and provocative in this portrait of a celebrated documentary filmmaker on the brink of death. . . . In this masterful depiction of a psyche under siege by disease, age, and guilt, Banks considers with profound intent the verity of memory, the mercurial nature of the self, and how little we actually know about ourselves and others. . . . [For] all lovers of richly psychological and ethical fiction."
— Booklist (starred review)

"Russell Banks, as cinematographer, is known to move in close.  Foregone focuses his sharp eye on the feints and fictions amid life's 'facts,' as he reveals his fascinatingly fallible character, Fife, whose personal life has been contextualized by history.  As we zig-zag through the character's past and present, it becomes apparent that the writer is simultaneously, and subtly, demonstrating the act of writing fiction.  Fife is aptly named; he's an instrument piercing the soundtrack we call life, as the drummer marches on."
— Ann Beattie

"Russell Banks is, word for word, idea for idea, one of the great American novelists. Foregone is a book about not coming to a conclusion.  Banks presents us with a series of mirrors, some of them broken, some of them intact, and all of them wildly reflective of our times.   It is a book about the shifting shapes of memory and the chimerical nature of our lives."  
— Colum McCann

"Foregone is a subtle meditation on a life composed of half-forgotten impulses and their endless consequences, misapprehensions of others that are accepted and exploited almost passively, a minor heroism that is only enhanced by demurral.  In the rages of a sick old man profound questions arise—what is a life?  A self?  And what is lost when truth destroys the fabrications that sustain other lives?"
— Marilynne Robinson

"When I read a Russell Banks novel  I know that I'll find not only a good plot but—more importantly for me—characters that will lodge in my heart, and Foregone's Leonard Fife (the hero? the antihero?) is no exception. I kept turning the pages, mesmerized by the stories of deception (self-deception?) that Fife finally wants his wife (and the world?) to know."
— Nancy Pearl, librarian and author of The Writer's Library

"Russell Banks has always been the consummate artist, giving unflinching voice to the complexity of the human condition. In Foregone he faces down death with that same courage, brilliantly transforming the climactic chaos of waning life and dissolving memory into the transcendant—even peaceful—wholeness of narrative art. This is Banks at his profound best."
— Robert Olen Butler
Ecco, 9780063036758, 320pp.
Publication Date: March 2, 2021
About the Author
Russell Banks, twice a finalist for the Pulitzer Prize, is one of America's most prestigious fiction writers, a past president of the International Parliament of Writers, and a member of the American Academy of Arts and Letters. His work has been translated into twenty languages and has received numerous prizes and awards, including the Common Wealth Award for Literature. He lives in upstate New York and Miami, Florida.