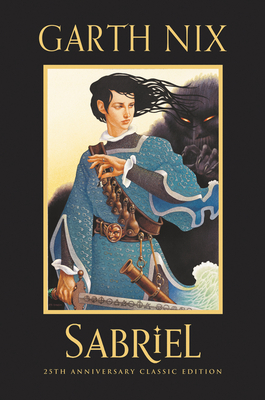 Sabriel 25th Anniversary Classic Edition
Hardcover

* Individual store prices may vary.
Other Editions of This Title:
Paperback (8/3/2021)
Description
Celebrate the 25th anniversary of the globally bestselling Old Kingdom series with a special edition of Sabriel, featuring exclusive content from master of fantasy Garth Nix and original cover artwork by Leo and Diane Dillon.
Enter the Old Kingdom, a world of dark secrets and dangerous magic.
As a child, Sabriel was sent across the Wall to Ancelstierre to safety. Now eighteen years old, she receives a cryptic and desperate message from her father, the Abhorsen—the magical protector whose task it is to bind and send back to Death those who won't stay Dead.
Fiercely determined to help her father, who is perilously trapped in Death, and save him from the sinister Free Magic entity that has somehow ensnared him, Sabriel must prepare to enter Death herself—and find her destiny.
To preserve life, the Abhorsen must enter death.
Exclusive content, including an original short story featuring Sabriel, an essay from Garth Nix about his writing process, and photographs of the author's handwritten manuscript, complete this special edition.
"There is no joy like returning to the Old Kingdom. Nix sets the standard for fantasy." —Leigh Bardugo
"One of the greatest living fantasy writers. I will never get enough of the Old Kingdom." —Sarah J. Maas
"Sabriel is a winner, a fantasy that reads like realism created with invention, clarity and intelligence." —Philip Pullman
Praise For Sabriel 25th Anniversary Classic Edition…
"Rich, complex, involving, hard to put down, excellent high fantasy." — Publishers Weekly (starred review)
"Nix has created an ingenious, icy world. The action charges along at a gallop. A page-turner for sure." — ALA Booklist (starred review)
"By turns rousing, charming and slyly funny, Sabriel is an engaging tale that slays sexual stereotypes along with its monsters." — San Francisco Chronicle
"Sabriel is a winner, a fantasy that reads like realism. Here is a world with the same solidity and four dimensional authority as our own, created with invention, clarity, and intelligence. I congratulate Garth Nix. And I look forward to reading his next piece of work." — Philip Pullman
"A wonderful new fantasy filled with rich and complex imagery." — Voice of Youth Advocates (VOYA)
"Nix's monsters are scary and repulsive, his sense of humor is downright sneaky, and he puts his heroine through engrossing physical and emotional wringers. This book is guaranteed to keep readers up way past their bedtimes." — School Library Journal
"A compelling fantasy. The story is remarkable for the level of originality and leaves readers to explore for themselves." — Horn Book Magazine
"I think Garth Nix has created a really remarkable and persuasive world; and done it in the grand style of heroic romance-with some wonderful twists and turns. His Sabriel is a herione truly worthy of that role." — Lloyd Alexander, author of The Black Cauldron
"An involving fantasy that takes off running and doesn't let up the pace until the final page. The pacing is exquisite, the suspense rising and falling and rising again until the truly edge-of-your-seat finale. A winner for fantasy and adventure lovers." — Bulletin of the Center for Children's Books
"Sabriel has a fast pace, drama, vivid descriptions, excitement and humour. Packs of putrefying zombies, too. What more could you want?" — Guardian Unlimited, Susan Price, author of The Sterkarm Handshake
HarperCollins, 9780063040502, 368pp.
Publication Date: August 3, 2021
About the Author
Garth Nix is a New York Times bestselling novelist and has been a full-time writer since 2001, but has also worked as a literary agent, marketing consultant, book editor, book publicist, book sales representative, bookseller, and as a part-time soldier in the Australian Army Reserve.
Garth's many books include the Old Kingdom fantasy series, beginning with Sabriel and continuing to Goldenhand; the sci-fi novels Shade's Children and A Confusion of Princes; the Regency romance with magic Newt's Emerald; and novels for children including The Ragwitch, the Seventh Tower series, the Keys to the Kingdom series, and Frogkisser!, which is now in development as a feature film with Fox Animation/Blue Sky Studios. Garth has written numerous short stories, some of which are collected in Across the Wall and To Hold the Bridge. He has also cowritten several children's book series with Sean Williams, including TroubleTwisters and Have Sword, Will Travel.
More than six million copies of his books have been sold around the world and his work has been translated into forty-two languages. You can find him online at www.garthnix.com.