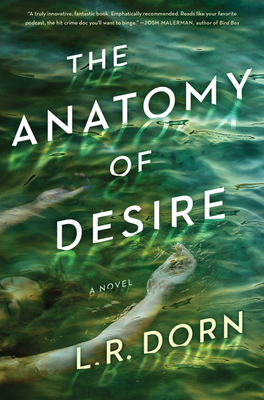 The Anatomy of Desire
A Novel
Hardcover

* Individual store prices may vary.
Other Editions of This Title:
Digital Audiobook (5/10/2021)
Paperback (5/24/2022)
Paperback, Large Print (5/11/2021)
Compact Disc (5/11/2021)
MP3 CD (5/11/2021)
Description
A Publishers Weekly Best Mystery/Thriller of 2021
Audie Award finalist for Multi-Voice Performance
For fans of riveting true crime docuseries a la Serial and Making a Murderer, The Anatomy of Desire is a modern tale of crime and punishment exploring unbridled ambition, blinding passion, and the dark side of desire
Ambition. Passion. Betrayal. Murder?
Claire Griffith has it all, a thriving career, a gorgeous boyfriend, glamorous friends. She always knew she was destined for more than the life her conservative parents preached to her. Arriving in Los Angeles flat broke, she has risen to become a popular fitness coach and social media influencer. Having rebranded herself as Cleo Ray, she stands at the threshold of realizing her biggest dreams.
One summer day, Cleo and a woman named Beck Alden set off in a canoe on a serene mountain lake. An hour later, Beck is found dead in the water and Cleo is missing. Authorities suspect foul play, and news of Cleo's involvement goes viral. Who was Beck? An infatuated follower? Were she and Cleo friends or lovers? Was Beck's death an accident . . . or murder?
Told in the form of an immersive investigative docuseries, L. R. Dorn's brilliant reimagining of Theodore Dreiser's classic crime drama, An American Tragedy, captures the urgency and poignance of the original and rekindles it as a very contemporary and utterly mesmerizing page-turner that will keep you guessing... Did she or didn't she?
Praise For The Anatomy of Desire: A Novel…
"A truly innovative, fantastic book. Emphatically recommended. Reads like your favorite podcast, the hit crime doc you'll want to binge. A brilliant brewing of progressive internet influencers, with smaller town police doing their best to keep up. Structurally fresh, these talking heads will enchant you." — Josh Malerman, New York Times bestselling author of Bird Box
"Centered on the world of social media influencers, the pseudonymous Dorn's remarkable debut takes the form of a true crime docuseries… The riveting trial, during which Cleo constantly changes her story, comes down to circumstantial evidence… With no witnesses to the murder, readers will breathlessly await the verdict." — Publishers Weekly (starred review)
"[A] modern reimagining of Theodore Dreiser's 1925 novel, An American Tragedy… takes readers through the intimate details of a mysterious drowning and the sensational trial… This riveting mock podcast docudrama ratchets up the suspense as readers glimpse every angle of the story from a 360–degree view." — Library Journal (starred review)
"In podcast style, the mystery gives us a range of voices and perspectives, from the boathouse attendants on, held together by the narrator. The advantage of this format is its great immediacy." — Booklist
"Ingenious and brilliantly executed... Contemporary in setting and cast, but also in narrative style: the desperate social climber is a young woman "influencer," and the form is as a series of true-crime podcasts—it reads like the transcripts of interviews—and it works stunningly well, clear, fast-moving and deeply engrossing." — Sullivan Co. Democrat
"L.R. Dorn's spicy update of Theodore Dreiser's 1925 classic, An American Tragedy... is written in the form of a docuseries like "Serial," and like that cool potboiler, "The Anatomy of Desire" cruises along with nary a bump in the road." — The Washington Post
"A fascinating courtroom drama…. This deliciously contemporary story… reveals a compelling, poignant portrait of sexual desire in our social media age."  — Daily Mail (UK)
"The genius of L. R. Dorn's work here is in getting the reader to think about who societies punish and why and how our cultural sensibilities change around the concept of shame… A gripping, compelling read that does justice to its source material." — CriminalElement.com
"The Anatomy of Desire… is at once a clever reworking of a classic American novel and a caustic commentary on contemporary American mores… [It is] compulsive reading."  — Anniston Star
"As the trial progresses, readers may find their preconceptions challenged and their feelings flip-flopping regarding Ceo's guilt and moral character. And when the ending comes, it's a surprisingly poignant one." — ShelfAwareness.com
"A stunning debut novel that reimagines An American Tragedy as a marathon-worthy true crime series… An innovative and riveting read that ratchets up the suspense with every page."  — BookRiot.com
"It's written as a true-crime documentary and reads like nothing else I've read recently. It's told from the point of view of all the people involved in the case, step by step through the trial and aftermath. You won't want to put it down." — RedCarpetCrash.com
William Morrow, 9780063041929, 320pp.
Publication Date: May 11, 2021
About the Author
L. R. Dorn is the pseudonym for Matt Dorff and Suzanne Dunn. Matt Dorff is a Los Angeles native and graduate of the USC School of Cinematic Arts, has written, produced, and/or directed over 60 hours of dramatic television (CBS, NBC, ABC, Showtime, HBO and elsewhere). He lives in Los Angeles. Suzanne Dunn is a two-time Emmy Award winner, has written two screenplays produced and aired on Lifetime Television and Ion Television. She grew up in Bucks County, Pennsylvania, and earned degrees from Penn State and the University of Chicago. She has worked at DIRECTV and is a member of the Producers Guild of America and Academy of Television Arts & Sciences. She is also a yoga teacher and lives in Los Angeles.