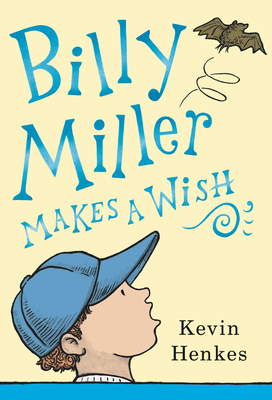 Billy Miller Makes a Wish
Hardcover

* Individual store prices may vary.
Description
Billy Miller is back! The stand-alone companion to two-time Newbery Honor author Kevin Henkes's award-winning, acclaimed, and bestselling The Year of Billy Miller, Billy Miller Makes a Wish is a laugh-out-loud funny and accessible story about summer, family, and wishes that (almost) come true. A great choice for young middle grade readers.
Billy Miller Makes a Wish is illustrated in black-and-white throughout by the author, and is perfect for fans of the Ramona books and the Clementine series.
On his birthday, Billy Miller wishes for something exciting to happen. But he immediately regrets his wish when an ambulance rushes to his neighbor's house. Is Billy responsible? Award-winning author Kevin Henkes delivers a short, funny, and emotionally complex novel complete with misplaced love letters, surprising critters, art projects, misguided tattoos—and another surprise for Billy and his family, maybe the best one yet!
Illustrated throughout with black-and-white art by the author, this is a perfect novel for the early elementary grades and an essential choice for summer reading. A stand-alone companion to The Year of Billy Miller, a Newbery Honor Book. 
Praise For Billy Miller Makes a Wish…
"Billy Miller's birthday wish, for 'something exciting [to] happen,' attunes him to all kinds of excitement in his life. . . . Henkes's focus on small transitions in growing up and seeing the world acknowledges and celebrates the complex emotional life of childhood. Billy's year of being 8 begins like a leaf unfolding, slow and steady . . . The sweet surprise of the summer, revealed when Papa returns, promises new and interesting chapters in Billy's life. Full of heart and depth."
— Kirkus Reviews (starred review)

"In this welcome sequel [to The Year of Billy Miller], school is over for the year and Billy is a 'second-and-a-half grader' now worrying about his eighth birthday wish. . . . Henkes is a master of characterization, deftly using dabs of telling details to build his characters. . . . When Mama and Papa share exciting news at the end of the story, Billy changes his mind about that wish he had regretted. 'Now he wouldn't change it for anything.'"
— Horn Book (starred review)

"A first-rate choice for reading aloud, this episodic, consistently captivating chapter book draws readers into Billy's world immediately. Small, kid-friendly drawings illustrate details mentioned within the narrative, but the vividly portrayed characters come to life through the words alone. A companion book to Newbery Honor Book The Year of Billy Miller, this warm family story features the same down-to earth humor and seemingly simple, beautifully crafted writing. A quiet gem."
— Booklist (starred review)

"Billy Miller is back with all-new everyday adventures. As he blows out the candles on his eighth birthday cake, he makes a wish for something exciting to happen. . . . Henkes's phenomenal ability to tap directly into the hopes, fears, and annoyances of an eight-year-old boy with beautiful clarity make this not only relatable for young readers, but for adults as well. . . . A darling addition to early middle grade collections."
— School Library Journal (starred review)

"[A] short, well-paced follow-up to Newbery Honoree Henkes's The Year of Billy Miller . . . Henkes's sequel offers a refreshingly honest portrayal of kid life . . . Henkes captures the warmth of Billy's family . . . as well as his guileless voice as he navigates common trials and tribulations of childhood."
— Publishers Weekly

"In this tender, lightly illustrated story, Mr. Henkes captures the angst, humor and quiet everyday dramas of life in a growing family."
— Wall Street Journal
Greenwillow Books, 9780063042797, 192pp.
Publication Date: April 6, 2021
About the Author
Kevin Henkes is an award-winning author and illustrator of many books for children of all ages. He received the Caldecott Medal for Kitten's First Full Moon; Caldecott Honors for Waiting and Owen; two Newbery Honors—one for Olive's Ocean and one for The Year of Billy Miller—and Geisel Honors for Waiting and Penny and Her Marble. His other books include Egg, Old Bear, A Good Day, Chrysanthemum, and the beloved Lilly's Purple Plastic Purse. Kevin Henkes lives with his family in Madison, Wisconsin. www.kevinhenkes.com
Kevin Henkes is an award-winning author and illustrator of many books for children of all ages. He received the Caldecott Medal for Kitten's First Full Moon; Caldecott Honors for Waiting and Owen; two Newbery Honors—one for Olive's Ocean and one for The Year of Billy Miller—and Geisel Honors for Waiting and Penny and Her Marble. His other books include Egg, Old Bear, A Good Day, Chrysanthemum, and the beloved Lilly's Purple Plastic Purse. Kevin Henkes lives with his family in Madison, Wisconsin. www.kevinhenkes.com