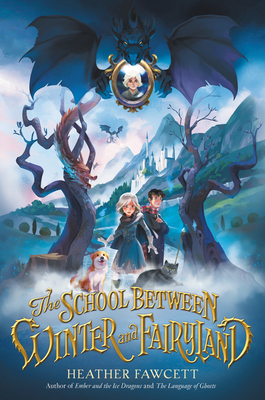 The School Between Winter and Fairyland
Hardcover

* Individual store prices may vary.
Other Editions of This Title:
Digital Audiobook (10/25/2021)
Paperback (1/17/2023)
MP3 CD (10/26/2021)
Compact Disc (10/26/2021)
Compact Disc (10/26/2021)
Description
A fresh and exciting twist on magical boarding schools, the well-loved Chosen One trope, and the nature of true heroism—from the author of The Language of Ghosts and Ember and the Ice Dragons. Perfect for fans of middle grade fantasies including the Serafina series by Robert Beatty and Neil Gaiman's Coraline. 
Twelve-year-old Autumn Malog is a servant at the enchanting Inglenook School, where young magicians study to become the king's future monster-hunters. Along with her Gran and three too many older brothers, she works as a beastkeeper, tending to Inglenook's menagerie of terrifying monsters.
But when she isn't mucking out the wyvern stalls or coaxing the resident boggart to behave, Autumn searches for clues about her twin brother's mysterious disappearance. Everyone else thinks he was devoured by the feared Hollow Dragon, but Autumn is convinced she's heard—and glimpsed—him calling to her from within the castle walls. But who will believe a lowly servant?
So when Cai Morrigan, the "Chosen One" prophesied to one day destroy the Hollow Dragon, comes to her for help, Autumn agrees on one condition: Together, they'll search for her brother and uncover the dark truth at the heart of enchanting Inglenook School once and for all.
Praise For The School Between Winter and Fairyland…
"In this lively fantasy, Fawcett (The Language of Ghosts) plays with familiar tropes (magical schools, chosen ones), centering a female protagonist, a fresh take on heroics, and a clearly built world layered with history and an interesting magical system." — Publishers Weekly (starred review)
"Fans of other boy wizards will be mesmerized by this original addition to the genre, and humor-loving readers will revel in the Diana Wynne Jones–style snark that's interjected throughout. Themes of class, education, and equality are interwoven seamlessly, providing additional food for thought. A magical addition to any bookshelf." — Kirkus Reviews (starred review)
 "A vividly realized adventure set in an imaginative fantasy world." — Booklist
"This familiar-yet-original fantasy hits all its marks." — Horn Book Magazine
"A wonderfully imaginative story filled with an enticing array of magical creatures, The School Between Winter and Fairyland celebrates the abiding bond of siblings, the many kinds of heroism, and the revolutionary power of empathy. This book is a delight." — Anne Ursu, award-winning author of Breadcrumbs and The Lost Girl
"I tore through The School Between Winter and Fairyland faster than a wyvern claws through hearts. An exhilarating, witty, brilliant twist on a classic Chosen One story. With magic and monsters and adventure abound, attending Inglenook is a MUST." — Lauren Magaziner, author of the Case Closed series
"An adventure with monsters, magic, and mysterious prophecies! You won't want to put it down!" — Jessica Day George, NYT bestselling author of the TUESDAYS AT THE CASTLE series
Balzer + Bray, 9780063043312, 352pp.
Publication Date: October 26, 2021
About the Author
Heather Fawcett is also the author of the middle grade novels The School Between Winter and Fairyland, The Language of Ghosts, and Ember and the Ice Dragons as well as the young adult Even the Darkest Stars series. She has a master's degree in English literature and has worked as an archaeologist, photographer, technical writer, and backstage assistant for a Shakespearean theater festival. She lives on Vancouver Island, Canada. Heather can be found online at www.heatherfawcettbooks.com.