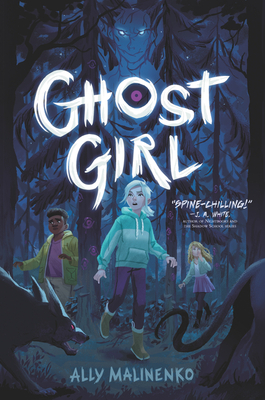 Ghost Girl
Hardcover

* Individual store prices may vary.
Other Editions of This Title:
Digital Audiobook (8/9/2021)
Paperback (8/2/2022)
Compact Disc (8/10/2021)
MP3 CD (8/10/2021)
Description
Perfect for fans of Small Spaces and Nightbooks, Ally Malinenko's debut is an empowering and triumphant ghost story——with spooky twists sure to give readers a few good goosebumps!
Zee Puckett loves ghost stories. She just never expected to be living one.
It all starts with a dark and stormy night. When the skies clear, everything is different. People are missing. There's a creepy new principal who seems to know everyone's darkest dreams. And Zee is seeing frightening things: large, scary dogs that talk and maybe even . . . a ghost.
When she tells her classmates, only her best friend Elijah believes her. Worse, mean girl Nellie gives Zee a cruel nickname: Ghost Girl.
But whatever the storm washed up isn't going away. Everyone's most selfish wishes start coming true in creepy ways.
To fight for what's right, Zee will have to embrace what makes her different and what makes her Ghost Girl. And all three of them—Zee, Elijah, and Nellie—will have to work together if they want to give their ghost story a happy ending.
Praise For Ghost Girl…
"A girl who delights in the macabre harnesses her inherited supernatural ability. The creepy supernatural current continues throughout, intermingled with very real forays into bullying (Zee won't stand for it or for the notion that good girls need to act nice), body positivity, socio-economic status and social hierarchy, and mental health. This debut from a promising writer involves a navigation of caste systems, self-esteem, and villainy that exists in an interesting world with intriguing characters . . . Warning: this just might spurn frenzied requests for Frankenstein." — Kirkus Reviews
"Zee is a likable character, and readers will root for her . . . This is a chilling story that will ­delight upper elementary readers who enjoy truly creepy books." — School Library Journal
". . . Raising themes of body positivity and feminism, debut author Malinenko writes an atmospheric tale that is rife with chilling moments and an affecting exploration of grief . . . " — Publishers Weekly
"It's hard to put down this fast-paced book."  — The Week Junior
"Ghost Girl is a grand buffet for any lover of spooky tales. Within its pages you'll find a misty graveyard, creepy hounds, terrifying spirits, moonlit chases—and a silver-tongued villain who will send chills down your spine.  At the center of it all is a winning protagonist and a heartfelt message about staying true to yourself and the power of friendship. Read it with a cup of hot cocoa on a dark and stormy night!" — J. A. White, author of Nightbooks and the Shadow School series
"A creepy, addicting story that kept me up at night! This chilling mystery has thoughtful portrayals of family and friendship, nail-biting moments, a terrifying villain and wonderful storytelling that will surely delight fans of spooky tales." — Daka Hermon, author of Hide and Seeker
"Ghost Girl is a wondrous mix of mystery, empowering adventure, and spooky scares about a most unusual girl and the strange nightmares she must conquer. It's the kind of ghost story that helps readers overcome their fears while putting them on the edge of their seats." — Joe Ballarini, author of The Babysitter's Guide to Monster Hunting
"Ghost Girl will haunt your heart (and you'll thank her!). Whether you're a fan of ghost stories, fun/spooky mysteries, or books with all the feels, you're sure to love Ally Malinenko's fabulous debut novel about acceptance and the incredible power of friendship. Sign me up for the sequel!"  — Ryan Calejo, author of the Charlie Hernández series
"Malinenko has crafted a vivid portrait of what it's like to be young and scared, even as she reminds you that fear can only win if you let it. A good horror novel should plunge you into darkness, but it should also guide you back toward the light. Ghost Girl—just like its heroine—absolutely rises to the challenge." — Alison Ames, author of To Break A Covenant
Katherine Tegen Books, 9780063044609, 288pp.
Publication Date: August 10, 2021
About the Author
Ally Malinenko is a poet, novelist, and librarian living in Brooklyn, New York, where she pens her tales in a secret writing closet before dawn each day. Connect with Ally on her website at www.allymalinenko.com.