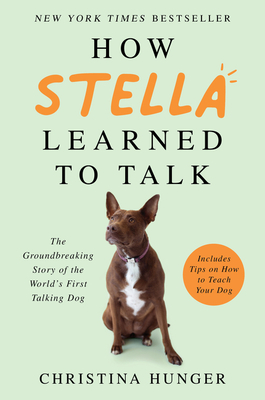 How Stella Learned to Talk
The Groundbreaking Story of the World's First Talking Dog
Paperback

* Individual store prices may vary.
Other Editions of This Title:
Digital Audiobook (5/3/2021)
Hardcover (5/4/2021)
Compact Disc (5/4/2021)
Compact Disc (5/4/2021)
MP3 CD (5/4/2021)
Description
INSTANT NEW YORK TIMES BESTSELLER
An incredible, revolutionary true story and surprisingly simple guide to teaching your dog to talk from speech-language pathologist Christina Hunger, who has taught her dog, Stella, to communicate using simple paw-sized buttons associated with different words.
When speech-language pathologist Christina Hunger first came home with her puppy, Stella, it didn't take long for her to start drawing connections between her job and her new pet. During the day, she worked with toddlers with significant delays in language development and used Augmentative and Alternative Communication (AAC) devices to help them communicate. At night, she wondered: If dogs can understand words we say to them, shouldn't they be able to say words to us? Can dogs use AAC to communicate with humans?
Christina decided to put her theory to the test with Stella and started using a paw-sized button programmed with her voice to say the word "outside" when clicked, whenever she took Stella out of the house. A few years later, Stella now has a bank of more than thirty word buttons, and uses them daily either individually or together to create near-complete sentences.
How Stella Learned to Talk is part memoir and part how-to guide. It chronicles the journey Christina and Stella have taken together, from the day they met, to the day Stella "spoke" her first word, and the other breakthroughs they've had since. It also reveals the techniques Christina used to teach Stella, broken down into simple stages and actionable steps any dog owner can use to start communicating with their pets.
Filled with conversations that Stella and Christina have had, as well as the attention to developmental detail that only a speech-language pathologist could know, How Stella Learned to Talk will be the indispensable dog book for the new decade.
Praise For How Stella Learned to Talk: The Groundbreaking Story of the World's First Talking Dog…
"A talented speech therapist who works with children, Christina Hunger trained her puppy to use words in a meaningful way. She was amazed that language learning in her dog was similar to that of a young child. The results speak for themselves. A wonderful book."  — Temple Grandin, author of Animals in Translation
"Christina Hunger presents an entertaining and practical guide to embarking on the incredible journey of interspecies communication with her dog. When we are open to the idea that communicating with another species is possible, and provide a language-enriched environment, we create the space for shared language and a deep connection. Christina has provided the key that unlocks this potential for all of us." — Penny Patterson, PhD, president and research director of The Gorilla Foundation and Project Koko 
"Humans and dogs have been evolving together and forming an extremely unique and special bond for thousands of years. As anyone who's known and loved a dog will agree the natural ability that dogs have to understand and communicate with us is truly incredible, going much deeper than just wagging tails and happy barks when they hear the word  'walk.' I'm so thrilled that Christina is using her experience as a speech and language therapist to give dogs a way to 'speak' with us in a more complex, profound way." — Zak George, host of Zak George's Dog Training Revolution
"[A] fascinating study of the untapped potential in human-dog interaction."  — Booklist
"This delightful book is a joy to read. But it also has an important message for the study of animal languages: When you think outside the box, you can come up with amazing results. Christina's use of augmentative and alternative communication (AAC) with her dog Stella,  employing techniques that are taught to children, has shown that a dog has the cognitive capability to learn to use buttons as words and to formulate meaningful sentences. She also has very practical advice on how to teach your dog to do the same. I highly recommend this book." — Con Slobodchikoff, PhD, author of Chasing Doctor Dolittle: Learning the Language of Animals
"A must-read for anyone who ever wished their dog could talk, Stella's story will lift your spirits and inspire your soul. Drawing on her expertise in language development and augmentative communication, speech-language pathologist Christina Hunger takes us on an incredible journey of joy, discovery, and innovation that will forever change the relationship between dogs and their humans." — Shari Robertson, PhD, CCC-SLP, 2019 president of the American Speech-Language-Hearing Association
"Over a year into the pandemic, your bookshelves may be so crowded with books that you can't imagine adding another. But a 3-year-old dog named Stella will have you rethinking that." — Chicago Tribune
"The mixture of memoir and how-to guide strikes an effective balance for this dog mom....If you've been thinking about trying to use recordable buttons with your dog, then this book will offer plenty of insights for you." — McSquare Doodles
William Morrow Paperbacks, 9780063046849, 272pp.
Publication Date: May 17, 2022
About the Author
Christina Hunger, MA, CCC-SLP, is a speech-language pathologist and the first person to teach a dog to "talk" using augmentative communication. She is the founder of Hunger for Words, a movement dedicated to giving everyone who understands language the tools to communicate. Hunger has a graduate degree in speech-language pathology from Northern Illinois University. She has professional expertise in using Augmentative and Alternative Communication (AAC) to teach children with speech and language disorders to talk using communication devices. She lives with her husband, Jake, and of course her dog, Stella.