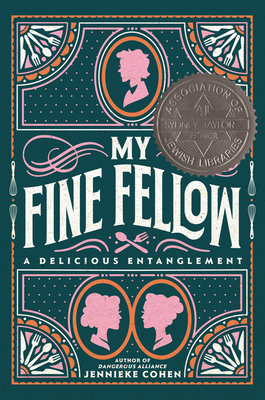 My Fine Fellow
Hardcover

* Individual store prices may vary.
Other Editions of This Title:
Digital Audiobook (1/10/2022)
Paperback (1/10/2023)
MP3 CD (1/11/2022)
Compact Disc (1/11/2022)
Description
Culinary delights abound, romance lingers in the air, and plans go terribly, wonderfully astray in this gender-bent take on My Fair Lady from Jennieke Cohen, author of Dangerous Alliance—perfect for fans of Bridgerton or A Gentleman's Guide to Vice and Virtue. 
It's 1830s England, and Culinarians—doyens who consult with society's elite to create gorgeous food and confections—are the crème de la crème of high society.
Helena Higgins, top of her class at the Royal Academy, has a sharp demeanor and an even sharper palate—and knows stardom awaits her if she can produce greatness in her final year.
Penelope Pickering is going to prove the value of non-European cuisine to all of England. Her contemporaries may scorn her Filipina heritage and her dishes, but with her flawless social graces and culinary talents, Penelope is set to prove them wrong.
Elijah Little has nothing to his name but a truly excellent instinct for flavors. London merchants won't allow a Jewish boy to own a shop, so he hawks his pasties for a shilling a piece to passersby—but he knows with training he can break into the highest echelon of society.
When Penelope and Helena meet Elijah, a golden opportunity arises: to pull off a project never seen before, and turn Elijah from a street vendor to a gentleman chef.
But Elijah's transformation will have a greater impact on this trio than they originally realize—and mayhem, unseemly faux pas, and a little romance will all be a part of the delicious recipe.
Praise For My Fine Fellow…
"Jennieke Cohen serves up a fun dish of a novel with a healthy sprinkle of feminism. MY FINE FELLOW is fresh as the rain in Spain." — Stacey Lee, New York Times bestselling author
"A sparkling retelling of My Fair Lady set in an alternate 1830s London… readers will connect to both Penelope's and Elijah's desires to remain true to themselves in a world that would prefer them to stay on the margins." — Kirkus Reviews (starred review)
"Filled with delectable dishes and an inclusive cast... Weaving the original source material with relevant social commentary, Cohen creates memorable characters struggling to find their place in a prejudicial world, while alternating viewpoints add depth to the backdrop of this historical culinary treat." — Publishers Weekly (starred review)
"Jennieke Cohen dishes up an irresistible YA historical romance with a Filipina-British heroine at its heart who breathes fresh life into this gender-flipped My Fair Lady reimagining." — Alexa Donne, author of The Ivies and The Stars We Steal
"Cohen has done it again! Fans of My Fair Lady will eat up this delicious peek into the London elite that could have been. Glittering ballrooms, complex friendships, extravagant kitchens, and budding romance make this historical rom-com an indulgence as nuanced as it is delectable. A true treat!"-- — Tobie Easton, award-winning author of the Mer Chronicles series
"A charming historical romp and fitting tribute to  My Fair Lady. With pitch-perfect prose and a sly, observant voice, Jennieke Cohen serves up a spectacularly unique rom-com confection. I absolutely loved it!"  — Rachel Lynn Solomon, author of  Today Tonight Tomorrow
 "A delightful celebration of history, heritage, and haute cuisine that pays tribute to George Bernard Shaw's Pygmalion while telling an entirely original tale. I think it would leave Shaw smiling. And also very, very hungry."  — Jacqueline Firkins, author of Hearts, Strings, and Other Breakable Things and How Not to Fall in Love
"A delectable treat of a novel." — Bustle, Best YA Books Out in 2022
"A delightful YA historical romance with a Jewish twist… a retelling you won't want to miss." — Hey Alma
"Especially delicious."  — Horn Book Magazine
"[This] story's more than a simple retelling; it's a refreshing remix of well-loved ingredients, sure to please." — Bulletin of the Center for Children's Books
Praise for Dangerous Alliance:
"With a whimsical nod to Jane Austen and a charming pairing to root for, Dangerous Alliance brings the best of Regency romance to young adult. Perfect for fans wanting more after the credits roll on Netflix's Bridgerton. A delight!" — Laura Taylor Namey, New York Times bestselling author of A Cuban Girl's Guide to Tea and Tomorrow
"Contemporary fans of the Austen novels and their screen adaptations will relish this rousing, late Georgian romance." — Booklist
"While Vicky takes center stage, interspersed perspectives from other characters, including those of Sherborne and his half-sister, deepen the story's themes… Frequent references to then-popular novels and a thoughtful historical note add additional context to this spirited romp." — Publishers Weekly
"Charming and fun. Replete with intrigue, grand parties, and romantic entanglements, fans of Jane Austen will positively devour this book." —  Jessica Cluess, author of A Shadow Bright and Burning
"Romance fans and Jane Austen devotees will devour this delicious Regency romp." — Alexa Donne, author of Brightly Burning and The Stars We Steal
"Bathed in Cohen's richly textured language, Dangerous Alliance boldly shines a light on issues women struggled with historically: abuse, obstruction, and dominance. A timeless story." — Shelley Sackier, author of The Antidote and The Freemason's Daughter
"A fresh, enchanting addition to the historical fiction genre!  The perfect read for fans of Jane Austen and Downton Abbey!"
— Tobie Easton, award winning author of the Mer Chronicles series
"The perfect combination of mystery, intriguing characters, surprising action, and delightful romance. I loved every single word." — Samantha Hastings, author of The Last Word
HarperTeen, 9780063047532, 352pp.
Publication Date: January 11, 2022
About the Author
A lifelong lover of history and literature, Jennieke Cohen studied English history at Cambridge University before receiving her undergraduate degree from the University of California, Davis. After interning with a literary agent and at Prima Games (an imprint of Penguin Random House), she entered the Master of Professional Writing program at the University of Southern California. Cohen has worked as a writing consultant and as a ghostwriter and has written prescriptive nonfiction. She is a member of SCBWI, Romance Writers of America, and the Jane Austen Society of North America. When not writing or reading, Cohen can be found watching classic movies, drinking tea, singing opera and musical theater, and planning her next trip to England. She lives in California. You can visit her online at www.jenniekecohen.com, and find her on Twitter, Instagram, and Pinterest.