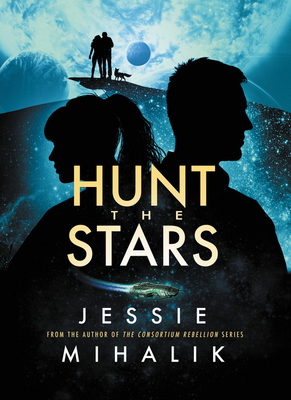 Hunt the Stars
A Novel (Starlight's Shadow #1)
Paperback

* Individual store prices may vary.
Description
The critically acclaimed author of Polaris Rising takes readers on an exciting journey with the start of her brand-new series about a female bounty hunter and the man who is her sworn enemy.
"Jessie Mihalik is an author to watch." — Ilona Andrews, #1 New York Times bestselling author
Octavia Zarola would do anything to keep her tiny, close-knit bounty hunting crew together—even if it means accepting a job from Torran Fletcher, a ruthless former general and her sworn enemy. When Torran offers her enough credits to not only keep her crew afloat but also hire someone to fix her ship, Tavi knows that she can't refuse—no matter how much she'd like to.
With so much money on the line, Torran and his crew insist on joining the hunt. Tavi reluctantly agrees because while the handsome, stoic leader pushes all of her buttons—for both anger and desire—she's endured worse, and the massive bonus payment he's promised for a completed job is reason enough to shut up and deal.
But when they uncover a deeper plot that threatens the delicate peace between humans and Valoffs, Tavi suspects that Torran has been using her as the impetus for a new war. With the fate of her crew balanced on a knife's edge, Tavi must decide where her loyalties lie—with the quiet Valoff who's been lying to her, or with the human leaders who left her squad to die on the battlefield. And this time, she's put her heart on the line.
Praise For Hunt the Stars: A Novel (Starlight's Shadow #1)…
"An intoxicating journey through the galaxy."
— Entertainment Weekly on Polaris Rising

"Polaris Rising is space opera at its best, intense and addictive, a story of honor, courage, betrayal, and love. Jessie Mihalik is an author to watch."
— Ilona Andrews, #1 New York Times bestselling author

"The badass space princess adventure we deserve."
— Kit Rocha, New York Times bestselling author, on Polaris Rising

"Heart-pounding futuristic action and scorching chemistry make Polaris Rising a thrilling ride. A gripping and sexy space adventure!"
— Amanda Bouchet, USA Today bestselling author of The Kingmaker Chronicles

"I loved everything about this story...when I finished and the story left me craving more of this world and characters. Highly recommend!"

— Jeffe Kennedy, RITA Award winning author, on Polaris Rising

"Mihalik wraps up her action-packed, spacefaring Consortium Rebellion trilogy with a resoundingly romantic conclusion."
— Booklist

"Read this book. Right now. Immediately."
— Smart Bitches, Trashy Books

text-align:center>"Aurora Blazing is a standout, memorable book that oozes crossover appeal. Prefer action and adventure? One spaceship heist coming up! Find court intrigue and politics to be irresistible? Two ruling houses are at war, with a third desperately trying to remain neutral. Sucker for a happy ending? Well, it's a romance, so there's definitely that. Mihalik fills the void for every Star Wars fan who wished the franchise had more kissing."
— BookPage
Harper Voyager, 9780063051034, 400pp.
Publication Date: February 1, 2022
About the Author
Jessie Mihalik has a degree in computer science and a love of all things geeky. A software engineer by trade, Jessie now writes full time from her home in Texas. When she's not writing, she can be found playing co-op video games with her husband, trying out new board games, or reading books pulled from her overflowing bookshelves. Polaris Rising is her debut novel.