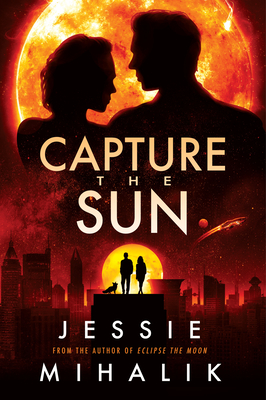 Capture the Sun
A Novel
Paperback

* Individual store prices may vary.
Description
Acclaimed author Jessie Mihalik returns with the thrilling conclusion to her Starlight's Shadow trilogy. An intergalactic thief must join forces with the charming teleporter who stole her last job—and may now be her only hope for saving her former crew.
As a recovery specialist, Lexi Bowen's jobs typically require more trickery and thievery than honest work. Her former captain might not approve of her flexible morals, but stealing artifacts for rich assholes pays the bills, and Lexi's had enough of war and death. The FHP left her to die once; she doesn't plan to give them a chance to finish the job.
Unfortunately, her latest contract takes her to Valovia itself—and right back into the orbit of Nilo Shoren, a Valovian teleporter who already cost her one payday and nearly stole her heart.
Armored against his clever charm, Lexi plans to get in, get the job done, and get out. But when her former crew goes missing in Valovian space, Lexi will have to work with Nilo to figure out what happened—and stop it—before the galaxy's two superpowers can use the disappearance as an excuse to return to war.
Praise For Capture the Sun: A Novel…
"The heat is on in Mihalik's addictive Starlight's Shadow series launch…. Mihalik artfully juggles palpable romantic tension and fun action to create an epic page turner. This is sure to excite anyone who likes their space opera with a bit of spice." — Publishers Weekly on Hunt the Stars
"The combination of emotional, slow-burn romance and rollicking, high-stakes adventure makes for a fun, fast-paced read. An exciting space-opera adventure that hits all the right romance notes." — Kirkus Reviews on Hunt the Stars
"Jessie Mihalik's thrilling first entry in her Starlight's Shadow series… Amid all the action and adventure, Mihalik also shows how a group of people in close quarters can become a family. Fans of The Mandalorian or Firefly will love this sci-fi romance." — BookPage on Hunt the Stars
"Book two of Mihalik's trilogy sets the stage for an intense and exciting conclusion to her romantic interstellar adventure." — Booklist on Eclipse the Moon
"Kee and Varro's adventures on the space station are full of action and intrigue…A romance-light space adventure that still has plenty to please readers." — Kirkus Reviews on Eclipse the Moon
Harper Voyager, 9780063051102, 400pp.
Publication Date: May 9, 2023
About the Author
Jessie Mihalik has a degree in computer science and a love of all things geeky. A software engineer by trade, Jessie now writes full time from her home in Texas. When she's not writing, she can be found playing co-op video games with her husband, trying out new board games, or reading books pulled from her overflowing bookshelves. Polaris Rising is her debut novel.