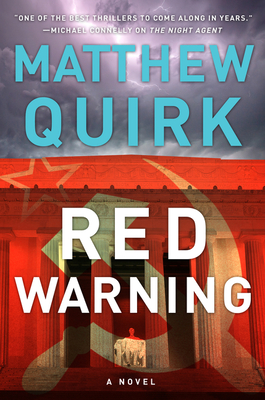 Red Warning
A Novel
Hardcover

* Individual store prices may vary.
Other Editions of This Title:
Digital Audiobook (6/6/2022)
Paperback, Large Print (6/7/2022)
Compact Disc (6/7/2022)
MP3 CD (6/7/2022)
Description
"Intricately plotted with extraordinary characters and riveting action." –Jack Carr, #1 New York Times bestselling author of In the Blood
CIA officer Sam Hudson races to find a deep cover operative loose in the U.S. and a mole in the Agency before they can launch a devastating attack on Washington, D.C., in this adrenaline-fueled thriller from the author of The Night Agent and Hour of the Assassin.
For years CIA officer Sam Hudson has been hunting Konstantin, a Russian deep cover operative responsible for a string of assassinations in the West—and he believes a well-placed source in Geneva can finally get him close to the killer. But when their meeting is ambushed, Sam's partner is murdered and he barely makes it out alive himself.
Back in the States, the bosses put him on leave and want him to drop his obsession with Konstantin, but Sam can't let a man who's taken so many lives slip away again. When he gets a mysterious call at the Lincoln Memorial just before a bomb goes off, he realizes Konstantin has followed him to the U.S.—and is targeting him and everyone close to him. Teaming up with fellow CIA officer Emily Pierce, he sets out to redeem himself and uncover a plot that has been lying in wait since the end of the Cold War, its elements hidden among the most iconic buildings in the capital.
With enemies lurking both inside and outside the Agency and the Russian threat looming ever larger, Sam must use all his training and nerve to stop Konstantin before he can trigger the plot to devastate Washington and bring the US to its knees.
Praise For Red Warning: A Novel…
"Intricately plotted with extraordinary characters and riveting action, Matthew Quirk's Red Warning needs to be at the top of your list! Once you crack this high-octane thriller, be ready to cancel all plans. You won't put it down until the final bullet hits its mark."   — Jack Carr, #1 New York Times bestselling author of In the Blood

"Quirk has earned his spot in the front ranks of thriller writers. Opens with a bang and keeps exploding for three hundred pages." — David Baldacci on Hour of the Assassin
"[A] gritty, intense political thriller, filled with nuance and dire exploits. Totally entertaining. A treat from start to finish."  — Steve Berry on Hour of the Assassin
"Hour of the Assassin is written in terse, swift prose as it sketches a panorama of 'Washington at its worst,' a place ruled by 'the corruption and blood sport of high politics.'" — Wall Street Journal
"Of all the literary genres, a suspense novel is highly dependent on a good hook. Matthew Quirk knows this better than anyone… His books do not begin with subtle language or mysterious foreshadowing. They begin with a bang, sometimes quite literally."  — San Diego Union-Tribune on Hour of the Assassin
"The action never ceases in Quirk's story, and you'll find yourself reading way past your bedtime." — Newark Star Ledger on Hour of the Assassin
"This story is impossible to put out of mind.... Relevant and revealing, this is one of the best thrillers to come along in years." — Michael Connelly on The Night Agent
"Plenty of breathless one-more-chapter, stay-up-late suspense wrapped around a meaty and timely story ... irresistible." — Lee Child on The Night Agent
"The Night Agent is a whirlwind of a book, a captivating narrative that takes us inside the White House's inner sanctum and the shadowy machinations surrounding it. A powerful and taut thriller." — Mark Greaney
"Strap in for one hell of a ride. The Night Agent is full of twists and surprises you'll never see coming." — Ben Coes
Matthew Quirk moves into David Baldacci and John Grisham territory with The Night Agent, a paranoid, pulse-pounding thriller that could not be more prescient. If you're wondering where the best of the next generation of suspense talent is headed, look no further." — Joseph Finder
William Morrow, 9780063051638, 432pp.
Publication Date: June 7, 2022
About the Author
Matthew Quirk is the New York Times bestselling author of Hour of the Assassin, The Night Agent, The 500, The Directive, Cold Barrel Zero, and Dead Man Switch. He spent five years at The Atlantic reporting on crime, private military contractors, terrorism prosecutions, and international gangs. He lives in San Diego, California.