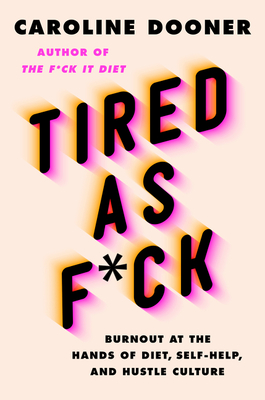 Tired as F*ck
Burnout at the Hands of Diet, Self-Help, and Hustle Culture
Hardcover

* Individual store prices may vary.
Other Editions of This Title:
Digital Audiobook (2/7/2022)
Compact Disc (2/8/2022)
MP3 CD (2/8/2022)
Description
Blending memoir and blistering social observations, the author of The F*ck It Diet looks back at her desperate attempts to heal her hunger, anxiety, and imperfections through extreme diets, culty self-help methods, and melodramatic bargains with the universe. 
Offering a frank and funny critique of the cultural forces that are driving us mad, Caroline Dooner examines how treating ourselves like never ending self-improvement projects is a recipe for burnout. We have become unknowingly complicit in perpetuating our own exhaustion because we are treating ourselves like machines. But even phones need to f*cking recharge.
Caroline takes a good hard look at the dark side of self-help, and explains how she eventually used a radical period of rest to push back against cultural expectations and reclaim some peace.
Tired As F*ck empowers us to say no to the things that exhaust us. It inspires us to carve out time to slow down, feel okay about doing less, and honor our humanity. 
This is not a self-help book, it's a cautionary tale. It's an honest look at the dogma of wellness and spiritual self-improvement culture and revels in the healing power of rest and letting shit go.
Praise For Tired as F*ck: Burnout at the Hands of Diet, Self-Help, and Hustle Culture…
"I laugh-cried all the way though this biting critique of self-help bullshit and manipulative power structures. Dooner has written something deeply of the moment and relatable as f*ck." — Amanda Montell, author of Cultish and Wordslut
"This book is what Caroline Dooner does best. . . . Hilarious, relatable, yet unflinchingly honest, Tired as F*ck is an empowering memoir every woman needs to read. As a therapist, I am increasingly concerned about the toll hustle culture is taking on our lives, and Caroline tackles this topic head-on while also guiding readers back to themselves. In a time when most memoirs shout 'if I accomplished this, you can do it, too!,' Tired as F*ck implores us to truly take care of ourselves and f*cking rest." — Amanda White, author of Not Drinking Tonight
"For anyone who is tired of sacrificing their sanity to fit into a smaller pair of jeans, Tired as F*ck highlights our complicated relationship with success, beauty, and health. When it comes to wellness trends, Caroline has tried it all. With the voice of a funny, honest, and relatable friend, she takes you on her journey to find acceptance by any means necessary. This book will force you to see just how wildly obsessed we've become with the quest for beauty, thinness, and pseudo 'health' that you just may decide to get off the roller coaster and rest, too." — Whitney Goodman, LMFT, author of Toxic Positivity
"Tired as F*ck takes the F*ck It Diet mindset and focuses it on the countless ways we must rebel against the 'hustle and grind' culture that leaves us exhausted and depleted. Dooner opens up about her own anxieties and trauma in a style that is somehow light and hopeful, inviting us all to consider how we've grown up and grown older in a world that asks us to prioritize progress and productivity over actual health and well-being. This book is the reminder we all need to redefine what health, happiness, and hustle mean in our everyday lives." — Lexie Kite, PHD, coauthor of More Than a Body
"Tired as F*ck is, quite frankly, relatable as f*ck. With her relatable stories and humorous writing, Caroline will make you feel seen, heard, and understood in an experience we all know too well: feeling constantly exhausted but not being able to pinpoint why. In a society that's constantly burned out, this book will reenergize you—physically, spiritually, mentally, and emotionally." — Mary Jelkovsky, author of The Gift of Self-Love
"Caroline manages to weave her personal stories into the broader cultural narrative in a way that makes you simultaneously laugh, cringe, exhale, and feel less alone. Smart, funny, witty, and just in time, Tired as F*ck is exactly the kind of medicine we need right now." — Laura Mckowen, bestselling author of We Are the Luckiest and founder of The Luckiest Club
Harper Wave, 9780063052970, 320pp.
Publication Date: February 8, 2022
About the Author
Caroline Dooner is a humorist and storyteller. She spent years as a performer and dieting like it was her job (because it kind of was). After healing her relationship to food, she's been sharing what she learned ever since. She lives with her anxious bernedoodle in Pennsylvania, and they're just trying to live the simple life. She believes wholeheartedly in the healing powers of food and rest.