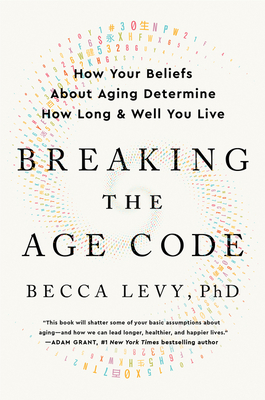 Breaking the Age Code
How Your Beliefs About Aging Determine How Long and Well You Live
Hardcover

* Individual store prices may vary.
Other Editions of This Title:
Digital Audiobook (4/11/2022)
Paperback (4/11/2023)
Compact Disc (4/12/2022)
MP3 CD (4/12/2022)
Description
Yale professor and leading expert on the psychology of successful aging, Dr. Becca Levy, draws on her ground-breaking research to show how age beliefs can be improved so they benefit all aspects of the aging process, including the way genes operate and the extension of life expectancy by 7.5 years.
The often-surprising results of Levy's science offer stunning revelations about the mind-body connection. She demonstrates that many health problems formerly considered to be entirely due to the aging process, such as memory loss, hearing decline, and cardiovascular events, are instead influenced by the negative age beliefs that dominate in the US and other ageist countries. It's time for all of us to rethink aging and Breaking the Age Code shows us how to do just that.
Based on her innovative research, stories that range from pop culture to the corporate boardroom, and her own life, Levy shows how age beliefs shape all aspects of our lives. She also presents a variety of fascinating people who have benefited from positive age beliefs as well as an entire town that has flourished with these beliefs.
Breaking the Age Code is a landmark work, presenting not only easy-to-follow techniques for improving age beliefs so they can contribute to successful aging, but also a blueprint to reduce structural ageism for lasting change and an age-just society.
Praise For Breaking the Age Code: How Your Beliefs About Aging Determine How Long and Well You Live…
"This book will shatter some of your basic assumptions about aging—and how we can lead longer, healthier, and happier lives. Becca Levy is the world's foremost expert on the psychology of aging, and she shares rigorous, remarkable evidence that one of the best ways to stay mentally and physically fit is to rethink your stereotypes about what it means to be an older person."
— Adam Grant, #1 New York Times bestselling author
"Old age doesn't have to suck...Breaking the Age Code shows how 'aging can become a homecoming, a rediscovery, a feast of life.'" — Wall Street Journal
"According to this upcoming book from Yale epidemiology and psychology professor, your mere beliefs about aging can add or steal up to eight years of your life. Everybody wants to know how to live longer and more joyfully, and this guide uses insights to help you enhance your odds of doing just that. [Read] this book if you want research-backed strategies to make the most of your time on this Pale Blue Dot." — Men's Journal
"Breaking the Age Code is a revolutionary paradigm shift in how we think about aging. Dr. Becca Levy has pioneered a new field of research that reveals how our mindset and beliefs shape our behaviors, our ability to heal, and our lifespan, in invisible but powerful ways.  Through cutting edge science, and memorable stories, she shares a new view of aging that will change how we age. Fascinating, inspiring, and moving, this book holds one of the precious keys to a healthy ageing society."
— Elissa Epel, PhD, University of California Professor and New York Times bestselling author

"Before reading this book, I knew that Becca was a pioneering scientist at Yale, I now know that she is a world-class writer, story-teller, and humanist. Her book is exciting, relevant, and holds the potential to exert powerful global influence on how we age. This is an extremely profound and timely message that needs to be heard."
— Sharon Inouye, MD, MPH, Harvard Medical School Professor
"A Yale professor and leading expert on the psychology of successful aging draws on her groundbreaking research to show how age beliefs can be improved so they benefit all aspects of the aging process." — The Next Big Idea Club
"In this ground-breaking book, filled with stunning scientific insights, captivating stories and easy-to-use tools, Dr. Levy offers a new way to approach aging and longevity that can benefit readers of any age."
— James C. Appleby, CEO, The Gerontological Society of America

"Becca Levy is already recognized as one of the world's most respected experts on aging and longevity. Her thought leadership and pioneering research will change many more hearts and minds. Levy's book is a must read--an urgent and uplifting call to action and roadmap for a future of longer, healthier, and better lives."
— Paul Irving, Chair of the Center for the Future of Aging

"Levy has produced a manifesto to inspire us to fight against the scourge of ageism and its negative effects on older adults, and our society. The book is a call to action and provides practical and proven methods to help older adults develop more positive views of their lives, and to inspire all of us to stand up against ageism in our personal life, workplace, and social media. This book will be remembered as a turning point in the fight against ageism."
— William E. Haley, PhD, Chair, Committee on Aging, American Psychological Association

"This exciting new book gives all of us who are aging an opportunity to find ways to positively influence our destiny. Readers can use insights from this book to increase opportunities to shape a better and longer life. The eternal legacy of Maggie Kuhn, the founder of Gray Panthers and one of the most important and effective activists of the 20th century is richly demonstrated in this book."
— Jack Kupferman, President, Gray Panthers

"Becca Levy has done a masterful job of describing the importance of aging beliefs on health and wellbeing at both the individual and societal level. Perhaps most importantly, this book provides practical suggestions on how to maximize the power of positive age beliefs, which can translate into tangible health benefits. An essential read for anyone interested in how we age and how each of us can benefit from adopting positive age beliefs in everyday life."
— Cary Reid, MD, Irving Sherwood Wright Professor of Medicine, Weill Cornell Medical Center

"At last, Professor Becca Levy shows how we can harness the power of the mind to live a longer and more fulfilling life. She brings a unique perspective about a question we are all concerned with: What happens as we age and get older? She brilliantly shows how we can successfully age. The book offers great insights and it is a must read!"
— Dr. Itiel Dror, Senior Neurocognitive Researcher, University College London

"Ageism robs us of optimism for the longer lives we have created, and it disables the future of the young and the old. Becca Levy shows us how this happens, and how we solve it. We need to collectively follow her prescriptions. When we do so, we will create the potential of longer lives that young people can look forward to and older people can live their fullest in."
— Linda P. Fried, M.D., M.P.H. Dean, Columbia University Mailman School of Public Health
"Dr. Levy is a pioneering psychologist and gerontologist Her wonderful book will inspire us with its solid scientific discoveries and practical advice for longevity. I believe Breaking the Age Code will greatly benefit the public!"
— Xin Zhang, PhD, Associate Professor, Peking University
William Morrow, 9780063053199, 304pp.
Publication Date: April 12, 2022
About the Author
Dr. Becca Levy, the leading authority on how beliefs about aging influence aging health, is Professor of Epidemiology at the Yale School of Public Health and Professor of Psychology at Yale University. Her pathfinding studies have changed the way we think about aging and have received awards from the American Psychological Association, the Gerontological Society of America, and the International Association of Gerontology and Geriatrics. Dr. Levy has given invited testimony before the US Senate on the adverse effects of ageism and has contributed to US Supreme Court briefs to fight age-discrimination. She serves as a scientific advisor to the World Health Organization's Campaign to Combat Ageism.