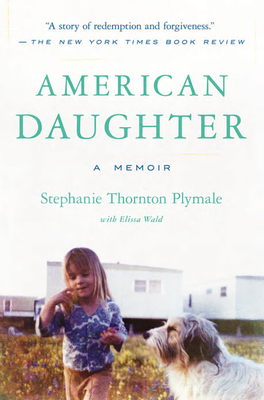 American Daughter
A Memoir
Hardcover

* Individual store prices may vary.
Other Editions of This Title:
Digital Audiobook (1/11/2021)
Paperback (3/15/2022)
MP3 CD (1/12/2021)
Compact Disc (1/12/2021)
Description
The sharp and surprising true story of a woman who finally sets out to understand her past, and the mother she had one day hoped to forget. Full of unexpected twists and unbelievable revelations, American Daughter is an immersive memoir that will have you on the edge of your seat to the very last page.

For years, Stephanie Plymale, successful CEO and interior designer, kept her past a fiercely guarded secret. Only her husband knew that her childhood was fraught with every imaginable hardship: neglect, hunger, poverty, homelessness, truancy, foster homes, a harrowing lack of medical care, and worse. Stephanie, in turn, knew very little about the past of her mother, who was in and out of jails and psych wards for most of Stephanie's formative years. All this changed when a series of shocking revelations forced Stephanie to revisit her tortured past and revise the meaning of every aspect of her compromised childhood.
American Daughter is the extraordinary true story of a young girl growing up on the wrong side of the American Dream. Stephanie has slept in blankets on the floor of crowded apartments, lived in the back seat of a car with her siblings, and spent decades looking over her shoulder at a mother who might just as easily hug or harm her. American Daughter is at once a moving account of a troubled mother-daughter relationship and a meditation on resilience, transcendence, and ultimately, redemption.
Praise For American Daughter: A Memoir…
"[Plymale's] lineage, which she traces back to the Revolutionary War, represents a sort of inverse American dream...Her people become less respectable through the generations until the line arrives at Plymale herself, whose own life marks the point where the needle begins to move in a positive direction once again. It's a story of redemption and forgiveness." — Mary Beth Keane, New York Times Book Review
"Impressive...Moving...Readers will find themselves recalibrating their judgments about villains and victims and questioning how one family could fall so far down through the cracks... American Daughter will resonate" — BookPage (starred review)
"An inspiring story of perseverance, grit, survival and humanity, 'American Daughter' is a powerful, compelling memoir."  — Good Morning America
"a gut-wrenching and absorbing portrait of one family's legacy of mental illness and childhood trauma." — Booklist
"This beautiful memoir is a testament to how the right partnership in adulthood can redeem even the hardest upbringing"  — Washington Post
"In this sharp, heartrending work, Plymale reconciles with the truth of her mother's life, finding forgiveness, hope, and even pride. Her testimony, while painful to read, is vital." — Library Journal
"[A] poignant and often distressing memoir....The writing is shatteringly candid but never overwrought, the story a stark reminder that 'the most difficult people are often suffering in ways we can't fathom.'" — Shelf Awareness
"By sharing your story, I'm sure you know how much you're helping others." — Sheinelle Jones, TODAY Show
Compelling and well-told, the story is full of surprises, including the revelation of a long-held family secret and the uncovering of lineage that traces back to famous American figures.  — Globe and Mail (Toronto)
"American Daughter–in the tradition of classics like The Glass Castle, LA Diaries and White Oleander–explores in unsparing details the complex interplay between intimate family ties, generational abuse, cataclysmic losses, and the extraordinary and limitless power of compassion and self-discovery." — Gina Frangello, Author of 'Every Kind of Wanting' and 'A Life in Men', Editor of The Coachella Review
HarperOne, 9780063054332, 288pp.
Publication Date: January 12, 2021
About the Author
Stephanie Thornton Plymale is the CEO of Heritage School of Interior Design and the founder of the Heritage Home Foundation, a nonprofit serving families transitioning from homelessness. She lives with her husband and three children in Portland, Oregon.
READER-FOCUSED
1. What feelings did this book evoke for you?
2. How did the book change you?
3. What was your initial reaction to the book? Did it hook you immediately, or take you some time to get into?
4. Did the book change your opinion or perspective about anything? Do you feel different now than you did before you read it?
5. Were there people that you most related to in the book? What was it about them that you connected with?
6. Share a favorite quote from the book. Why did this quote stand out?
7. Can you relate to any instances or relationships in the book? Parent-daughter, familial, marital, professional, etc., and did the book help you to gain greater perspective on these things for yourself?
8. Which person in the book would you most like to meet?
9. Which places in the book would you most like to visit? New York City, San Francisco, Mendocino, Oregon, Oregon Hospital for the Insane, The CA Dependent Unit, or any of Stephanie's Foster Homes
10. What most surprised you as you read this book?
MEMOIR-SPECIFIC / AUTHOR BASED
1. Why do you think the author chose to tell this story? What ideas was she trying to get across?
2. What aspects of the author's story could you most relate to?
3. How honest do you think the author was being?
4. What gaps do you wish the author had filled?
5. Think about the other people in the book besides the author. How would you feel to have been depicted in this way?
6. What is your impression of the author?
7. If you got the chance to ask the author of this book one question, what would it be?
STRUCTURE
1. How did the structure of the book affect the story? There was a lot of movement from one timeline to another. Was that distracting or did it hold you in suspense and helped you better understand how past influenced current day?
2. Did any aspects of the book feel unresolved or missing?
3. How did you feel about the ending? What emotions were brought up for you if at all?
4. Do you feel like you want to know more about this story? If so, what sections?
5. If you could hear this same story from another person's point of view, who would you choose?
THEMES
1. Did you pick out any themes throughout the book?
2. What do you think of the book's title? How does it relate to the context?
3. What do you think of the book's cover? How well does it convey what the book is about?
PERSONAS
1. Consider Florence's different personas; Agnes and Flow. How did these personas impact your experience with the book?

• Why did Florence create Flow who was an Indian?

• Why did she create Agnes?
2. Why do you think Florence saw an Indian in the room with her during the rape? Was this a delusion, an angel or any other thoughts?
3. Florence, while running down the street naked, yells, 'You can't kill me because I'm already dead!' This has haunted Stephanie her entire life. What do you think is the meaning behind Florence's words?
SYSTEMIC TOPICS; ADDICTION, MENTAL HEALTH, FOSTER CARE, ABUSE
4. Now with the #metoo movement and an overt emphasis placed on equal rights and opportunities, what do you feel would be different had this crime played out in current day?
5. Florence clearly never received addiction and mental health support and today, not much has improved. There are so many lives that never have an opportunity to heal. How do you feel our addiction and mental healthcare system could improve?
6. Florence experienced Dissociative Disorder (Multiple Personalities), Bipolar and Schizophrenia, which all developed after her trauma. Does her story change your perception of mental illness?
7. Do you see Florence's behavior as a cry for help or purely as her emotional reaction to her past?
8. We're currently still in a place where foster abuse takes place, just as Stephanie experienced years ago. No one asked her at the time what her experience was in any of the homes. She felt she had fallen through the cracks at every level. What do you feel needs to change in the foster care system to keep this from happening?
CHARACTER-SPECIFIC
1. If the book were being adapted into a movie, who would you cast?
2. How did the people change throughout the story? How did your opinion of them change?
3. Provide commentary and discussion on the following people's character:

• Florence

• Stephanie

• Jim

• Allan

• Mama Mae

• Rick
or
Not Currently Available for Direct Purchase