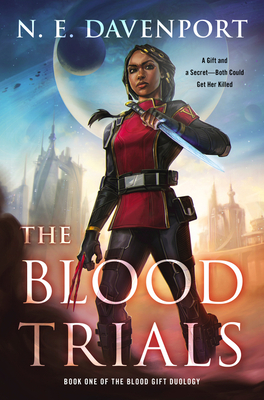 The Blood Trials (The Blood Gift Duology #1)
Hardcover

* Individual store prices may vary.
Other Editions of This Title:
Digital Audiobook (4/4/2022)
Paperback (1/10/2023)
Compact Disc (4/5/2022)
MP3 CD (4/5/2022)
Description
Blending fantasy and science fiction, N. E. Davenport's fast-paced, action-packed debut kicks off a duology of loyalty and rebellion, in which a young Black woman must survive deadly trials in a racist and misogynistic society to become an elite warrior.
It's all about blood.
The blood spilled between the Republic of Mareen and the armies of the Blood Emperor long ago. The blood gifts of Mareen's deadliest enemies. The blood that runs through the elite War Houses of Mareen, the rulers of the Tribunal dedicated to keeping the republic alive.
The blood of the former Legatus, Verne Amari, murdered.
For his granddaughter, Ikenna, the only thing steady in her life was the man who had saved Mareen. The man who had trained her in secret, not just in martial skills, but in harnessing the blood gift that coursed through her.
Who trained her to keep that a secret.
But now there are too many secrets, and with her grandfather assassinated, Ikenna knows two things: that only someone on the Tribunal could have ordered his death, and that only a Praetorian Guard could have carried out that order.
Bent on revenge as much as discovering the truth, Ikenna pledges herself to the Praetorian Trials—a brutal initiation that only a quarter of the aspirants survive. She subjects herself to the racism directed against her half-Khanaian heritage and the misogyny of a society that cherishes progeny over prodigy, all while hiding a power that—if found out—would subject her to execution…or worse. Ikenna is willing to risk it all because she needs to find out who murdered her grandfather…and then she needs to kill them.
Mareen has been at peace for a long time…
Ikenna joining the Praetorians is about to change all that.
Magic and technology converge in the first part of this stunning debut duology, where loyalty to oneself—and one's blood—is more important than anything.
Praise For The Blood Trials (The Blood Gift Duology #1)…
"Davenport debuts with an ambitious epic that blurs genre lines, setting futuristic technology against a historical fantasy backdrop...this invigorating debut marks Davenport as a writer to watch." — Publishers Weekly
"Davenport's ambitious debut is gritty and bloody, and balances emotional arcs with fast action. Fans of Pierce Brown's Red Rising and Evan Winter's The Rage of Dragons will find similarities in Ikenna's journey." — Library Journal
"The Blood Trials is one of my top reads of the year—a riveting story with richly-drawn characters caught in a tangle of political intrigue, systemic racism, and nonstop peril. Don't miss this one!" — Melissa Marr, New York Times Bestselling Author of Wicked Lovely
"The Blood Trials is a fresh, intense gut punch of a book that has everything I love most in sci-fi and fantasy. I rooted for Ikenna, the trials gripped me, and the political mystery at the heart of it all kept me constantly on my toes." — Susan Dennard, New York Times Bestselling author of the Witchlands series
"The plotting is an intricate mix of action, intrigue, and betrayal, with a fast pace and a high body count… Thankfully, this is book one of a proposed duology, because revenge is a dish best served cold." — Booklist
"With a high-octane sci-fi setting, a twisty murder mystery, and a badass heroine, THE BLOOD TRIALS is a damn good time." — Hannah Whitten, New York Times bestselling author of For the Wolf
"The Blood Trials is an electrifying debut that deftly incorporates the best elements of science fiction and fantasy. A must-read!"
— Alexis Henderson, author of The Year of the Witching

"An action packed adventure paired with luscious world building makes The Blood Trials an enthralling, unputdownable read. Davenport is a force to be reckoned with." 
— Bestselling author of Cinderella Is Dead, Kalynn Bayron

"If you want to be on the edge of your seat, find another book, because this one hands you a blade, shoves you right into the action, and demands you start running if you want to keep up. It is action, mystery, and heartfelt character--all balanced perfectly on the tip of a knife."
— Scott Reintgen, Bestselling author of the Nyxia series
"Each bloody scene has depth and leads to more answers that compel you to keep reading, which was one of my favorite aspects of Davenport's writing." — Lightspeed Magazine
"The Blood Trials is an ambitious debut by N.E. Davenport had me on the edge of my seat the entire time and constantly guessing. This story beautifully tackles some difficult themes that resonated with me deeply and imagined the main character that I fell in love with." — Bookish Brews
Harper Voyager, 9780063058484, 464pp.
Publication Date: April 5, 2022
About the Author
N. E. Davenport is the science fiction/fantasy author of The Blood Trials and its sequel. She attended the University of Southern California and studied biological sciences and theatre arts. She also has an M.A. in secondary education. She teaches English and biology to amazing students. When she isn't writing, she enjoys vacationing with her family, skiing, and being a huge foodie. She's an advocate for diverse perspectives and protagonists in literature. You can find her on Twitter or on Instagram, where she talks about bingeworthy TV, killer movies, and great books. She lives in Texas with her husband and kids.