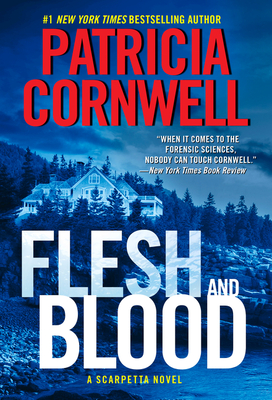 Flesh and Blood (Scarpetta)
Mass Market

* Individual store prices may vary.
Other Editions of This Title:
Digital Audiobook (11/10/2014)
Digital Audiobook (11/10/2014)
Mass Market (6/30/2015)
Paperback (1/5/2016)
Hardcover (11/11/2014)
CD-Audio (6/30/2015)
Hardcover, Large Print (11/1/2014)
Paperback, Large Print (11/11/2014)
Description
#1 New York Times bestselling author Patricia Cornwell delivers another enthralling thriller in her high-stakes forensic series starring Kay Scarpetta.
It's Dr. Kay Scarpetta's birthday and she's about to head to Miami for a vacation with her FBI profiler husband Benton Wesley when she notices seven pennies on a wall behind their Cambridge house. Is this a kids' game? If so, why are all of the coins dated 1981 and so shiny it's as if they're newly minted? Then her cellphone rings, and Detective Pete Marino tells her there's been a homicide five minutes away. A high school music teacher has been shot with shocking precision as he unloaded groceries from his car. No one heard or saw a thing. It's as if God did it.
In this 22nd Scarpetta novel, the master forensic sleuth finds herself in the middle of a nightmarish pursuit of a serial sniper who seems to leave no evidence except fragments of copper. The shots are so perfect, they cause instant death and seem impossible, and the death scenes aren't crime scenes because the killer was never within hundreds of yards of the victims. The victims seem to have nothing in common, and there is no pattern that might indicate where the Copperhead will strike next. First New Jersey, then Massachusetts, and then into the murky depths off the coast of South Florida, where Scarpetta dives a shipwreck, looking for answers that only she can discover and analyze. There she must face an unthinkable truth that points in the direction of her techno genius niece, Lucy, Scarpetta's own flesh and blood.
Praise For Flesh and Blood (Scarpetta)…
"Thrilling . . . pits the chief medical examiner against a threat uncomfortably close to home."
— Publishers Weekly

"This is in many ways the best of the recent Scarpetta novels, boasting an involving story and some fine writing. Kay has finally found her voice as a first-person narrator. . . . Readers will give this one an enthusiastic thumbs up."
— Booklist

"Everyone knows Scarpetta; she has the wit, intelligence, and strength that any forensic sleuth should own. This never-stop action plot is yet another gift to readers from Patricia Cornwell-a literary artist that is never going to stop writing some of the best and most memorable thrillers out there."
— Suspense Magazine

"Dr. Kay Scarpetta… [is] an awesome force in the field of forensic science."
— New York Times Book Review

"In her twenty-second Scarpetta novel, Cornwell's forensic knowhow is still at the cutting edge - even though Scarpetta was the prototype for most of TV's crack forensic investigators today - and her final scenes are both logical and shocking."
— BBC (UK)

"From its opening pages, Flesh and Blood offers an adrenaline-fueled yet cerebral chase for a serial-killer that opens Scarpetta and her entourage to mortal danger. . . . Another chilling, delicious ride."
— Chapter 16

"Absorbing."
— Pittsburgh Post-Gazette

"Readers should be both thrilled and jolted…"
— CT Post

"Cornwell is still the ace of forensic science mysteries. Dr. Kay Scarpetta and her family and friends just keep growing as characters, and Cornwell's plots are still taut and tangled. . . . With Flesh and Blood, Cornwell is at the top of her game."
— RT Book Reviews

"What [Cornwell and Scarpetta] continue to have crucially in common . . . is an unslacking commitment to doing their jobs right-getting to the bottom of things, in Scarpetta's case; providing complexity and depth and suspense and thrills, in Cornwell's. I should warn you that there's a cliffhanger ending."
— Sullivan County Democrat
William Morrow, 9780063063563, 464pp.
Publication Date: March 9, 2021
About the Author
Patricia Cornwell is recognized as one of the world's top bestselling crime authors with novels translated into thirty-six languages in more than 120 countries. Her novels have won numerous prestigious awards including the Edgar, the Creasey, the Anthony, the Macavity, and the Prix du Roman d'Aventure. Beyond the Scarpetta series, Patricia has written a definitive book about Jack the Ripper, a biography, and three more fiction series among others. Cornwell, a licensed helicopter pilot and scuba diver, actively researches the forensic technologies that inform her work. She was born in Miami, grew up in Montreat, North Carolina, and now lives and works in Boston.