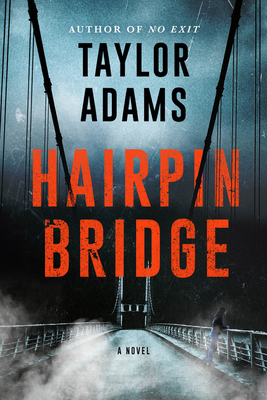 Hairpin Bridge
A Novel
Hardcover

* Individual store prices may vary.
Other Editions of This Title:
Digital Audiobook (6/14/2021)
Paperback, Large Print (6/15/2021)
Mass Market (12/28/2021)
MP3 CD (6/15/2021)
Compact Disc (6/15/2021)
Paperback, Chinese (2/23/2022)
Description
From the author of the "full-throttle thriller" (A. J. Finn) No Exit—a riveting new psychological page-turner featuring a fierce and unforgettable heroine.
Three months ago, Lena Nguyen's estranged twin sister, Cambry, drove to a remote bridge seventy miles outside of Missoula, Montana, and jumped two hundred feet to her death. At least, that is the official police version.
But Lena isn't buying it.
Now she's come to that very bridge, driving her dead twin's car and armed with a cassette recorder, determined to find out what really happened by interviewing the highway patrolman who allegedly discovered her sister's body.
Corporal Raymond Raycevic has agreed to meet Lena at the scene. He is sympathetic, forthright, and professional. But his story still seems a bit off. For one thing, he stopped Cambry for speeding just an hour before she supposedly leaped to her death. Then there are the sixteen attempted 911 calls from her cell phone, made in what was unfortunately a dead zone.
But perhaps most troubling of all, the state trooper is referred to by name in Cambry's final enigmatic text to her sister: Please Forgive Me. Lena will do anything to uncover the truth. But as her twin's final hours come into focus, Lena's search turns into a harrowing tooth-and-nail fight for her own survival—one that will test everything she thought she knew about her sister and herself...
Praise For Hairpin Bridge: A Novel…
"A shot of adrenaline straight to the heart! Propulsive and unpredictable, Hairpin Bridge will have you on edge from the first page to the last." — Riley Sager, New York Times bestselling author of Home Before Dark
"Taylor Adams's fourth stand-alone thriller moves at about 150 miles per hour until its closing scene, which is still and tender . . . A novel that's part action flick and part affecting rumination on moral responsibility within families."
— Washington Post
"Hairpin Bridge reads like a Stephen King novel and is especially reminiscent of Misery in how the characters shape-shift as the narrative progresses, leaving the reader wondering who is more dangerous—and more importantly, which one will prevail." — BookPage
"Adams follows his debut, 2019's No Exit, with another dazzling thriller. . . . Adams is a writer to watch." — Publishers Weekly (starred review)
"There are certainly thriller elements, here, and in fact stretches of this book all but grip your wrists, but its deepest pleasures come from the mystery, the masterfully controlled revelations of what really happened at and off that bridge as the sister of the woman who died in that plunge uncovers them. That sister is a fully realized character, and getting to know her puts us in intimate touch with the victim, too—and, as really good fiction can (let's recall)—with ourselves, too." — Shawangunk Journal
The pace is breakneck, with Taylor Adams exhibiting exquisite control of his craft and material as he leads readers through the plot's many revelations and reversals. . . . Violent, occasionally bizarre, and overall deeply heartfelt, this was one heck of a journey—one I'm extremely glad I took. — CriminalElement.com
"Adams displays fierce skills at meting out tension that begins subtly but increases as the danger becomes real." — Shelf Awareness
"The carefully layered drawing-room psychology of Agatha Christie cross-pollinated with the pure squishy terror of Stephen King. . . . [Taylor Adams] nails his setup and builds some truly distinctive characters."  — Entertainment Weekly on No Exit
"There's a cinematic propulsion to No Exit that commands the reader's attention, and Mr. Adams times his shocks with a sure hand."  — Wall Street Journal
"Adams' gripping psychological thriller is haunting, disturbing, stomach-churning, and violent. . . . As layer after layer of this stunningly crafted story are peeled back, readers will be shocked by the devastating twists. No one is what they seem; what appears to be true is often false. This is a strange and powerful tale of justice, mercy, revenge, and regret, with a dramatic and unexpected ending." — Booklist
"A heart-pounding masterpiece . . . . Bump this book to the top of your list; it's one you're not going to want to miss!" — Mystery & Suspense
"What a box of tricks! This full-throttle thriller, dark and driving, rivals Agatha Christie for sheer ingenuity and James Patterson for flat-out speed. Swift, sharp, and relentless." — A. J. Finn, #1 New York Times bestselling author of The Woman in the Window on No Exit
"No Exit is everything I want in a thriller: ingeniously crafted, unapologetically relentless, and shamelessly suspenseful. The twists go off like a series of expertly planted detonations and the tension never lets up. I was blown away. No Exit is a damn good time." — Joe Hill, #1 New York Times bestselling author of The Fireman

"No Exit opens with an ingenious, chilling setup and then delivers a wicked ride of psychological tension. Taylor Adams is a master of suspense. I'm already impatient to see what he does next." — Michael Koryta, New York Times bestselling author of How It Happened 

"[A]n intense, brutal, no-holds-barred thriller dripping with adrenaline; a heart-pounding story of courage and sacrifice featuring a heroine unlike any you've ever seen. Don't start unless you're prepared to read straight through, because I guarantee you will not be able to stop turning the pages." — Karen Dionne, author of the international bestseller The Marsh King's Daughter on NO EXIT

William Morrow, 9780063065444, 320pp.
Publication Date: June 15, 2021
About the Author
Taylor Adams is the author of several acclaimed thrillers including Hairpin Bridge and No Exit. No Exit has been published in 32 languages and was recently released as a Hulu Original film. Adams lives in Washington State.