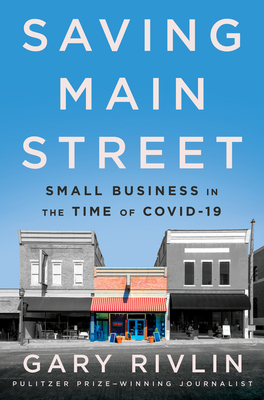 Saving Main Street
Small Business in the Time of COVID-19
Hardcover

* Individual store prices may vary.
Other Editions of This Title:
Digital Audiobook (10/17/2022)
Compact Disc (10/18/2022)
MP3 CD (10/18/2022)
Description
A veteran journalist follows an inspiring ensemble cast of small business owners fighting to keep their businesses alive through Covid-19, while exploring the sweeping trends and government policies that had brought small businesses to the breaking point long before the coronavirus hit.
There is a tendency to fetishize small business even as it shrinks before our eyes. Americans extol the virtues of small, local, often family-run shops, yet buy from big-box retailers and chains that dominate the competition. Even before the pandemic, small businesses seemed endangered. When Covid-19 hit, the resounding question was: How will they be able to survive this?
Saving Main Street is an unfiltered, up-close examination of a small group of business owners and their employees, their struggles, and their strategies to survive. It is an eye-opening tale of grit, perseverance, and entrepreneurial spirit that follows three businesses: a restaurant owner and his rambunctious staff, an immigrant running her own hair salon, and the owner of a "non-life sustaining" gift shop—alongside a larger cast of vividly drawn characters. 
Gary Rivlin focuses on the first days of the Covid lockdown and the ensuing eighteen months of chaos, including the personal and financial risks, a contentious presidential election, and contradictory governmental guidelines—all which compounded the everyday challenges of running an independent business trying to attract and retain customers who expect low prices, convenience, and endless choice. Rivlin keenly observes small businesses from all angles, examining commonly held "myths"; contradictions in government policy; enormous racial and class fissures; a national self-identity intrinsically connected to the ideal of small business, and how the decline of this American way of retail impacts our notions of American exceptionalism, community, and civic duty.
As Rivlin reveals, there's something enduring about small business in the American psyche. Life will have changed in unprecedented ways on the other side of this pandemic, yet hard times will also create opportunities, offering hope and survival.
Praise For Saving Main Street: Small Business in the Time of COVID-19…
"A remarkable book. Rivlin re-creates the panic and heartbreak of small-business owners in the time of COVID, touching on everything from staffing issues to governmental hypocrisy to citizen rage, and always with an unwavering novelist's eye. The result is the story of the way we live now: divided, shell-shocked, and picking up the pieces as best we can."  — Joshua Ferris, author of A Calling for Charlie Barnes
"Everything you think you know about small business in America will be upended in this surprising and inspiring investigation of America's Main Streets. You'll be introduced to a remarkable, resilient group of small-business owners who somehow kept going through COVID. These are true entrepreneurs—far from the epicenter of Silicon Valley, but they know how to move quickly, pivot, and adapt to keep their enterprises alive."  — Charles Duhigg, author of bestsellers The Power of Habit and Smarter Faster Better
"Gary Rivlin isn't just a terrific journalist, he is an unusually empathetic one, who always gives readers a powerful sense of what his subjects are feeling and hoping and praying. It is this quality that makes <i>Saving Main Street</i> such a beautiful, memorable book. His stories of small-business people trying to survive the pandemic will break your heart—and fill you with joy." — Joe Nocera, coauthor of All the Devils Are Here
"Compelling stories at the intersection of entrepreneurial aspirations, personal obligations, and public policy." — Kirkus Reviews 
Harper Business, 9780063065963, 352pp.
Publication Date: October 18, 2022
About the Author
Gary Rivlin is a Pulitzer Prize–winning investigative reporter and the author of nine books, including Katrina: After the Flood. His work has appeared in the New York Times, Newsweek, Fortune, GQ, and Wired, among other publications. He is a two-time Gerald Loeb Award winner and former reporter for the New York Times. He lives in New York with his wife, theater director Daisy Walker, and two sons.