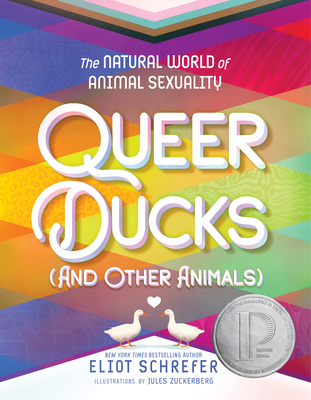 Queer Ducks (and Other Animals)
The Natural World of Animal Sexuality
Hardcover

* Individual store prices may vary.
Other Editions of This Title:
Digital Audiobook (5/23/2022)
Paperback (5/9/2023)
Compact Disc (5/24/2022)
MP3 CD (5/24/2022)
Description
NPR's "All Things Considered," calls Queer Ducks "teenager-friendly. It's a young adult book filled with comics and humor and accessible science, and it's filled with research on the diversity of sexual behavior in the animal world."
This groundbreaking illustrated YA nonfiction title from two-time National Book Award finalist and New York Times bestselling author Eliot Schrefer is a well-researched and teen-friendly exploration of the gamut of queer behaviors observed in animals.
A quiet revolution has been underway in recent years, with study after study revealing substantial same-sex sexual behavior in animals. Join celebrated author Eliot Schrefer on an exploration of queer behavior in the animal world—from albatrosses to bonobos to clownfish to doodlebugs.
In sharp and witty prose—aided by humorous comics from artist Jules Zuckerberg—Schrefer uses science, history, anthropology, and sociology to illustrate the diversity of sexual behavior in the animal world. Interviews with researchers in the field offer additional insights for readers and aspiring scientists.
Queer behavior in animals is as diverse and complex—and as natural—as it is in our own species. It doesn't set us apart from animals—it bonds us even closer to our animal selves.
Praise For Queer Ducks (and Other Animals): The Natural World of Animal Sexuality…
"This is a groundbreaking young adult publication that documents new insights into animal behavior, including research previously repressed or ignored. It also reassures readers that same-sex attraction, interaction, and sexual intercourse is completely natural, both in the animal and human realms." — Booklist (starred review)
"Mind-expanding, guffaw-inducing, and truth-telling—Schrefer's title guides readers to a frontier where no STEM curriculum has gone before." — Bulletin of the Center for Children's Books (starred review)
"Together, the creators deliver punch lines while revealing little-known animal facts about avian asexuality and polyamory, bisexual bonobos, and intersex deer, all supporting the argument that exclusionary takes on the natural world are a breakable human habit—and that, as science shows, queer behavior has never been 'unnatural.'" — Publishers Weekly (starred review)
"A thoughtful, thought-provoking, and incredibly fun study of queerness across the animal kingdom . . . it will help queer kids feel less alone as it highlights the filtered lens through which the animal kingdom has for too long been presented." — Kirkus Reviews
"In this hilarious, inviting, brilliant, absolutely revelatory book, Queer Ducks introduces us to new science and cool animals that show us that lovemaking is far more varied, far more exuberant, and far more useful than two opposite sex creatures simply making a bunch of babies. Thank you, Eliot Schrefer, for showing us a natural treasure trove of glorious ways to love, bond, and be." — Sy Montgomery, New York Times bestselling author of How to be a Good Creature
"Eliot Schrefer takes us on a groundbreaking journey of discovery into the sexual ways of animals. I laughed, cried, cheered and learned so much—about animals, sex, science and yes, even love. This book is a must-read for every teen."  — Deb Heiligman, award-winning author of Charles and Emma: The Darwins' Leap of Faith
"In this deeply researched and necessary book, Schrefer takes readers through the scientific record of same-sex partnering in the animal kingdom. Species by species, study by study, coupling by coupling, he shares the data and shines a light on the human assumptions and cultural biases that have kept the natural diversity of animal sexual behavior under wraps for too long. Queer Ducks may be the most important book you read and share this year." — Loree Griffin Burns, Ph.D., award-winning author of Tracking Trash: Flotsam, Jetsam, and the Science of Ocean Motion
"This mind-blowing treatise covers everything teens might not even know to ask about animal sexuality." — San Francisco Chronicle
Praise for The Darkness Outside Us: "Schrefer masterfully evokes and maintains suspense that keeps the pages turning briskly while still taking the time to limn the two boys' touching, moving relationship. If all of this is space opera, readers will want an encore. Bravo." — Booklist (starred review)
"3, 2, 1…blastoff for mystery, adventure, and queer intergalactic bodice-ripping." — Kirkus Reviews
"[A] sexy space odyssey. Schrefer's immersive novel combines the build of mysteries and the tension of romance, slowly unfurling an iterative story about love and attraction, destiny, and connection. " — Publishers Weekly
"Schrefer does an excellent job of developing and humanizing his characters before throwing them into the swift waters of a sci-fi plot with its truly shocking and satisfying twist. Readers are sure to root for these lovable characters' survival." — Bulletin of the Center for Children's Books
"Yes, The Darkness Outside Us is utterly inventive and relentlessly page-turning. And yes, Ambrose and Kodiak are seriously the hottest couple in space. But even more, this is an insightful, tender, and profound story, about the weight of history, and the power of transformation and true love." — Deb Caletti, National Book Award finalist and author of A Heart in a Body in the World 
"Fiercely imaginative and desperately real, The Darkness Outside Us explores the wild expanses of the human heart. This book is a triumph."  — Elana K. Arnold, author of Damsel, a Printz Honor Book
"The Darkness Outside Us is equal parts terrifying, tender, and thrilling. I loved every word of this sharp, thoughtful look at the world we live in and the ones beyond."  — Brandy Colbert, award-winning author of Little & Lion
"Absolutely brilliant. The Darkness Outside Us is a pulse-pounding thriller, engrossing science fiction epic, and heartfelt meditation on love all at once." — Malinda Lo, Author of Ash
Katherine Tegen Books, 9780063069497, 240pp.
Publication Date: May 24, 2022
About the Author
Eliot Schrefer is a New York Times bestselling author, has twice been a finalist for the National Book Award in Young People's Literature, and has won the Green Earth Book Award and the Sigurd F. Olson Nature Writing Award for Children's Literature. His novels include the Lost Rainforest series, Endangered, Threatened, Rescued, Orphaned, and two books in the Spirit Animals series. He lives in New York City, is on the faculty of the Hamline University and Fairleigh Dickinson University MFA in creative writing programs, and reviews books for USA Today. Visit him online at www.eliotschrefer.com.