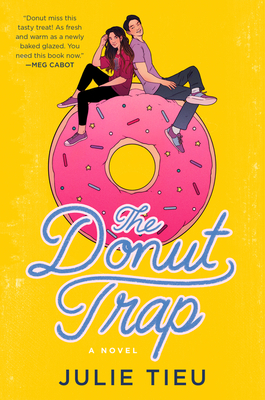 The Donut Trap
A Novel
Paperback

* Individual store prices may vary.
Other Editions of This Title:
Digital Audiobook (11/8/2021)
Compact Disc (11/9/2021)
MP3 CD (11/9/2021)
Description
Julie Tieu sparkles in this debut romantic comedy, which is charmingly reminiscent of the TV show Kim's Convenience and Frankly in Love by David Yoon, about a young woman who feels caught in the life her parents have made for her until she falls in love and finds a way out of the donut trap.


Jasmine Tran has landed herself behind bars—maple bars that is. With no boyfriend or job prospects, Jasmine returns home to work at her parents' donut shop. Jasmine quickly loses herself in a cyclical routine of donuts, Netflix, and sleep. She wants to break free from her daily grind, but when a hike in rent threatens the survival of their shop, her parents rely on her more than ever.
Help comes in the form of an old college crush, Alex Lai. Not only is he successful and easy on the eyes, to her parents' delight, he's also Chinese. He's everything she should wish for, until a disastrous dinner reveals Alex isn't as perfect as she thinks. Worse, he doesn't think she's perfect either.
With both sets of parents against their relationship, a family legacy about to shut down, and the reappearance of an old high school flame, Jasmine must scheme to find a solution that satisfies her family's expectations and can get her out of the donut trap once and for all.
Praise For The Donut Trap: A Novel…
"Donut miss this tasty treat! Julie Tieu is going on my auto-buy list. Her writing is as fresh and warm as a newly baked glazed. You need this book now."
— Meg Cabot, author of the Little Bridge Island and Princess Diaries series
"Julie Tieu's debut is a sweet and sparkly love story about figuring out what you really want out of life and having the courage to go for it. Many readers will relate to Jasmine and her post-college struggles as she attempts to find love and a new job outside of her family's donut shop. I loved her family and the way they supported each other, even when they didn't always understand each other. This realistic, donut-filled romance is such a treat."  — Kerry Winfrey, author of Waiting For Tom Hanks
"The Donut Trap is a fun romance as delicious as a perfectly glazed donut, but beneath the sweet romance, it's also a richly developed story about the diaspora experience and the overwhelming sense of aimlessness that so often comes after graduating college. It's an important coming-of-age story about walking the fine line between forging your own path and not disappointing the parents who have given up everything for you. Expect to cry and laugh, all while craving donuts!" — Jesse Q. Sutanto, Author of Dial A for Aunties
"A sweet, heartfelt romance about following your own path and following your heart. This relatable story is perfect for anyone who's ever felt uncertainty of who they are and where they belong."  — Suzanne Park, Author of Loathe at First Sight and So We Meet Again

"This book gave me extreme heart eyes. The Donut Trap explores the post-college doldrums in a real and refreshing way, with a cast of charming characters, a sharp sense of humor, and a romance sweeter than frosting. A delectable debut!" — Rachel Lynn Solomon, author of The Ex Talk
"A sweet treat of a debut. Jasmine grapples with the messiness of her own family's dilemmas as she balances their wishes against her desires. Can she find love on her own terms and do what it takes to save the day? Donut miss this book!" — Roselle Lim, author of Vanessa Yu's Magical Paris Tea Shop
"While Jasmine and Alex's swift romance is adorable, Jasmine's post-college struggles and feelings of uncertainty carry Tieu's thoughtful debut. The Donut Trap isn't just a tale where a boy meets a girl, and they fall in love. It's a family story in which Tieu perfectly builds tension between Jasmine and her parents as she tries to find her own path." — Booklist 
"Tieu's writing really shines is in her explorations of complicated family dynamics—particularly for the American-born children of Chinese refugee parents—and overwhelming post-college ennui. The dialogue between Jasmine and her parents is often funny and sharp, and Tieu tackles their fraught relationships with understanding and warmth. Though Jasmine is desperate to leave Sunshine Donuts, readers will no doubt feel the opposite." — Kirkus 
"While the sweet romance between Jasmine and Alex is at the core of The Donut Trap, Jas's very real family issues give it heart. Jas's failure to meet her parents' expectations, her struggles to communicate with them, and the way it impacts not just their relationship but every aspect of her life: these are all major plot points, not just details thrown in for authenticity's sake. The Donut Trap explores these issues from a place of empathy, and it comes together to create a quick rom-com read with satisfying depth." — Popsugar
Avon, 9780063069800, 368pp.
Publication Date: November 9, 2021
About the Author
Julie Tieu is a Chinese American writer, born and raised in Southern California. When she is not writing or working as a college counselor, she is reading, on the hunt for delicious eats, or dreaming about her next travel adventure. She lives in the Los Angeles area with her high school crush husband and two energetic daughters.