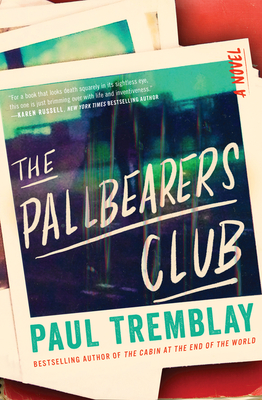 The Pallbearers Club
A Novel
Hardcover

* Individual store prices may vary.
Other Editions of This Title:
Paperback, Large Print (7/5/2022)
Description
"Books can have teeth. A whole mouthful of them. The Pallbearers Club has a whole lifetime of them." —Stephen Graham Jones, New York Times bestselling author of My Heart Is a Chainsaw
A cleverly voiced psychological thriller about an unforgettable—and unsettling—friendship, with blood-chilling twists, crackling wit, and a thrumming pulse in its veins—from the nationally bestselling author of The Cabin at the End of the World and Survivor Song.
What if the coolest girl you've ever met decided to be your friend?
Art Barbara was so not cool. He was a seventeen-year-old high school loner in the late 1980s who listened to hair metal, had to wear a monstrous back-brace at night for his scoliosis, and started an extracurricular club for volunteer pallbearers at poorly attended funerals. But his new friend thought the Pallbearers Club was cool. And she brought along her Polaroid camera to take pictures of the corpses.
Okay, that part was a little weird.
So was her obsessive knowledge of a notorious bit of New England folklore that involved digging up the dead. And there were other strange things – terrifying things – that happened when she was around, usually at night. But she was his friend, so it was okay, right?
Decades later, Art tries to make sense of it all by writing The Pallbearers Club: A Memoir. But somehow this friend got her hands on the manuscript and, well, she has some issues with it. And now she's making cuts.
Seamlessly blurring the lines between fiction and memory, the supernatural and the mundane, The Pallbearers Club is an immersive, suspenseful portrait of an unforgettable and unsettling friendship.
Praise For The Pallbearers Club: A Novel…
"Books can have teeth. A whole mouthful of them. The Pallbearers Club has a whole lifetime of them." 
— Stephen Graham Jones, New York Times bestselling author of My Heart is a Chainsaw

"The Pallbearers Club is Tremblay at his most audacious best. It's such a sneaky mindblower! It'll burrow deep inside you, and by the end, you'll be wondering if the room you're sitting in, the people you're talking with, or even your own memory, are real. This book is horror's answer to Nabokov's Pale Fire."
— Sarah Langan, author of Good Neighbors

"Absolutely riveting. I haven't been able to put it down."
— Stephen King on Survivor Song

"The most beautiful and heartbreaking funeral I've been to in a long time, The Pallbearers Club is melancholy, funny, and very cruel, but you won't regret carrying this coffin."
— Grady Hendrix, bestselling author of The Final Girl Support Group

"Survivor Song is a small horror story. A personal one. A fast and terrible one that is committed beautifully to the page. . . . It exists in a pandemic world where all choices are bad ones. Where things unravel faster than you can possibly believe. Where happy endings are transactional: they come with a cost. Because Survivor Song isn't a fairy tale. It's a horror story."
— NPR

"For the past few years, Paul Tremblay has been setting the standard for modern horror. His genius is that he never forgets the core of a great horror novel resides first in its characters. In Survivor Song, he revitalizes the zombie novel by keeping the focus narrow and intimate: two women, in the space of a few hours, just trying to get across town. The result is heartfelt and terrifying, in a narrative that moves like a bullet train."
— Nathan Ballingrud, author of North American Lake Monsters and Wounds

"Tremblay has earned worldwide acclaim because he is able to seamlessly combine reality with speculative elements, and his newest may be his most prescient yet. . . Gorgeously written about terrible things, the relatively short Survivor Song is a good choice for fans of pandemic epics . . . and novels that probe themes of friendship, family, and social commentary amidst chillingly realistic horror."
— Booklist (starred review)
William Morrow, 9780063069916, 288pp.
Publication Date: July 5, 2022
About the Author
Paul Tremblay has won the Bram Stoker, British Fantasy, and Massachusetts Book awards and is the author of Growing Things, The Cabin at the End of the World, Disappearance at Devil's Rock, A Head Full of Ghosts, and the crime novels The Little Sleep and No Sleep Till Wonderland. His essays and short fiction have appeared in the Los Angeles Times, Entertainment Weekly online, and numerous year's-best anthologies. He has a master's degree in mathematics and lives outside Boston with his family.