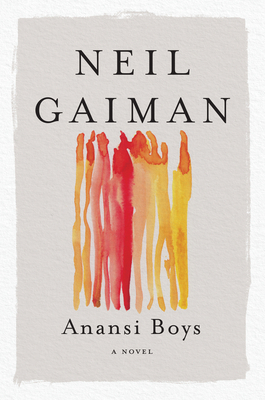 Anansi Boys
A Novel
Paperback

* Individual store prices may vary.
Other Editions of This Title:
Digital Audiobook (9/19/2005)
Mass Market (10/25/2016)
Paperback (1/22/2008)
Description
Soon to be a streaming series!
From #1 New York Times bestselling author Neil Gaiman, a tale playful, profound, and rife with mayhem and mischief―one of ten classic Gaiman works repackaged with elegant original watercolor art by acclaimed artist Henry Sene Yee
When Fat Charlie's dad named something, it stuck. Like calling Fat Charlie "Fat Charlie." Even now, twenty years later, Charlie Nancy can't shake that name, one of the many embarrassing "gifts" his father bestowed—before he dropped dead on a karaoke stage and ruined Fat Charlie's life. Because Mr. Nancy left Fat Charlie things. Things like the stranger who appears on Charlie's doorstep, who appears to be the brother he never knew. And all of a sudden, life starts getting very interesting for Fat Charlie.
Neil Gaiman journeys deep into myth to brings us a tale playful, profound, and rife with mayhem and mischief—an audacious and inspired story of family, luck, deceit, and an unusual legacy that illuminates the divine in our humanity. Not to mention a lime.
"Awesomely inventive.… When you take the free-fall plunge into a Neil Gaiman book, anything can happen and anything invariably does." —Entertainment Weekly
Praise For Anansi Boys: A Novel…
"Deliciously compulsive . . . Grade: A." — Washington Post
"Ebullient . . . The Gaiman faithful will devour it gratefully." — Sacramento Bee
"Somehow manages to be both really scary and really funny at the same time." — Newsweek
"Witty and engaging." — Minneapolis Star Tribune
"The most accomplished of Gaiman's novels . . . Urbane and sophisticated." — Time Out London
"A clever, quick-witted book." — Oklahoma City Oklahoman
"A remarkably funny book." — Toronto Star
"A madcap, screwball world that is partly absurd, occassionally humane and always entertaining." — Pittsburgh Tribune
"Genre-busting . . . very creative and very funny. Grade: A-" — Christian Science Monitor
"An off-kilter blend of reality and fantasy." — Atlanta Journal-Constitution
"A droll comedy of manners with elements of mystery, thriller and romance thrown in . . . Charming." — Vancouver Sun
"Gaiman hardwires his comedy of misrule with a crackpot energy that, when successfully channelled, lights up the imagination." — Sunday Times (London)
"A thoughtful, atmospheric novel." — London Times
"Ebullient . . . ingenious . . . enormously entertaining throughout." — Kirkus Reviews (starred review)
"Another lovely story as only Gaiman can tell it; necessary and recommended." — Library Journal
"[Gaiman is] the folksy, witty, foolishly wise narrator to perfection." — Booklist (starred review)
"Funny and subversive . . . Gaiman's mastery of language carries the reader through to a satisfying conclusion." — USA Today
"Delightful, funny and affecting . . . the literary equivalent of a hole in one." — Washington Post Book World
"Readers who enjoyed American Gods . . . will fall madly in love with ANANSI BOYS." — St. Louis Post-Dispatch
"Gaiman at his best." — Rocky Mountain News
"A welterweight boxer of a book -- light on its feet, but capable of delivering a punch." — Atlanta Journal-Constitution
"ANANSI BOYS makes an incredible read." — Times Leader
"[Gaiman] gives his flair for comedy free rein without losing his appreciation for the darker aspects of world mythology." — San Francisco Chronicle
"A very accomplished comic novel." — Daily Telegraph (London)
"A hybrid of folk tale and farce that freely partakes of the comic wealth in each." — Salon.com
"Another great work from Neil Gaiman." — Toronto Star
"Darkly funny and heartwarming to the end, this book is an addictive read not easily forgotten." — School Library Journal
William Morrow Paperbacks, 9780063070738, 368pp.
Publication Date: April 20, 2021
About the Author
Neil Gaiman is a #1 New York Times bestselling author of books for children and adults whose award-winning titles include Norse Mythology, American Gods, The Graveyard Book, Good Omens (with Terry Pratchett), Coraline, and The Sandman graphic novels. Neil Gaiman is a Goodwill Ambassador for UNHCR and Professor in the Arts at Bard College.