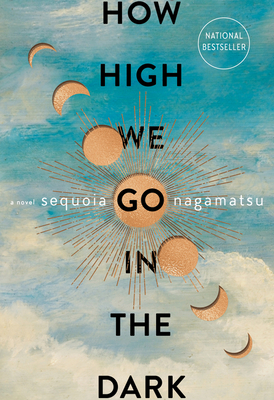 How High We Go in the Dark
A Novel
Hardcover

* Individual store prices may vary.
Other Editions of This Title:
Digital Audiobook (1/17/2022)
Paperback, Large Print (1/18/2022)
Compact Disc (1/18/2022)
MP3 CD (1/18/2022)
Description
For fans of Cloud Atlas and Station Eleven, a spellbinding and profoundly prescient debut that follows a cast of intricately linked characters over hundreds of years as humanity struggles to rebuild itself in the aftermath of a climate plague—a daring and deeply heartfelt work of mind-bending imagination from a singular new voice. 
Beginning in 2030, a grieving archeologist arrives in the Arctic Circle to continue the work of his recently deceased daughter at the Batagaika crater, where researchers are studying long-buried secrets now revealed in melting permafrost, including the perfectly preserved remains of a girl who appears to have died of an ancient virus.
Once unleashed, the Arctic Plague will reshape life on Earth for generations to come, quickly traversing the globe, forcing humanity to devise a myriad of moving and inventive ways to embrace possibility in the face of tragedy. In a theme park designed for terminally ill children, a cynical employee falls in love with a mother desperate to hold on to her infected son. A heartbroken scientist searching for a cure finds a second chance at fatherhood when one of his test subjects—a pig—develops the capacity for human speech. A widowed painter and her teenaged granddaughter embark on a cosmic quest to locate a new home planet. 
From funerary skyscrapers to hotels for the dead to interstellar starships, Sequoia Nagamatsu takes readers on a wildly original and compassionate journey, spanning continents, centuries, and even celestial bodies to tell a story about the resiliency of the human spirit, our infinite capacity to dream, and the connective threads that tie us all together in the universe.
Praise For How High We Go in the Dark: A Novel…
"Haunting and luminous, How High We Go In The Dark orchestrates its multitude of memorable voices into beautiful and lucid science fiction that resembles a fitful future memory of our present. An astonishing debut."
— Alan Moore, creator of Watchmen and V for Vendetta

"Sequoia Nagamatsu's How High We Go in the Dark is a sprawling, epic debut that ventures from the Arctic to interstellar space, from life to what may come after it. With precision and harrowing prescience, Nagamatsu envisions the effects—both cultural and planetary—of a mysterious, devastating pandemic; but he explores, too, the astonishing commitment, resilience, and capacity for resilience that enables life—human and otherwise—to reach for survival. Sequoia Nagamatsu is a writer whose imagination is matched only by his compassion, the kind we need to light our way through the dark."
— Chloe Benjamin, New York Times bestselling author of The Immortalists  

"How High We Go in the Dark is wondrous not just in the feats of imagination, which are so numerous that it makes me dizzy to recall them, but also in the humanity and tenderness with which Sequoia Nagamatsu helps us navigate this landscape, to find a way to survive while holding onto the things that make us human. This is a truly amazing book, one to keep close as we imagine the uncertain future."
— Kevin Wilson, New York Times bestselling author of Nothing to See Here

"How High We Go in the Dark is not a plague novel; it is an after plague novel. Sequoia Nagamatsu nimbly bounds through time, space, and species while tackling the question, Where do we go from here? My favorite kind of speculative fiction—philosophical and hopeful; endlessly inventive, with a beating heart."
— Gabrielle Zevin, New York Times bestselling author of The Storied Life of A.J. Fikry

"A novel that is both grimly timely while also moving past our usual notions of time to reveal a wider view—Sequoia Nagamatsu allows his story to unspool with such a great sense of scope, freedom, and clarity, creating a stunning mosaic of experience and humanness."
— Aimee Bender, New York Times bestselling author of The Particular Sadness of Lemon Cake

"As ambitious as it is intimate, How High We Go in the Dark is both a prescient warning and a promise of human resilience in the face of any odds. Sequoia Nagamatsu masterfully connects each slice of life into one epic and unforgettable tale, spanning centuries and generations. His debut envisions a future that is at once wonderful and disquieting, dreamlike and all too possible. It reaches far beyond our stars while its heart remains rooted to Earth, and reminds us that our wellbeing depends on the wellbeing of our world."
— Samantha Shannon, New York Times bestselling author of The Priory of the Orange Tree

"You can try to compare Sequoia Nagamatsu to George Saunders or Charlie Kaufman or David Mitchell, but his is a singular voice and this is a book so original and wondrous and reality-shredding that it defies easy summary or categorization, like a dream that feels more vivid than life. Arctic plagues! Euthanasia theme parks! Hotels for the dead! Talking pigs! Interstellar starships! It's brave and prescient, completely bananas and yet absolutely moving, packed with humor and heart. I loved it."
— Benjamin Percy, author of The Ninth Metal

"Gorgeous, terrifying, compassionate. With funerary skyscrapers, a generation ship painted with history, and a pyramid of souls reaching for light, How High We Go in the Dark is both powerful and original. Nagamastu elegantly dissects disaster with an eye toward empathy and curiosity. At this book's center is a great big, beautiful heart. An exceptional accomplishment that left me equal parts hope and wonder."
— Erika Swyler, bestselling author of The Book of Speculation

"How High We Go in the Dark is a book of incredible scope and ambition, a polyphonic elegy for the possible, for all that might be won and lost in the many worlds we make together: the world of our families, our civilization and our planet, the planets beyond. Every tale in Sequoia Nagamatsu's debut generates fresh wonder at all we are, plus hope for all we might become, in these unforgettable futures yet to be."
— Matt Bell, author of Appleseed

"A rich tangle of the familiar and beautifully new. These are bright inventions but they will also satisfy our longing for the stories we have always loved."
— Ramona Ausubel, author of Sons and Daughters of Ease and Plenty, on Where We Go When All We Were Is Gone

"Sequoia Nagamatsu's universe is one in which modern Japan and its ancient folklore play in the same delightful puddle. . . . Will creep into your dreams and enchant your imagination."
— Kelly Luce, author of Pull Me Under, on Where We Go When All We Were Is Gone

"Nagamatsu blends literary and visionary verve in a narrative that's garnering comparisons to Cloud Atlas and Station Eleven."
— Library Journal (Spotlight)
William Morrow, 9780063072640, 304pp.
Publication Date: January 18, 2022
About the Author
Sequoia Nagamatsu is a Japanese-American writer and managing editor of Psychopomp Magazine, an online quarterly dedicated to innovative prose. Originally from Hawaii and the San Francisco Bay Area, he holds an MFA in Creative Writing from Southern Illinois University and a BA in Anthropology from Grinnell College. His work has appeared in such publications as Conjunctions, The Southern Review, ZYZZYVA, Fairy Tale Review, and Tin House. He is the author of the award-winning short story collection Where We Go When All We Were Is Gone and teaches creative writing at St. Olaf College and the Rainier Writing Workshop Low-Residency MFA program. He currently lives in Minnesota with his wife, cat, and a robot dog named Calvino.