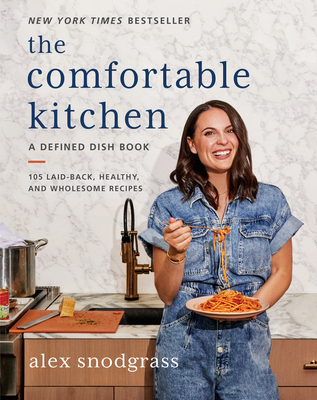 The Comfortable Kitchen
105 Laid-Back, Healthy, and Wholesome Recipes (A Defined Dish Book)
Hardcover

* Individual store prices may vary.
Description
It's comfort food—redefined! Here are healthy meals the whole family can enjoy, night after night . . .
What does comfort mean in The Comfortable Kitchen? For Alex Snodgrass, New York Times bestselling author of The Defined Dish, bringing her family around the table to share a home-cooked meal is a favorite way to show love. Her recipes are designed to bring joy into that display of affection, from your own comfort cooking to your loved ones' delight at the delicious flavors, to knowing that you're caring for your family's nutrition with each bite.
Though many of her meals are fully paleo compliant, or at the very least paleo-ish, there are plenty of other recipes with simple, flexible ingredient swaps for a cleaner meal when desired—perfect for people who are enjoying their "food freedom" stage of their health journey. And for those who have dietary restrictions, Alex clearly marks each recipe as gluten-free, dairy-free, grain-free, and paleo, as appropriate.
Alex brings back the joy of being in the kitchen for those at all levels of cooking skill and provides food for every occasion, with soups, salads, pasta, vegetarian and non-vegetarian mains, apps, and sides ranging from one-pot meals to not-so-junky junk food--and even cocktails and desserts--with recipes including:
Cajun Chicken and Wild Rice Soup
Green Curry Poached Halibut with Herbs
Texas Style Brisket Tacos
Herby Green Olive Pasta with Feta
Sheet Pan Honey-Sesame Cauliflower
Clayton's Margarita
7-Ingredient Almond Butter Cookies
With 105 approachable and nutritious recipes for real, busy life, The Comfortable Kitchen is a must-have cookbook for everyone who cares about what they eat and what they make. 
Praise For The Comfortable Kitchen: 105 Laid-Back, Healthy, and Wholesome Recipes (A Defined Dish Book)…
"Infused with grace, charm, and encouragement to cook what you love, involve the whole family, and create your own version of 'balance,' The Defined Dish—and Alex—will quickly become as beloved in your family as they are in mine."
— From the Foreword of The Defined Dish by Melissa Urban, Whole30 co-founder

"The Defined Dish blogger Snodgrass debuts with this collection of dozens of gluten-free, dairy-free, and grain-free recipes that are packed with flavor...Readers looking for healthy dishes that do not sacrifice flavor will find plenty to enjoy in this outing." 
— Publishers Weekly on The Defined Dish

"Alex and The Defined Dish are my go-to for delicious recipes that are as enjoyable to make as to eat! She approaches both food and life with a playful soulfulness that nourishes my family and my heart." 
— Brené Brown, PhD, #1 New York Times best-selling author of Dare to Lead on The Defined Dish

"I discovered Alex's cooking when I was attempting to survive a Whole30 and was at a loss. Alex's recipes are never intimidating and are always packed with flavor . . . they are guilt-free even when they taste like a guilty pleasure, and they got me excited to be a better cook." 
— Erin Foster, comedian and amateur home cook, on The Defined Dish

"Innovative, bright, simple, absolutely delicious, and totally doable, there's not a cookbook I'm more excited about. I can't wait to try every last dish, especially the Better Than Takeout section—her specialty is easy swaps that transform restaurant dishes into something Whole30 and healthy. Alex teaches us how to find balance and have fun doing it." 
— Teri Turner, creator of nocrumbsleft, on The Defined Dish
William Morrow Cookbooks, 9780063075412, 272pp.
Publication Date: December 28, 2021