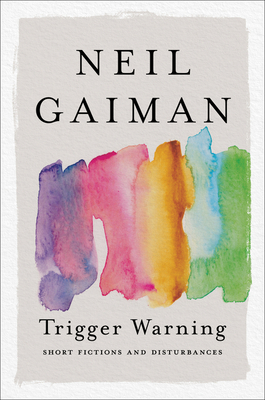 Trigger Warning
Short Fictions and Disturbances
Paperback

* Individual store prices may vary.
Other Editions of This Title:
Digital Audiobook (2/2/2015)
Mass Market (12/29/2020)
Paperback, Large Print (2/24/2015)
Hardcover (2/3/2015)
CD-Audio (10/27/2015)
Paperback (10/27/2015)
Description
From #1 New York Times bestselling author Neil Gaiman, a wide-ranging assortment of short fiction that pierces the veil of reality to expose the enigmatic, shadowy world that lies beneath―one of ten classic Gaiman works repackaged with elegant original watercolor art by acclaimed artist Henry Sene Yee
"Beautiful, haunting . . . Evokes our wonder at the myths and imaginations of our childhoods."—Washington Post
A brilliant writer and accomplished stylist whose creative genius is unparalleled, Neil Gaiman entrances with his literary alchemy, transporting us deep into the realm of imagination, where the fantastical becomes real and the mundane incandescent.
Abounding in miracles and terror, surprises and amusements, Trigger Warning is a rich compendium that illustrates the strength, breadth, and sheer genius of Gaiman's storytelling mastery and demonstrates the breathtaking range and power of this artistic powerhouse who "dreams up stories as naturally as he breathes" (Slate).

Praise For Trigger Warning: Short Fictions and Disturbances…
"His mind is a dark fathomless ocean, and every time I sink into it, this world fades, replaced by one far more terrible and beautiful in which I will happily drown." — New York Times Book Review
"Gaiman displays an uncanny knack for compressing his expansive imagination into the close quarters of his stories' caves, cottages, and creepy rooms....[he] takes full advantage of his wide range, and it makes for exciting, often musical writing." — Boston Globe
"[Trigger Warning] showcases the breadth and depth of Gaiman's talent and the unique plangent warmth he brings to fantasy fiction. He is never anything less than a pleasure to read." — Financial Times
"Each of the stories and poems celebrates a different aspect of storytelling that has informed the author's life."
— NPR
"There's much to revel in here." — Huffington Post
Praise for Trigger Warning: "Everything that endears Gaiman to his legions of fans is on display ... Full of all manner of witches and monsters and things that creep in the night, this collection will thoroughly satisfy faithful fans and win new ones—if there's anyone out there left unconverted. — Kirkus Reviews
"[T]his collection of stories and poems doesn't disappoint....Gaiman has warned us about the monsters, but then come magic and miracles. And love." — Washington Post
"Gaiman's is one of the most distinctive voices in modern fantasy." — Locus
'All of [the stories] are told with an assured, masterly confidence that should please anyone who misses seeing a new Ray Bradbury collection on the shelf at the library." — Newsday
"Gaiman calls the stories a "hodgepodge," with no real interweaving theme throughout. But each of the stories and poems celebrates a different aspect of storytelling that has informed the author's life." — NPR
"Trigger Warning is a comfortable hodgepodge of material ... but there's enough serious-minded and deeply felt fantasy and horror to make readers hope that it won't be almost a decade before Gaiman completes another similar volume." — San Francisco Gate
"Lovingly crafted...gleefully enjoyable." — Bustle.com
"[I]t's the phenomenon of connecting mythology and modern life that makes Gaiman such a captivating author." — Winnipeg Free Press
"[T]his is not a 'best of' collection, though you'd be forgiven for thinking so at many instances, since Gaiman is, as always, a skilled storyteller." — Tor.com
"Neil Gaiman's writing is so present, so engaging, that it can send spasms of bone-chilling terror through your body and your reaction would still be, 'Please sir, I want some more.'" — Pittsburgh Post-Gazette
"Each short piece serves as an exciting foray into some macabre microcosm of his mind. ...It's a testament to Gaiman's versatility that he exhibits so many different styles of writing in this single anthology." — The Harvard Crimson
"The short stories in this collection are shocking, disturbing, funny, insightful ... Trigger Warning offers a good introduction to the works of Neil Gaiman, or a delightful addition to the collection of someone who has been following him for a long time. If you're a fan, don't miss this one." — Oklahoma City Oklahoman
"There is something for every type of Gaiman fan here, and those new to his work will find this to be a solid introduction to the type of stories he crafts: lyrical, literary, sometimes quite chilling, and always strange and provocative. ...This is a book to savor and enjoy." — Bookreporter.com
"Those who want to greet and shake hands, or settle in for a conversational catch-up with Gaiman's delightfully dramatic minstrel's tale-by-the-campfire style will love everything in Trigger Warning, naturally." — Booklist
"Gaiman is such a powerful and evocative writer that almost everything he churns out serves to justify the aforementioned cultural triumph of fantasy literature over realism and modernism. Gaiman's attention to craft, passion for language and profound respect for the mythological roots...come through even in his abbreviated prose fragments." — New York Times Book Review
William Morrow Paperbacks, 9780063075764, 368pp.
Publication Date: August 24, 2021
About the Author
Neil Gaiman is a #1 New York Times bestselling author of books for children and adults whose award-winning titles include Norse Mythology, American Gods, The Graveyard Book, Good Omens (with Terry Pratchett), Coraline, and The Sandman graphic novels. Neil Gaiman is a Goodwill Ambassador for UNHCR and Professor in the Arts at Bard College.