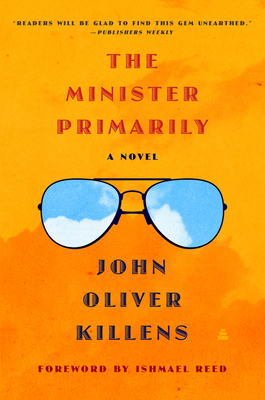 The Minister Primarily
A Novel
Hardcover

* Individual store prices may vary.
Other Editions of This Title:
Digital Audiobook (7/26/2021)
Paperback, Large Print (7/27/2021)
Compact Disc (7/27/2021)
MP3 CD (7/27/2021)
Paperback (6/14/2022)
Description
A major literary event—the eagerly anticipated publication of a long-lost novel from legendary writer and three-time Pulitzer Prize nominee John Oliver Killens, hailed as the founding father of the Black Arts Movement and mentor to celebrated writers, including Maya Angelou, Nikki Giovanni, Arthur Flowers, and Terry McMillan.
Wanderlust has taken Jimmy Jay Leander Johnson on numerous adventures, from Mississippi to Washington D.C., Vietnam, London and eventually to Africa, to the fictitious Independent People's Democratic Republic of Guanaya, where the young musician hopes to "find himself."
But this small sliver of a country in West Africa, recently freed from British colonial rule, is thrown into turmoil with the discovery of cobanium—a radioactive mineral 500 times more powerful than uranium, making it irresistible for greedy speculators, grifters, and charlatans. Overnight, outsiders descend upon the sleepy capital city looking for "a piece of the action."
When a plot to assassinate Guanaya's leader is discovered, Jimmy Jay—a dead ringer for the Prime Minister—is enlisted in a counter scheme to foil the would-be coup. He will travel to America with half of Guanaya's cabinet ministers to meet with the President of the United States and address the UN General Assembly, while the rest of the cabinet will remain in Guanaya with the real Prime Minister.
What could go wrong?
 Everything.
Set in the 1980s, this smart, funny, dazzlingly brilliant novel is a literary delight—and the final gift from an American literary legend.
Praise For The Minister Primarily: A Novel…
"Killens has read his Shakespeare. With the surprises in its plot and its quadrilles of mistaken identities, 'The Minister Primarily' is right up there with 'The Tempest' and 'The Comedy of Errors.' The choreography of his set pieces has an effulgent warmth that is as passionately expressed as it is disarming, creeping up on the reader with such skill you hardly realize you're being stalked by a master."
— The New York Times Book Review

"Killens casts a broad net, skewering everything from the heady early days of African independence to the pan-Africanism of the period among Black Americans, and, most sharply, race relations in the United States. This is a brilliantly scathing, outrageous satire as important today as when it was written."
— Library Journal (starred review)

"The Minister Primarily is not only a brilliantly imagined work of fiction, it is also a side-splittingly funny tale. In this newly discovered last novel, Killens' puts on his literary fabulist hat and hands us a rich, unforgettable tale packed with ribald, humorous scenes, and wacky characters. Read this book, you will never forget it!"
— Quincy Troupe, author of andMiles and Me

"John O. Killens inspired many writers, myself included. Killens is a genius at his craft. He taught it, he perfected it. And Killens' mastery of satire, (please read The Cotillion as well) is on full display in his last novel. His dialogue is as clever and sly as ever."
— Tina McElroy Ansa, The Hand I Fan With and Taking After Mudear

"John Oliver Killens' The Minister Primarily highlights his exceptional skills in the use of dialogue, irony and satire. The novel is ultimately a parody of American, African and European presidents and political leaders and an exposé of the hypocrisy and exploitation generated by colonialism in Africa.  His use of humor and adaptation of the trope of the trickster for his protagonist are reminiscent of Ishmael Reed, Charles W. Chestnutt, and Ralph Ellison."
— Dr. Brenda M. Greene, Founder & Executive Director, Center for Black Literature, Medgar Evers College, CUNY

"It is good to see another work by Baba John Killens, a master of voice illuminating everything that stumbles within range of his biting irony and expansive literary heart. The Minister Primarily reminds us why John Killens occupies such a unique place in literature. Read The Minister Primarily and you too will understand the joy of 'found work' by Baba John Killens, the Great Griot Master of Brooklyn at the top of his satiric game." 
— Arthur Flowers, author of The Hoodoo Book of Flowers: The Great Black Book of Generations

"The absurd situation gives Killens a perfect vantage from which to satirize international race relations."

— The New Yorker

"Vividly and skillfully written, this vibrant, long-missing novel, published 34 years after the death of this Pulitzer Prize-nominated writer, civil rights activist, and key figure in the Black Arts Movement, is certain to be a timeless classic of satirical fiction."

— Booklist (starred review)

"An audacious final testament of an underappreciated craftsman."
— Kirkus Reviews
Amistad, 9780063079595, 496pp.
Publication Date: July 27, 2021
About the Author
A novelist, teacher, mentor, screenwriter, essayist, and activist, John Oliver Killens (1916–1987) is one of the most important figures in African American literary culture, considered one of the founding fathers of the Black Arts Movement. Three of his novels, Youngblood; And Then We Heard the Thunder; and The Cotillion, or One Good Bull Is Half the Herd, were nominated for the Pulitzer Prize. His students included Tina McElroy Ansa, Bebe Moore Campbell, Arthur Flowers, Nikki Giovanni, Elizabeth Nunez, Terry McMillan, and scores of others. In conjunction with his teaching appointments—the New School for Social Research, Fisk University, Columbia University, Howard University, Bronx Community College, and Medgar Evers College—Killens created and directed a series of writers conferences between 1965 and 1986 that served as milestones in African American literary history.