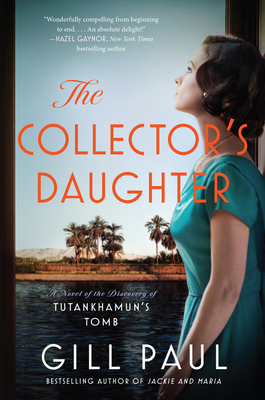 The Collector's Daughter
A Novel of the Discovery of Tutankhamun's Tomb
Paperback

* Individual store prices may vary.
Other Editions of This Title:
Digital Audiobook (9/6/2021)
Paperback, Large Print (9/7/2021)
Description
Bestselling author Gill Paul returns with a brilliant novel about Lady Evelyn Herbert, the woman who took the very first step into the tomb of Pharaoh Tutankhamun, and who lived in the real Downton Abbey, Highclere Castle, and the long after-effects of the Curse of Pharaohs. 
Lady Evelyn Herbert was the daughter of the Earl of Carnarvon, brought up in stunning Highclere Castle. Popular and pretty, she seemed destined for a prestigious marriage, but she had other ideas. Instead, she left behind the world of society balls and chaperones to travel to the Egyptian desert, where she hoped to become a lady archaeologist, working alongside her father and Howard Carter in the hunt for an undisturbed tomb.
In November 1922, their dreams came true when they discovered the burial place of Tutankhamun, packed full of gold and unimaginable riches, and she was the first person to crawl inside for three thousand years. She called it the "greatest moment" of her life—but soon afterwards everything changed, with a string of tragedies that left her world a darker, sadder place.
Newspapers claimed it was "the curse of Tutankhamun," but Howard Carter said no rational person would entertain such nonsense. Yet fifty years later, when an Egyptian academic came asking questions about what really happened in the tomb, it unleashed a new chain of events that seemed to threaten the happiness Eve had finally found.
Praise For The Collector's Daughter: A Novel of the Discovery of Tutankhamun's Tomb…
"In her latest, Gill Paul has mined an inspiring real-life heroine and unexplored time period to brilliant effect. With exquisitely drawn characters, Paul weaves a tale that's moving and deeply atmospheric, crossing full decades while making the reader feel the heart-pounding race of time. A story not to be missed."
— Michelle Gable, New York Times bestselling author of The Paris Apartment

"Gill Paul weaves an intriguing tale about an historical mystery we know, and a woman we don't... Wonderfully compelling from beginning to end, The Collector's Daughter will mesmerize its readers as much as the lure of ancient treasures mesmerized these famous Egyptologists. An absolute delight!"
— Hazel Gaynor, New York Times bestselling author of When We Were Young & Brave

"This is a compelling story, impeccably researched, with a delicious sense of time and place, that combine to bring the historical characters to vivid life... It deals with the big questions too: What is true? Memory versus history, and how we block out the past. I loved that."
— Dinah Jefferies, international bestselling author of The Tea Planter's Daughter

"We unravel Lady Evelyn Herbert's story along with her as she sorts through blank spaces where memory once resided, and tells a fascinating tale of exploration, adventure, tragedy and emotion in an effort to recall who she is. A very compelling read that will have you mesmerized!"
— Eliza Knight, USA Today bestselling author of The Mayfair Bookshop

"Riveting, emotional and completely fabulous. Lady Eve's fascinating and poignant story held me spellbound. Gill Paul has done it again!"
— Tracy Rees, author of The House at Silvermoor

"From the very first chapter of The Collector's Daughter, Gill Paul draws you in to the exotic worlds of Lady Evelyn Herbert, the first person to enter Tutankamun's tomb, and the alarming reverberations of those early adventures through the rest of her life. I didn't want it to end."
— Liz Trenow, author of Under a Wartime Sky

"A beautiful and evocative retelling of the discovery of the tomb of Tutankhamun...Gill Paul's sensual exploration of this famous event travels across five decades, asking whether the tragedies that followed were due to curse or coincidence, and giving fresh life to this most beguiling corner of history. Unputdownable!"
— Sarah Steele, author of The Missing Pieces of Nancy Moon

"The Collector's Daughter is absolutely glorious. This beautiful novel, exploring the extraordinary life of Lady Evelyn Herbert, and the secrets of Tutankhamun's tomb, oozes with emotion, glamour, and mystery...I was entranced at every step. Gill's writing is utterly transportative and entirely addictive. I cannot rave about this novel enough."
— Jenny Ashcroft, author of Meet Me in Bombay

"This is a riveting novel that peels away the mysteries around King Tut's discovery and twisted my stomach into tight knots as I raced through its pages. Gill Paul recreates this glamorous and turbulent moment of history with superb skill... Hugely touching and addictive. I absolutely loved it."
— Kate Furnivall, author of The Survivors

"Gill Paul's real strengths lie in giving female historical figures a voice. She is such an empathetic writer and colored Eve's life in with warmth and compassion. Really emotional, unique read and beautifully told. It's made me want to catch a whiff of that tomb and the mysterious poisoned oil."
— Kate Thompson, author of Secrets of the Lavender Girls 

"Consummate historical fiction writer Paul (Jackie and Maria) has crafted another binge-worthy novel that will enthrall readers."
— Library Journal
William Morrow Paperbacks, 9780063079861, 384pp.
Publication Date: September 7, 2021
About the Author
Gill Paul is an author of historical fiction, specialising in relatively recent history. She has written two novels about the last Russian royal family: The Secret Wife, published in 2016, which tells the story of cavalry officer Dmitri Malama and Grand Duchess Tatiana, the second daughter of Russia's last tsar; and The Lost Daughter, published in October 2018, that tells of the attachment Grand Duchess Maria formed with a guard in the house in Ekaterinburg where the family was held from April to July 1918.
Gill's other novels include Another Woman's Husband, about links you may not have been aware of between Wallis Simpson, later Duchess of Windsor, and Diana, Princess of Wales; Women and Children First, about a young steward who works on the Titanic; The Affair, set in Rome in 1961–62 as Elizabeth Taylor and Richard Burton fall in love while making Cleopatra; and No Place for a Lady, about two Victorian sisters who travel out to the Crimean War of 1854–56 and face challenges beyond anything they could have imagined.