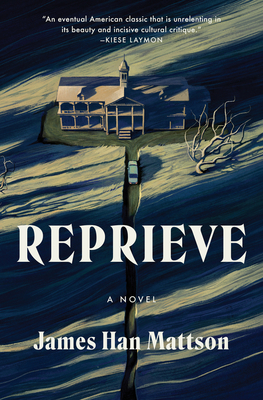 Reprieve
A Novel
Hardcover

* Individual store prices may vary.
Other Editions of This Title:
Digital Audiobook (10/4/2021)
Paperback (10/18/2022)
Paperback, Large Print (10/5/2021)
MP3 CD (10/5/2021)
Compact Disc (10/5/2021)
Description
"Like Whitehead's The Intuitionist, Alyssa Cole's When No One Is Watching or Zakiya Dalila Harris' The Other Black Girl, Reprieve straddles genres in the best possible way. . . . Sure to spark conversation and debate at book clubs across the land." –LOS ANGELES TIMES
"An eventual American classic that is unrelenting in its beauty and incisive cultural critique." – KIESE LAYMON
Recommended by New York Times • Los Angeles Times • NPR • Today • Esquire • O Quarterly • Boston Globe • Chicago Tribune • Harper's Bazaar • Shondaland • Thrillist • The Millions • Crimereads • XTRA • Tor • Literary Hub • and more!
A chilling and blisteringly relevant literary novel of social horror centered around a brutal killing that takes place in a full-contact haunted escape room—a provocative exploration of capitalism, hate politics, racial fetishism, and our obsession with fear as entertainment. 
On April 27, 1997, four contestants make it to the final cell of the Quigley House, a full-contact haunted escape room in Lincoln, Nebraska, made famous for its monstrosities, booby-traps, and ghoulishly costumed actors. If the group can endure these horrors without shouting the safe word, "reprieve," they'll win a substantial cash prize—a startling feat accomplished only by one other group in the house's long history. But before they can complete the challenge, a man breaks into the cell and kills one of the contestants.
Those who were present on that fateful night lend their points of view: Kendra Brown, a teenager who's been uprooted from her childhood home after the sudden loss of her father; Leonard Grandton, a desperate and impressionable hotel manager caught in a series of toxic entanglements; and Jaidee Charoensuk, a gay international student who came to the United States in a besotted search for his former English teacher. As each character's journey unfurls and overlaps, deceit and misunderstandings fueled by obsession and prejudice are revealed, forcing all to reckon with the ways in which their beliefs and actions contributed to a horrifying catastrophe.
An astonishingly soulful exploration of complicity and masquerade, Reprieve combines the psychological tension of classic horror with searing social criticism to present an unsettling portrait of this tangled American life.
Praise For Reprieve: A Novel…
"Insightful and gripping . . . On the surface, Reprieve is a story about an attack at a haunted house, but Mattson is also investigating questions of identity and power, namely who in this story controls fears and who is subject to them . . . The haunted house at the center of the narrative is an excellent touch because the ideas of danger and harm become material, frightening and imminent. At times, the reader is trapped in Quigley House with the contestants, in scenes that are genuinely unnerving . . . In his sly way, Mattson turns his novel into a portrait of current events. And they have, indeed, been terrifying." — Victor LaValle, New York Times Book Review
"Like Whitehead's The Intuitionist, Alyssa Cole's When No One Is Watching or Zakiya Dalila Harris' The Other Black Girl, Reprieve straddles genres in the best possible way. The late 1990s murder of a man in Quigley House, a full-contact haunted house in Lincoln, Neb., during a contest gone awry, and the ensuing trial are just part of the story. It's the compelling flashbacks from diverse contestants and others that drive Mattson's deeper examination of America's addiction to horror, casual racism, deteriorating political climate and a whole lot more. Sure to spark conversation and debate at book clubs across the land." — Paula L. Woods, Los Angeles Times
"It's character driven, creepy, gory and all things scary . . . it will have you turning pages." — TODAY
"Mattson crafts a nail-biting horror saga while also implicating us in our sick obsession with horror. So too does the novel evoke blistering social horror, forcing us to reckon with how racism, prejudice, and complicity are more horrifying—and more fatal—than anything that goes bump in the night. Unrelenting and unforgettable, Reprieve is an American classic in the making." — Adrienne Westenfeld, Esquire, The Best Books of Fall 2021
"James Han Mattson's Reprieve is a novel about otherness, loneliness, racism, and identity wrapped in a gory tale about a full-contact escape room attraction. Mattson walks the line between pulpy horror and smart literary fiction here, and the result is a multilayered book that has enough going on to please fans of both genres. . . . Everyone in this book is deep, nuanced, and multilayered . . . The experience might be harrowing — but just like Quigley House, the reward at the end is worth it." — Gabino Iglesias, NPR
"It's 1990s Nebraska, and a group of four contestants is close to completing an escape room known for its horrors. But when one of them is killed by an intruder, the survivors — including a love-struck international student who came to track down a former teacher and a grieving teenage girl — are left to reckon with a bigger challenge involving guilt, race and power." — New York Times, 20 New Works of Fiction to Read This Season
"Sharp as a razor's edge . . . Mattson's devious trick is in revealing America itself as a topsy-turvy house of horrors."
— O Quarterly, Fall Reading Spectacular
"Reprieve feels haunted by the promise of a nation unable to see eye to eye. . . . characters in James Han Mattson's absorbing book, set in the late '90s, are so steeped in violent horror movies, they rarely recognize what's haunting the marginalized characters and people of color in their lives. The plot turns on a murder in an haunted attraction but legacies of hurt weigh heavier." — Chicago Tribune
"An eclectic crew enters a haunted escape room in Nebraska; things go terribly wrong. A fascinating debut thriller with ambitions that go beyond the genre's conventions." — Joshunda Sanders, Boston Globe
"If someone doesn't make an absolutely awesome movie out of James Han Mattson's novel Reprieve in the next few years, I will have lost a whole lot of faith in the Hollywood machine. Not only just a straight-up terrifying horror novel, Reprieve is jam-packed with biting social commentary that manages to touch on everything from capitalism to race. It is hold-your-breath tense throughout and will leave your mind feeling like someone's had their fingers in there, fumbling around just to make you feel something. It is wild and risky and audacious in the very best way possible. Reprieve is the perfect October read and one that might have you thinking about coming up with your own safe word for the journey." — Shondaland, Fall 2021 Reading List
"Ambitious in scope . . . brutal, but astute and riveting." — Xtra, The Most Intriguing LGBTQ2S+ Releases
"Reprieve is an eventual American classic that is unrelenting in its beauty and incisive cultural critique. But it is James Han Mattson's treatment of his fully flawed characters that clutches my heart and head. Every room in this book has a secret room. Every character has a shadow trying to swallow them whole. I'm not sure there is 'fearless' American writing, but a few times a generation, there is innovative writing that appears to confront, shred, and accept the fears of its author and its readers with a wicked joy. Reprieve is that book. It really is." — Kiese Laymon, bestselling author of Heavy: An American Memoir
"I'm not one who is often prone to horror, but this eerie novel about a death inside a full-contact escape room stretches the genre to eye-opening degrees. As Mattson fills out the backstories of the witnesses, he probes racial fetishism and far-right radicalization—among other topics far more terrifying than the frights inside the central haunted house." — Seija Rankin, Entertainment Weekly 
"Reprieve takes horror as its subject, while also using the genre as its means, delivering twists and fright and the kind of storytelling that keeps you turning pages. But the brilliance of James Han Mattson's novel is in deploying the haunted house as a metaphor for our nation, where the true scare is a cultural reckoning with whiteness itself." — Rumaan Alam, New York Times bestselling author of Leave the World Behind 
"Reprieve is a tense, riveting novel about an American house of horrors where fear and desperate desire collide, exploding into violence. James Han Mattson writes with grace and conviction, delivering intimate portraits of flawed, fascinating people, down to the carnival distortions that occupy their minds." — Steph Cha, award-winning author of Your House Will Pay
"I'm in awe of the remarkable power of James Han Mattson's Reprieve in doing the impossible—it devastated me yet left me hopeful. It's the perfect novel for our time, combining a nail-biting murder mystery with brilliant social commentary on fetishization, misogyny, racism, and heteronormativity. I'm blown away." — Angie Kim, bestselling author of Miracle Creek
"A timely, devastating story about intersecting lives drawn to a dark and frightening place. Rich with insights about our contemporary moment and characters blinded by their desire for belonging and connection, James Han Mattson's Reprieve is the rare novel that will make your heart pound with terror while it aches with grief." — Jung Yun, author of Shelter
"It's hard to do justice to how awesome this book is without giving much away. . . . Reprieve is a self-aware and furious deconstruction of the horror novel, contrasting those who seek out fear with those who face the ever-present dangers of prejudice." — CrimeReads, Queer Crime Novels to Read All Year Long
"Surprising and spellbinding, Mattson's latest offering is a page-turner that keeps you guessing right until the explosive end.  Smart and entertaining, Reprieve is the rare novel that's both thrilling and thought-provoking. A must-read!" — T. Geronimo Johnson, bestselling author of Welcome to Braggsville 
"Reprieve is a brilliant critique of contemporary society and culture." — Bay Area Reporter
"At some point while reading James Han Mattson's novel Reprieve, you'll think, 'This can't be real. This better not be real.' On its surface, Reprieve is about four ordinary people who venture into a haunted house for the chance of a monetary reward. You could say it's a story adjacent to The Haunting of Hill House, but even more disturbing. . . . As the book's horrifying events unfold, Reprieve can be read as a commentary on, or even an allegory of, American racism. Are we fighting to succeed in a fun house whose rewards aren't worth the pain? As a study of systems of power at their most perverse, Reprieve is a horror story, certainly, but it's not as scary as it is deeply disturbing." — BookPage
"Mattson presents a brilliant hybrid, a thought-provoking look at marginalization and systemic oppression expertly nestled inside a high-anxiety tale about the horror industry itself. . . . Severely unsettling at every turn, the book alternates the unrelenting tension of "the real world" with the in-your-face terror of the haunt, meaning there is no reprieve from the fear. This is a rare treat of a novel that will be devoured by fans of pulp horror titles like The Dark Game by Jonathan Janz and by those who like the juxtaposition of supernatural and real-world horrors found in the works of Victor LaValle." — Booklist (starred review)
"As each character's story unfolds and overlaps, revealing obsessions, prejudice, and secrets, Reprieve transforms from a classic horror story to a portrait—and social critique—of contemporary American life." — Literary Hub, Most Anticipated Books of 2021
"Smart and harrowing . . . tense, well-paced . . . a canny use of horror as metaphor for themes of guilt, race, and sexuality." — Publishers Weekly
William Morrow, 9780063079915, 416pp.
Publication Date: October 5, 2021
About the Author
James Han Mattson is the acclaimed author of The Lost Prayers of Ricky Graves. A graduate of the Iowa Writers' Workshop, he is the recipient of awards from the Copernicus Society of America and Human-ities North Dakota. He was a featured storyteller on The Moth and has taught writing at the University of Iowa, the University of Cape Town, the George Washington University, the University of Maryland, Murray State University, and the University of California–Berkeley. He is currently the fiction editor of Hyphen magazine. He was born in Seoul, Korea, and raised in North Dakota.