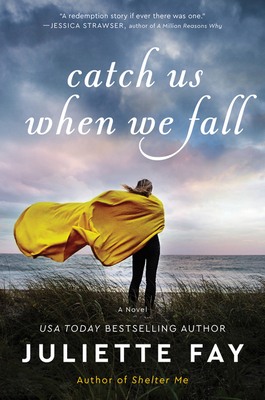 Catch Us When We Fall
A Novel
Paperback

* Individual store prices may vary.
Other Editions of This Title:
Digital Audiobook (9/20/2021)
Compact Disc (9/21/2021)
MP3 CD (9/21/2021)
Description
If you love the emotionally complex novels of JoJo Moyes and the dramatic books of Jodi Picoult, you won't want to miss this newest book about second chances, redemption, and the power of hope from USA Today bestselling author of Shelter Me, Juliette Fay.

On her own since the age of eighteen, Cass Macklin dated brilliant, troubled Ben McGreavy, convinced he was the smartest person she'd ever known. They partied their way through their twenties, slowly descending into a bleak world of binge-drinking and broken promises, inebriated for most of a decade. Now Ben is dead, and Cass is broke, homeless, scared…and pregnant.
Determined to have a healthy pregnancy and raise Ben's baby, Cass has to find a way to stop drinking and build a stable life for herself and her child. But with no money, skills, or sober friends or family, the task seems insurmountable. At wit's end, Cass turns to the only person with the means to help her: Ben's brother Scott, third basemen for the Boston Red Sox, a man with a temper and problems of his own.
The two make a deal that neither one of them is sure they can live up to. As Cass struggles to take control of her life and to ask for help when she needs it, Scott begins to realize there's a life for him beyond the baseball diamond.
By turns heartbreaking and humorous, with its message that change is possible, that forgiveness can be freely given, and that life, though imperfect, is worth embracing, Catch Us When We Fall is a story of human connectedness and hope.
Praise For Catch Us When We Fall: A Novel…
"A hopeful, poignant novel about the tenacity of the human spirit, our capacity for forgiveness and all the ways a heart can grow when we least expect it. You'll want to curl up in bed with this heartwarming story." — Allison Winn Scotch, New York Times bestselling author
"Suffused with compassion, wry humor, and unexpected grace, it's a story not of angels or demons, but of people struggling to find a safe harbor in the broken landscape of addiction." — Randy Susan Meyers, bestselling author of Waisted and The Widow of Wall Street
"Catch Us When We Fall is a beautiful story about life's darkest demons – grief, addiction, and broken promises – but Juliette Fay's characters are so lovable and emotionally complex it left me suffused with light and hope. I read this book in a gulp, alternately crying, laughing, and cheering..." — Ann Mah, bestselling author of The Lost Vintage
"When I'm done reading Juliette Fay's books, her characters always exist in my memory like people I've actually met. Catch Us When We Fall is full of hope, heart, and genuine love. I already miss checking in with these beautiful people who are trying their hardest to heal and connect." — Allie Larkin, bestselling author of Stay, Why Can't I Be You, and Swimming for Sunlight
"Catch Us When We Fall is an emotionally rich, deeply satisfying novel that grabs you early and doesn't let go. With endearing characters, an expertly woven plot, and wonderful writing, Juliette Fay reminds us that no matter how tough we think we are, we really, really need each other." — Matthew Norman, author of Last Couple Standing and All Together Now
"Catch Us When We Fall by Juliette Fay introduces us to Cass Macklin, a former addict who finds herself alone and pregnant. Can Cass stop drinking and create a healthy life for herself and her unborn child? A novel about resilience and the power of human connection, Catch Us When We Fall is perfect for fans of emotionally honest women's fiction." — Brenda Janowitz, author of The Grace Kelly Dress
"A redemption story if ever there was one... A beautiful look at the strength it takes to save ourselves, the love it takes to save each other, and the hopeful truth that it's never too late to start over." — Jessica Strawser, author of A Million Reasons Why
"A well-paced story of addiction and redemption, told with sparks of humor and full of warmly drawn characters, this will appeal to fans of the issue-based fiction of Jodi Picoult or the emotional tug of Jojo Moyes. Readers who enjoy stories of hardship with happy endings will want to read this book." — Library Journal
William Morrow Paperbacks, 9780063079960, 416pp.
Publication Date: September 21, 2021
About the Author
Juliette Fay is the bestselling author of seven novels, including THE HALF OF IT, CATCH US WHEN WE FALL, CITY OF FLICKERING LIGHT and THE TUMBLING TURNER SISTERS, a USA Today bestseller and Costco Pennie's Book Club Pick. Previous novels include THE SHORTEST WAY HOME, one of Library Journal's Top 5 Best Books of 2012: Women's Fiction; DEEP DOWN TRUE, short-listed for the 2011 Women's Fiction award by the American Library Association; and SHELTER ME, a 2009 Massachusetts Book Award "Must-Read Book" and an Indie Next pick.
Juliette is a graduate of Boston College and Harvard University, and lives in Massachusetts with her family. Visit her at www.juliettefay.com, Facebook: Juliette Fay author, Twitter: @juliettefay, and Instagram: Juliette_Fay.