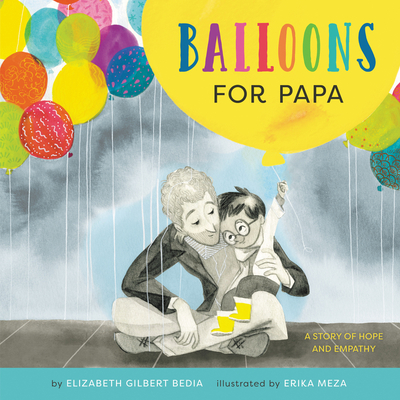 Balloons for Papa
A Story of Hope and Empathy
Hardcover

* Individual store prices may vary.
Description
A perfect book to help discuss mental health, depression, empathy, loss, and hope with young children.
Arthur's gloomy father rushes him through the park every morning, through gray and rainy weather. Arthur just wants a bright balloon from the park's vendor, but Papa always says no. One morning, the balloons magically appear at their doorstep, and Arthur figures out the perfect way to bring the sunshine out—and Papa's smile back—even if only for a few moments.
Brimming with affecting and poignant words, beautiful black-and-white illustrations, and bursts of color on every page, Balloons for Papa sends the message that even in the worst situations, there is light and love.
Praise For Balloons for Papa: A Story of Hope and Empathy…
A skillful reminder that kids can be the bright spots amid their caregivers' serious worries.  — Kirkus Reviews
This important story of connection through sadness is beneficial to children and adults alike. — School Library Journal (starred review)
A moving picture book reminder of the significance of small actions and a celebration of children's capacity for empathy. — Publishers Weekly
HarperCollins, 9780063081130, 32pp.
Publication Date: April 27, 2021
About the Author
Erika Meza migrated from Mexico in 2013, leaving behind her family, friends and her favorite food. She lived in a dungeon with a ghosts-and-ghouls-painting princess, learned how to tell stories, then found and lost a spotted dog in Paris, where she attended school. She finally crossed the France-UK border and settled down in London, where she lives in a small flat and works as an author and illustrator, aided by her cat who tries to leave inky paw prints on her work. She tries to go back home often, at the border of Tijuana and San Diego, where her book was born.