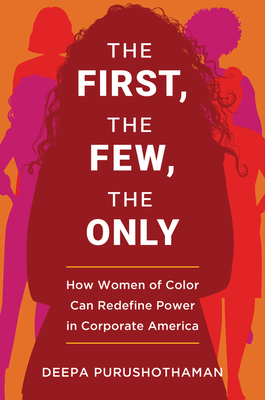 The First, the Few, the Only
How Women of Color Can Redefine Power in Corporate America
Hardcover

* Individual store prices may vary.
Other Editions of This Title:
Digital Audiobook (2/28/2022)
Compact Disc (3/1/2022)
MP3 CD (3/1/2022)
Description
A deeply personal call to action for women of color to find power from within and to join together in community, advocating for a new corporate environment where we all belong—and are accepted—on our own terms.
Women of color comprise one of the fastest-growing segments in the corporate workforce, yet often we are underrepresented—among the first, few, or only ones in a department or company. For too long, corporate structures, social zeitgeist, and cultural conditioning have left us feeling exhausted and downtrodden, believing that in order to "fit in" and be successful, we must hide or change who we are.
As a former senior partner at a large global services firm, Deepa Purushothaman experienced these feelings of isolation and burnout. She met with hundreds of other women of color across industries and cultural backgrounds, eager to hear about their unique and shared experiences. In doing so, she has come to understand our collective setbacks—and the path forward in achieving our goals.  
Business must evolve—and women of color have the potential to lead that transformation. We must begin by pushing back against toxic messaging—including the things we tell ourselves—while embracing the valuable cultural viewpoints and experiences that give us unique perspectives at work. By fully realizing our own strengths, we can build collective power and use it to confront microaggressions, outdated norms, and workplace misconceptions; create cultures where belonging is never conditional; and rework corporations to be genuinely inclusive to all.
The First, the Few, the Only is a road map for us to make a profound impact within and outside our organizations while ensuring that our words are heard, our lived experiences are respected, and our contributions are finally valued. 
Praise For The First, the Few, the Only: How Women of Color Can Redefine Power in Corporate America…
"The rare book that can simultaneously make professionals of colour feel seen and give white male colleagues a comprehensive education." — Financial Times
"Empowering . . . A fresh, worthy addition to the growing body of work on diversity in the workplace." — Publishers Weekly
"A thorough analysis of the struggles faced by women of color in the workplace. . . . This is an inherently fraught topic, but [Purushothaman] addresses it with sensitivity and nuance. . . . The book is well written and would be a solid addition to any career collection in an academic or public library." — Booklist
"Deepa's firsthand experience as a senior executive, combined with the stories of the influential women she spoke with, has yielded a powerful collective narrative that business leaders would be wise to study closely in their quest not only to recruit and retain the top talent, but also to lead with empathy and understanding." — Indra Nooyi, former chairperson and CEO, PepsiCo, and author of My Life in Full
"The First, the Few, the Only is a deeply personal call to action, encouraging readers to learn and feel seen from its stories and messages. This important and engaging book will help build bridges, dismantle barriers, and change how we lead in the workplace." — Billie Jean King, social justice champion and founder, Billie Jean King Leadership Initiative
"We need more books by women of color for women of color—books that highlight our unique experiences and challenges in the workplace—so we can feel seen and reclaim our whole, unfiltered identities. Deepa does an amazing job of sharing her own story while also highlighting the journey of hundreds of other women of color navigating corporate spaces. You will walk away seeing yourself in the pages, experiencing a rush of validation, and feeling emboldened to find success on your own terms." — Minda Harts, speaker and author of The Memo and Right Within
"A category-defining book for white colleagues, managers, and leaders at all levels of the corporate world. Deepa examines the limiting ideas that businesses often still carry about what power and leadership look like, and how that definition leaves many behind. In a world where success is often presented as a singular path, we need books like this to show us all that leadership takes many forms and has many voices." — Daniel H. Pink, number one New York Times bestselling author of When, Drive, and To Sell Is Human
"For too long, women of color have been the 'first, few, or only.' The time is now for us to hear their stories, learn from their resilience, and evolve our vision of leadership. Deepa serves as a courageous and honest resource, empowering women of color to boldly venture into their full power." — Reshma Saujani, founder, Girls Who Code and Marshall Plan for Moms
"A must-have resource for women of color struggling to overcome established power structures in corporate America. Deeply inspiring and uplifting, The First, the Few, the Only highlights the power of community, encourages women of color to be unapologetically themselves in a white male-dominated environment, and provides the necessary tools to help women thrive in an environment not designed for them." — Brooke Baldwin, journalist and bestselling author of Huddle
"The First, the Few, the Only is full of eye-opening stories and empathetic advice that will benefit anyone who wants the inside scoop on power in today's companies. This insightful book is a rallying cry for women of color to find their leadership pathway and blaze the trail toward more inclusive organizations that are more appealing to everyone. A must-read for managers too." — Rosabeth Moss Kanter, Harvard Business School professor and bestselling author of Men and Women of the Corporation and Confidence
Harper Business, 9780063084711, 256pp.
Publication Date: March 1, 2022
About the Author
Deepa Purushothaman is a cofounder of nFormation, a company for women of color by women of color. She is also a Women and Public Policy Program Leader in Practice at the Harvard Kennedy School. Prior to this, Deepa spent more than twenty years at Deloitte and was one of the youngest people and the first Indian American woman to make partner in the company's history. Deepa was also the US managing partner of WIN (Women's Initiative), Deloitte's renowned program to recruit, retain, and advance women. She has degrees from Wellesley College, Harvard Kennedy School, and the London School of Economics, and speaks extensively on women and leadership. Deepa has been featured at national conferences and in publications, including Bloomberg Businessweek, HuffPost, and Harvard Business Review. She is also an Aspen fellow. Deepa and her husband, Manoj, live in Los Angeles with their dogs and an endless list of home renovations.