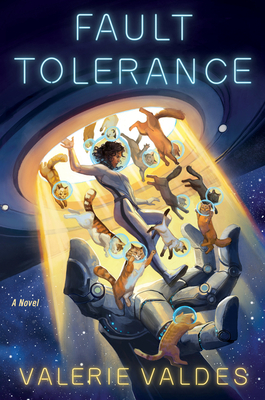 Fault Tolerance
A Novel
Paperback

* Individual store prices may vary.
Other Editions of This Title:
Digital Audiobook (8/1/2022)
Compact Disc (8/2/2022)
MP3 CD (8/2/2022)
Description
From the author of the critically acclaimed Prime Deceptions and Chilling Effect, the hilarious new novel about the adventures of Captain Eva Innocente and the crew of La Sirena Negra.
Nothing wrecks Captain Eva Innocente's vacation plans quite like an anonymous threat to vaporize billions of people. Hundreds of monoliths have suddenly materialized in space, broadcasting the same looped message: surrender or be exterminated. Is the universe being epically spammed?
Surrender to whom? Exterminated when? And how is Eva, commander of a beat-up cargo ship, supposed to prevent it? As panic spreads, a mystery message sends Eva to find answers, in a system that hasn't been explored in all of recorded history.
With the crew of La Sirena Negra, a score of psychic cats, a feline-phobic robot, and a superweapon she has no clue how to use, Eva prepares to battle the unknown. But first, she has to defeat the known: mercenary Tito Santiago, whose idea of a clean fight is a shower before kill time. His mission is to ensure Eva doesn't succeed at hers.
If anything goes wrong, the universe is doomed. But if everything goes according to Eva's plans—wait, when does that ever happen?
Praise For Fault Tolerance: A Novel…
"This is a wild and imaginative adventure that captures the importance of one's chosen family." — BookPage on Prime Deceptions
"Eva's personal growth and the found family aboard La Sirena Negra—including the crew's psychic cats—will draw readers in and delight series fans." — Publishers Weekly on Prime Deceptions
"Jam-packed with weird aliens, mysterious artifacts, and lovable characters... Eva and her family are Latinx and often include un-italicized Spanish in their dialogue, a rare find in a genre that usually uses whiteness as the default. A tremendous good time and an impressive debut." — Kirkus Reviews (starred review) on Chilling Effect
"Featuring memorable Cuban-descended characters, this engaging space opera debut delivers a story that dances between hilarity and seriousness, with all the joy and frustration psychic cats can bring to the mix." — Library Journal (starred review) on Chilling Effect
"Imagine if Firefly and Mass Effect got together and had a baby, and that baby were delivered by Guillermo del Toro. This book is that baby. ¡Esto fue un triunfo!" — Curtis C. Chen, author of the Locus Award finalist Waypoint Kangaroo, on Chilling Effect
Harper Voyager, 9780063085893, 416pp.
Publication Date: August 2, 2022
About the Author
Valerie Valdes's work has been published in Nightmare Magazine, Uncanny Magazine, and the anthologies She Walks in Shadows, and Time Travel Short Stories. She is a graduate of the Viable Paradise workshop and lives in Miami, Florida with her husband and children.