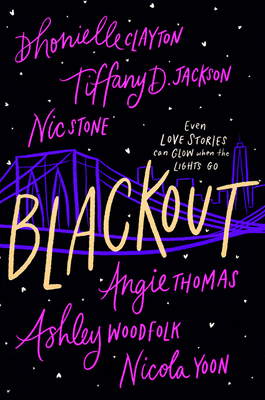 Blackout
A Novel
Hardcover

* Individual store prices may vary.
Other Editions of This Title:
Digital Audiobook, Spanish, Castilian (9/15/2021)
Digital Audiobook (6/21/2021)
Paperback (5/31/2022)
Library Binding, Large Print (7/7/2021)
July/August 2021 Kids Indie Next List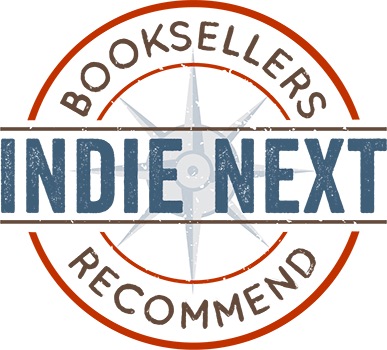 "It's HOT in the summer in NYC when there's a blackout. A group of friends are two by two making their way across the city to a block party. And there's love all around. Six award-winning authors worked together to create these loosely related stories. I highly recommend!"
— Jennifer Jones, Bookmiser, Roswell, GA
View the List
Description
Six critically acclaimed, bestselling, and award-winning authors bring the glowing warmth and electricity of Black teens in love to this charming, hilarious, and heartwarming novel that shines a bright light through the dark.
A summer heatwave blankets New York City in darkness. But as the city is thrown into confusion, a different kind of electricity sparks…
A first meeting. 
Long-time friends. 
Bitter exes. 
And maybe the beginning of something new.
When the lights go out, people reveal hidden truths. Love blossoms, friendship transforms, and new possibilities take flight.
Beloved authors—Dhonielle Clayton, Tiffany D. Jackson, Nic Stone, Angie Thomas, Ashley Woodfolk, and Nicola Yoon—celebrate the beauty of six couples and the unforgettable magic that can be found on a sweltering starry night in the city.
Praise For Blackout: A Novel…
"In Blackout, young Black love with all its insecurities, mistakes, emotion, honesty, and humanity makes for a lush read. Even amidst their fears, these characters are wonderfully respectful of each other's choices. You will root for them all to find their own right love at their own right time. And though it was written for young adults, Blackout is a must-read for all generations." — NPR
"Young Black love glows throughout this collaboration by Dhonielle Clayton, Tiffany D. Jackson, Nic Stone, Angie Thomas, Ashley Woodfolk, and Nicola Yoon, which follows six couples through a summer blackout in New York City... As each teen makes their way home, this joyful collaboration brings a necessary elation to stories of Black love, queer love, and alternative forms of affection, all of which are all tenderly highlighted in these narratives." — Publishers Weekly (starred review)
"There's plenty to smile, sigh, or swoon at here, and readers will happily keep the lights on to see these charming romances to the end." — Bulletin of the Center for Children's Books (starred review)
"Rich with intersectional queer representation and light with banter, humor, and even philosophy, this beautiful collaboration hits different from your typical romance novel, ultimately evoking the warmth of greater connection, community, and belonging." — Booklist (starred review)
"Readers in search of joyful stories of young Black love will adore Blackout." — Bookpage (starred review)
"Working together to deliver a fantastic mix of humor and romance, these authors offer something fun and lighthearted that is welcome during the continuing pandemic and that will bring joy long after it's over." — Kirkus Reviews
"Each author brings an unmistakable voice to the humorous, lighthearted storytelling, affirming that Black people are not a monolith. Every character and every chapter celebrates Black culture through language, fashion and individuality." — Shelf Awareness
"Six stories of romance from six Black young adult authors set this collaborative novel apart, with the tales, all set during a (fictional) summer blackout affecting all of New York City, intertwining as the characters make their way toward a block party in Brooklyn... An easy, entertaining summer read, with each author taking advantage of the premise to write into the underserved space of Black young adult rom-com." — Horn Book Magazine
Quill Tree Books, 9780063088092, 256pp.
Publication Date: June 22, 2021
About the Author
Dhonielle Clayton is the New York Times bestselling author of the Belles series and The Marvellers and the coauthor of The Rumor Game and the Tiny Pretty Things duology, which was made into a Netflix original series. She is COO of the nonprofit We Need Diverse Books and the owner of Cake Creative.
Tiffany D. Jackson is the critically acclaimed author of Allegedly, Monday's Not Coming, and Let Me Hear a Rhyme. A Walter Dean Myers Honor Book and Coretta Scott King–John Steptoe New Talent Award winner, she received her bachelor of arts in film from Howard University, earned her master of arts in media studies from the New School, and has over a decade in TV and film experience. The Brooklyn native still resides in the borough she loves. You can visit her at www.writeinbk.com.
Nic Stone is the #1 New York Times bestselling author of the William C. Morris Award finalist Dear Martin, Dear Justyce, Odd One Out, Jackpot, and Clean Getaway, and the Shuri novel series with Marvel Comics.
Angie Thomas is the author of the award-winning, #1 New York Times bestselling novels The Hate U Give, On the Come Up, and Concrete Rose, as well as Find Your Voice: A Guided Journal for Writing Your Truth. A former teen rapper who holds a BFA in creative writing, Angie was born, raised, and still resides in Mississippi. You can find her online at www.angiethomas.com.
Ashley Woodfolk worked in children's book publishing before becoming an author full-time. Her novels include the highly acclaimed The Beauty that Remains and When You Were Everything.
Nicola Yoon is the #1 New York Times bestselling author of Everything, Everything and The Sun Is Also a Star, both of which have been adapted into major motion pictures. She is a National Book Award finalist, a Michael L. Printz Honor Book recipient, and a Coretta Scott King New Talent Award winner. She's also co-publisher of Joy Revolution, a Random House young adult imprint focused on love stories starring people of color.
1. What gets in the way of relationships? Pride? Fear? Miscommunication? Change? Use examples from the stories to discuss where characters make brave, smart, unhealthy, or cowardly moves in their relationships.
2. Looking at the patterns in these stories, what do you think are some keys to positive, healthy relationships?
3. Tammi and Kareem let a big misunderstanding get in the way of their relationship. What decisions caused the misunderstanding? What decisions allow them to open up again?
4. Tristán tells Lana he "never thought you had space to love me back" (p. 18). Mr Wright advises Kayla to give her heart "space to speak" (p. 197). What do you think they mean? How can you make space for others? For yourself? Discuss ways in which space can help or hurt a relationship.
5. Several characters share important stories about historical blackouts, like the love story from Nella's Pop (p. 72), and Kareem's hip hop origin story (p. 108). Discuss how the stories of the historical blackouts inform the way characters view the current blackout.
6. Discuss how the setting—New York City in a blackout—affects the action, the emotions, and the internal and external journeys of the characters. What happens in this setting that might not have happened without the blackout?
7. What is the source of JJ's fear about coming out? What do you think it would take for sports culture to change? If you were Tremaine, do you think you would forgive JJ and want to be with him?
8. Discuss the idea of commitment in light of the reality that people change. When Grace realizes that she has, in fact, changed, she stops blaming her ex-boyfriend for ending their relationship. Is it ever fair to expect your partner not to change? What kinds of changes are too great for a relationship to sustain?
9. Seymour and his friend had a falling out because their paths diverged. Grace and Seymour have a lot in common, but their paths are also quite different. What do you think it will take for their relationship to work out?
10. In some of these love stories, the reader knows more than the characters know. In other stories, the reasons for a character's reticence are kept from the reader until later in the story. Do you prefer knowing characters' secrets before they share them, or do you prefer a mystery? Which makes a more satisfying set-up for the characters to end up together?
11. What role do family members—especially parents and grandparents—play in the characters' stories? To what extent do you believe family backgrounds influence future relationships? How?
12. Is love a process or an outcome? Use examples from the stories to support your point of view.