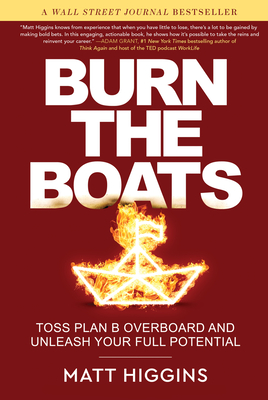 Burn the Boats
Toss Plan B Overboard and Unleash Your Full Potential
Hardcover

* Individual store prices may vary.
Other Editions of This Title:
Digital Audiobook (2/13/2023)
Compact Disc (2/14/2023)
MP3 CD (2/14/2023)
Description
Executive fellow at Harvard Business School, Guest Shark on Shark Tank, and famed angel investor Matt Higgins reveals the counterintuitive formula for a life of perpetual growth that has been practiced for thousands of years by military leaders and serial entrepreneurs alike—forget the Plan B and burn the boats. 
From Sun Tzu to Julius Caesar, the ancient Israelites to Ukrainian President Volodymyr Zelensky, there's a bold and highly effective tactic seen throughout history—when leaders want to motivate their troops for success, they destroy all opportunities for retreat, and go all-in on the mission. They burn their boats; it's win or perish, and the clarity of sheer desperation propels them to victory.
Serial entrepreneur, brilliant investor, and television personality Matt Higgins makes the case that burning the boats isn't just advantageous in times of war or crisis, but a strategy we can all use to achieve our greatest dreams. Conquerors don't have a Plan B, knowing intuitively what science bears out: the mere contemplation of a Plan B weakens our resolve and diminishes our chances for breakout success.
In Burn the Boats, Higgins draws from experiences in his own rags-to-riches life to show you how it's done. The lessons he's learned along the way, and witnessed in the leaders around him, are now for the first time distilled down to a template for success that's available to everyone bold enough to use it. Each chapter includes clear, actionable advice that readers can immediately start applying to their own lives, along with inspiration drawn from dozens of real-life success stories, adding up to a blueprint for a future filled with victories.
Praise For Burn the Boats: Toss Plan B Overboard and Unleash Your Full Potential…
"Matt Higgins knows from experience that when you have little to lose, there's a lot to be gained by making bold bets. In this engaging, actionable book, he shows how it's possible to take the reins and reinvent your career." — Adam Grant, #1 New York Times bestselling author of Think Again and host of the TED podcast WorkLife
"Some people are afraid to take that first step and start a business. Matt gives you a path to challenge yourself and accomplish what you may have been too afraid to start." — Mark Cuban, entrepreneur and Shark Tank Shark
"Instead of wondering what's next, I've found it's better, wherever you are in your career, to focus on what you can learn. Anybody who thinks through the questions Matt raises in Burn the Boats will form a clearer idea of where it is they want to go, and after reading his inspiring stories, they'll be ready to blaze their own trail." — David Solomon, CEO of Goldman Sachs
"Matt has a rare ability to articulate the fears that loom so large in our collective subconscious. Burn the Boats is a brilliant book that will renew your faith in your ability to achieve exactly what you set out to do, to stop settling and start striving for the life you always imagined. In these pages you'll discover the practical tools you need to conquer your self-doubt and navigate around people's opinions and expectations of you. This book will change you." — Jay Shetty, #1 New York Times bestselling author Think Like a Monk
"I hate Plan B. I always tell people that to achieve big dreams, you have to ignore the naysayers, but the naysayers are external. Once you have a Plan B, you've become your own naysayer. Big dreams require relentless focus, and any time we spend planning for failure sets us up for failure. When Matt told me I inspired him, I was really touched. But the best part is, inspiration is contagious, and now Matt can inspire you with this book. Enjoy it, when you finish reading, I can't wait to hear about who you inspire." — Arnold Schwarzenegger
"I've always known that one of the best advantages is being disadvantaged. Life and business is all about how you can take those negatives and turn them into positives by thinking completely outside of the box. Matt and I both know that our scrappy roots growing up on the streets of Queens is what sparked a fire to achieve the impossible." — Daymond John, costar of Shark Tank and New York Times bestselling author
"If you're looking for the push to take the leap, Burn the Boats is it. Matt is among the most remarkable entrepreneurs and businessmen I've ever met. The circumstance of Matt's journey forced him to take enormous risks and build without hesitation, which resulted in compounding success in his career from high school dropout to Harvard lecturer. At Shopify, we are building the tools for people to reach for independence and become entrepreneurs; Burn the Boats gives you the push to take the leap and start." — Harley Finkelstein, president of Shopify
"While most people found it difficult to believe, as founder I saw no way that ARK would fail. Matt Higgins understood. Now, in his book Burn the Boats, Matt shares the story not only of his own intrepid and incredibly successful entrepreneurial adventures, but also those of many other dogged entrepreneurs who saw no option other than success. His book is replete with lessons learned along with encouragement and guidance for those ready to take their own leaps of faith!" — Cathie Wood, founder, CEO, and CIO of Ark Invest
William Morrow, 9780063088863, 288pp.
Publication Date: February 14, 2023