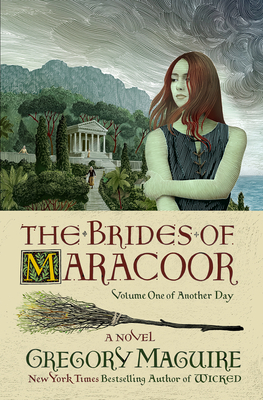 The Brides of Maracoor
A Novel (Another Day #1)
Hardcover

* Individual store prices may vary.
Other Editions of This Title:
Digital Audiobook (10/11/2021)
Paperback, Large Print (10/12/2021)
Compact Disc (10/12/2021)
MP3 CD (10/12/2021)
Description
Multimillion-copy bestselling author Gregory Maguire unveils the first in a three-book series spun off the iconic Wicked Years, featuring Elphaba's granddaughter, the green-skinned Rain.

Ten years ago this season, Gregory Maguire wrapped up the series he began with Wicked by giving us the fourth and final volume of the Wicked Years, his elegiac Out of Oz.
But "out of Oz" isn't "gone for good." Maguire's new series, Another Day, is here, twenty-five years after Wicked first flew into our lives.
Volume one, The Brides of Maracoor, finds Elphaba's granddaughter, Rain, washing ashore on a foreign island. Comatose from crashing into the sea, Rain is taken in by a community of single women committed to obscure devotional practices.
As the mainland of Maracoor sustains an assault by a foreign navy, the island's civil-servant overseer struggles to understand how an alien arriving on the shores of Maracoor could threaten the stability and wellbeing of an entire nation. Is it myth or magic at work, for good or for ill?
The trilogy Another Day will follow this green-skinned girl from the island outpost into the unmapped badlands of Maracoor before she learns how, and becomes ready, to turn her broom homeward, back to her family and her lover, back to Oz, which—in its beauty, suffering, mystery, injustice, and possibility—reminds us all too clearly of the troubled yet sacred terrain of our own lives.
Praise For The Brides of Maracoor: A Novel (Another Day #1)…
"A decade after she flew Out of Oz in Maguire's Wicked series, Elphaba's granddaughter crash-lands on an island inhabited by seven sacrificial virgins. The arrival of the green-skinned teen (and her talking goose) upends their enclave. An exquisitely crafted introduction to a new fantasy trilogy."
— People

"Wonderful attention to detail. . . . [Maguire] does excellent character work. . . . The larger world of Maracoor Abiding . . . has echoes of Greek mythology and looks to be fertile ground as a setting for more books. An expertly crafted introduction to a new series of magic and adventure."
— Kirkus Reviews (starred review)

"The Brides of Maracoor once again shows Maguire's rich, mesmerizing world building, full of small, frustrating human absurdities. . . . It also shows off his gift for crafting compelling characters. . . . It's an intriguing, witty start to a fantastical proposed trilogy."
— Booklist

"With its rich character development and a healthy dash of Maguire's humor, this latest Oz tale is as satisfying a read as the Wicked Years quartet."
— Buzzfeed

"Sharp and wry, funny and pointed, [Maguire] writes in Brides with a certainty and a sort of world-sized elegance, creating something new from scraps of the cloth he worked for years. He remains a master of a specific sense of intimacy amid scale, able to craft precise moments of fallibility, of humans picking our way through our lives, against the fate of nations and the endless sea."
— Tor.com

 "Amazing novel."
— John Updike, The New Yorker, on Wicked

"Maguire's work is melodic, symphonic and beautiful; it is dejected and biting and brave. . . . In fabulous details and self-mocking language, Maguire displays his gift for whimsical portrayals of the broken, the powerless, the hopeless, the bad."
— Los Angeles Times on A Lion Among Men

 "[A] masterwork…. Concludes…one of the most audacious and successful fantasy series of the past few decades…. Hilarious, heart-wrenching and extremely poignant…. The greatest fantasy series make one want to read them again. That's what I intend to do with this one."
— Washington Post on Out of Oz

"In four books, Maguire has expanded the mythology of Oz from L. Frank Baum's books and created a land that's just as rich as Middle-earth or Narnia, and balances the serious with the sublime. . . . Out of Oz is a satisfying finish to the Wicked Years saga." 
— USA Today on Out of Oz

"[A] sassy reimagining of Baum's world. . . . Maguire's canvas is incredibly rich. . . . This last installment is one to savor." 
— People (4 stars) on Out of Oz
William Morrow, 9780063093966, 384pp.
Publication Date: October 12, 2021
About the Author
Gregory Maguire is the New York Times bestselling author of A Wild Winter Swan; Hiddensee; After Alice; Confessions of an Ugly Stepsister; Lost; Mirror Mirror; and the Wicked Years, a series that includes Wicked—the beloved classic that is the basis for the blockbuster Tony Award–winning Broadway musical of the same name—Son of a Witch, A Lion Among Men, and Out of Oz. Maguire has lectured on art, literature, and culture both at home and abroad. He lives with his family in New England.