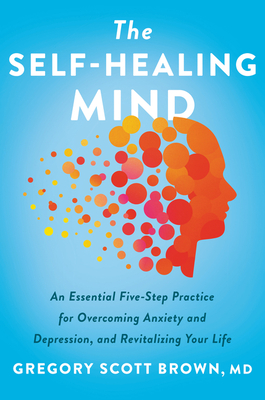 The Self-Healing Mind
An Essential Five-Step Practice for Overcoming Anxiety and Depression, and Revitalizing Your Life
Hardcover

* Individual store prices may vary.
Other Editions of This Title:
Compact Disc (6/7/2022)
MP3 CD (6/7/2022)
Description
Self-care is a powerful, evidence-based medicine for the mind.
Mental health is the driving force behind every decision we make—how we live, work, and love. Many of us suffer from depression and anxiety, which impede our choices and quality of life, and despite the proliferation of prescription drugs, the numbers are growing across the globe. But there is another, proven way to achieve mental wellness, beyond antidepressants and talk therapy. Practicing psychiatrist Gregory Scott Brown believes that mental health begins with actionable self-care.
The Self-Healing Mind is a holistic approach to emotional and psychological healing that focuses on how evidence-based self-care strategies can be used to improve and sustain mental health. Dr. Brown challenges the current state of mental health care and the messaging around it, showing us how to move past outdated notions of "broken" brains and chemical imbalances. While he agrees that prescription drugs and talk therapy in many cases are important for healing, his personal and professional experience has taught him that lifestyle interventions are also key to sustainable mental wellness.
Dr. Brown's clinical philosophy supports an integrative approach that combines conventional treatments (medication and psychotherapy) with what he calls the Five Pillars of Self-Care: breathing mindfully, sleep, spirituality, nutrition, and movement. These purposeful lifestyle practices, backed by science and proven in his clinical practice, can be adopted by everyone. Dr. Brown's advice and insight put the power of healing back in your control.
Praise For The Self-Healing Mind: An Essential Five-Step Practice for Overcoming Anxiety and Depression, and Revitalizing Your Life…
"I can't recommend this book highly enough. It's a must-read for anyone seeking self-care tools for improving mental health." — Travis Stork, MD, board-certified ER physician, TV personality, and bestselling author of The Lose Your Belly Diet: Change Your Gut, Change Your Life
"We need this book right now to help heal our minds. My dear friend and brilliant psychiatrist Greg Scott Brown shares the science and practice of self-care woven into his deeply personal narrative and moving clinical encounters. A must-read for your mental health." — Drew Ramsey, MD, assistant clinical professor of psychiatry at Columbia University and author of Eat to Beat Depression and Anxiety: Nourish Your Way to Better Mental Health in Six Weeks
"Greg talks about depression and is a powerful voice in the national conversation about the crisis of men's mental health. The Self-Healing Mind embraces best prescription practices and alternative therapies, and offers a fresh option to the status quo, which is clearly failing. By seeing patients at his clinical practice and reaching people through different media platforms, he's helping shape and drive that conversation in a positive, inclusive, and powerful way." — Ben Court, executive editor of Men's Health
"In The Self-Healing Mind, Dr. Brown makes the process of optimizing mental health inspiring and feasible. Through very readable stories and explanations, he brings a balanced approach that includes traditional treatment as important for most physical and mental illnesses but highlights so much more we can all learn in order to live more fully, present, and whole." — Christine Moutier, MD, chief medical officer of the American Foundation for Suicide Prevention
"Writing with verve and sincerity and depth of knowledge, Dr. Brown shows us the pathways to take care of ourselves outside the psychiatrist's office. An extraordinary book." — David Eagleman, neuroscientist at Stanford University, New York Times bestselling author
"Dr. Brown demystifies the process by which we are able to engage in behaviors and mindsets that allow us to heal our own minds. He offers scientifically proven and tangible tools to maintain and improve our mental well-being, which can greatly benefit us all." — Jenny T. Wang, PhD, clinical psychologist and author of Permission to Come Home: Reclaiming Mental Health as Asian Americans
"If you want to feel better and get unstuck, this is your self-care playbook. Both practical and profound, The Self-Healing Mind reads like a conversation with a trusted friend, who happens to be a world-class psychiatrist. Dr. Gregory Scott Brown empowers and inspires you with helpful real-world tools for optimal mental health. Your mind is a powerful, untapped force, and this book will coach you on how to own, train, and love it, even in dark moments." — Kelli Harding, MD, MPH, psychiatrist, kindness expert, and author of The Rabbit Effect: Live Longer, Happier, and Healthier with the Groundbreaking Science of Kindness
Harper Wave, 9780063094475, 304pp.
Publication Date: June 7, 2022
About the Author
Gregory Scott Brown, MD, is a board-certified psychiatrist, mental health writer, and affiliate faculty member at the University of Texas Dell Medical School. His commentary has been featured in the New York Times, in the Huffington Post, in Well+Good, on Medscape, and on the Today show. He is an advisory board member for Men's Health, where he regularly contributes content for mental health stories. He resides in the Houston area with his wife.