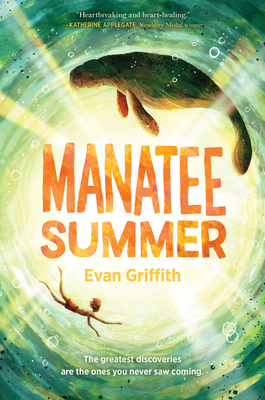 Manatee Summer
Hardcover

* Individual store prices may vary.
Description
In this poignant middle grade contemporary debut that New York Times bestselling author Katherine Applegate calls "by turns heartbreaking and heart-healing," Evan Griffith beautifully captures all the tenderness and uncertainty that come with caring for family, friends, and the natural world.
Peter and his best friend, Tommy, have a goal for their last summer before middle school: finish their Discovery Journal, a catalog of the wildlife around their Florida town. When they spot a manatee in a canal, Peter knows they've found something special—and when the manatee is injured by a boat, something to protect!
As Peter joins the fight to save Florida manatees, he also finds himself taking care of his ailing grandfather and facing an unwelcome surprise that jeopardizes his friendship with Tommy. Soon Peter is adrift, navigating shifting tides and realizing that he has as much to discover about himself as he does about the world around him.
Praise For Manatee Summer…
"By turns heartbreaking and heart-healing, Manatee Summer is an empowering story about facing change with bravery, humor, and hope. Don't miss this unforgettable middle grade debut by an exciting new voice." 
— Katherine Applegate, Newbery Medal-winning and #1 New York Times bestselling author of The One and Only Ivan

"With humor and real emotion in satisfying balance, Griffith tells the story of a boy dealing with a lot of change—in his family, his friendships, and in himself. The mysterious power of the natural world and Peter's relationship with it through Tommy and Papa brings additional dimension and beauty to this affecting novel."
— Sara Zarr, author of National Book Award finalist Story of a Girl

"Transporting readers right to the Florida shore, Evan Griffith's gorgeous debut makes you appreciate how simultaneously beautiful and tumultuous caretaking for a family member can be, and how loving and caring for those you love knows no depths."
— Nicole Melleby, author of How to Become a Planet

"Manatee Summer is an engaging debut novel about remaining compassionate in the face of adversity, standing strong when all is lost, and connecting to loved ones who seem to be an ocean away. I loved Peter's connection to Zoe, and cheered for him to find his voice to speak up for himself and those who needed him most."
— Lynne Kelly, author of Song For a Whale

"Manatee Summer is an album of love stories: between a boy and his grandpa, between two kids and all creatures, between two best friends, and between a boy and his gentle giant, Zoe, a manatee. Peter is a kid who loves hard and yet loves effortlessly, and all readers will be touched by his earnestness and passion." 
— Caela Carter, author of Charlotte Huck Honor Book Forever, or a Long, Long Time
Quill Tree Books, 9780063094918, 288pp.
Publication Date: June 28, 2022
About the Author
Evan Griffith is the author of the picture book Secrets of the Sea: The Story of Jeanne Power, Revolutionary Marine Scientist. Manatee Summer is his middle grade debut. He received his MFA in writing for children and young adults at the Vermont College of Fine Arts. He lives in Austin, TX. Visit Evan online at www.evangriffithbooks.com.