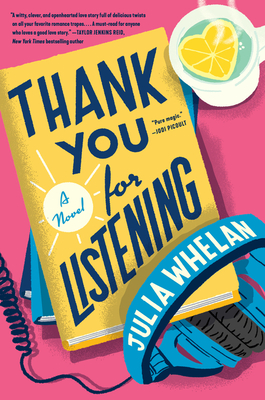 Thank You for Listening
A Novel
Paperback

* Individual store prices may vary.
Other Editions of This Title:
Digital Audiobook (8/1/2022)
Hardcover (8/2/2022)
Compact Disc (8/2/2022)
MP3 CD (8/2/2022)
Description
From the author of My Oxford Year, Julia Whelan's uplifting novel tells the story of a former actress turned successful audiobook narrator—who has lost sight of her dreams after a tragic accident—and her journey of self-discovery, love, and acceptance when she agrees to narrate one last romance novel.

For Sewanee Chester, being an audiobook narrator is a long way from her old dreams, but the days of being a star on film sets are long behind her. She's found success and satisfaction from the inside of a sound booth and it allows her to care for her beloved, ailing grandmother. When she arrives in Las Vegas last-minute for a book convention, Sewanee unexpectedly spends a whirlwind night with a charming stranger. 
On her return home, Sewanee discovers one of the world's most beloved romance novelists wanted her to perform her last book—with Brock McNight, the industry's hottest, most secretive voice. Sewanee doesn't buy what romance novels are selling—not after her own dreams were tragically cut short—and she stopped narrating them years ago. But her admiration of the late author, and the opportunity to get her grandmother more help, makes her decision for her. 
As Sewanee begins work on the book, resurrecting her old romance pseudonym, she and Brock forge a real connection, hidden behind the comfort of anonymity. Soon, she is dreaming again, but secrets are revealed, and the realities of life come crashing down around her once more.
If she can learn to risk everything for desires she has long buried, she will discover a world of intimacy and acceptance she never believed would be hers.
Praise For Thank You for Listening: A Novel…
"A perfectly intoxicating delight! Thank You for Listening is a witty, clever, and open-hearted love story full of delicious twists on all your favorite romance tropes. Julia Whelan has already proven herself to be a singular, wry voice in fiction but with Thank You for Listening, she has something truly special: a story so remarkable and original that only she could write it. A must-read for anyone who loves a good love story." — Taylor Jenkins Reid, New York Times bestselling author of Malibu Rising
"Thank You for Listening is a fascinating behind-the-scenes peek at the voice actors who bring love stories to life for the rest of us. Mix Julia Whelan's storytelling ability and smart banter with a cynical romance audiobook narrator who won't trust a happily ever after and what do you get? Pure magic." — Jodi Picoult, New York Times bestselling author of Wish You Were Here
"A compulsively readable story about self-discovery with plenty of laughs and spice along the way." — Kirkus Reviews (starred review)
"Thank You For Listening is a delight from start to finish. Julia Whelan takes readers behind the scenes of the audiobook world in this story of second acts and second chances that's full of wit, heart, and humor. The characters felt so real I began to miss them the moment I turned the final page." — Andrea Dunlop, author of We Came Here to Forget
[A] poignant and charming novel. Whelan's skillfully nuanced writing truly shines. — Booklist (starred review)
"This pull-at-the-heartstrings yet sexy debut novel by Whelan, an award-winning audiobook narrator, is all about the choices we make for ourselves and others. It will delight Anglophiles as well as Jojo Moyes fans." — Library Journal
"Thank You for Listening is one of the funniest, most clever, sexiest, and most deliciously complex love stories I've read in years. The dialogue is electric. The chemistry, both intellectual and physical, is palpable. The characters are singularly unforgettable. I can't remember the last time I was this jealous of a writer's talent. I wanted to bask in this book, and I also wished I'd written it. Julia Whelan's been my favorite audiobook narrator for years. Now she is one of my all-time favorite authors."
— Emily Henry, #1 New York Times bestselling author of People We Meet On Vacation
"A fearless story! Unflinching, utterly addictive and gorgeously written! I wish I wrote this romance!" — Lauren Blakely, # 1 New York Times Bestselling Author
"Playfully sexy and boundlessly charming, Thank You For Listening is a warm and wise tale of love and affection and a must-read for anyone who loves the sound of voices speaking into a microphone."
— Linda Holmes, New York Times bestselling author of Evvie Drake Starts Over
"Wickedly funny, tearfully poignant, hopelessly romantic, witty and sexy and important, plus a writer at the top of her game, and a peek behind the curtains of both Hollywood and how our beloved audiobooks are created? This book is everything. Narrator and author Julia Whelan is a true talent and THANK YOU FOR LISTENING is utterly unforgettable. A modern classic."
— J.T. Ellison, New York Times Bestselling author of Her Dark Lies
"Whelan is always wonderful, but she shines in this carefully constructed, sometimes-steamy romance that manages to be laugh-out-loud funny." - Candace Smith — Booklist (starred review)
"Hilarious and touching…this novel has everything the best romance novels should have: a reluctant protagonist, a hot partner, loving family/friends and true love. What more can you ask for?" — USA Today (four stars)
"Thank You For Listening is a romcom with serious depth and a lot of heart. It's witty, sharp, and not afraid to tackle some heavy themes, and a fascinating window into the world of audiobook narrating. The magic so often happens when someone writes about a subject they know so well, and this book is the perfect illustration. What a cracking follow-up to My Oxford Year. Julia Whelan gets better and better. I'm a huge fan!" — Lizzy Dent, Author of The Summer Job
Avon, 9780063095564, 432pp.
Publication Date: August 2, 2022
About the Author
Julia Whelan is a screenwriter, lifelong actor, and award-winning audiobook narrator. She graduated with a degree in English and creative writing from Middlebury College and Oxford University. While she was in England, her flirtation with tea blossomed into a full-blown love affair, culminating in her eventual certification as a tea master.