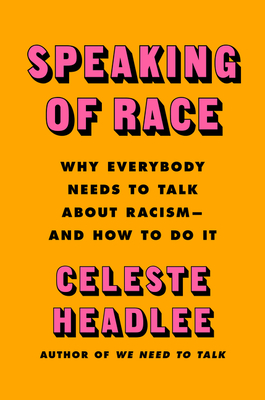 Speaking of Race
Why Everybody Needs to Talk About Racism—and How to Do It
Hardcover

* Individual store prices may vary.
Other Editions of This Title:
Digital Audiobook (11/1/2021)
Compact Disc (11/2/2021)
MP3 CD (11/2/2021)
Description
A Boston Globe Most Anticipated Fall Book
In this urgently needed guide, the PBS host, award-winning journalist, and author of We Need to Talk teaches us how to have productive conversations about race, offering insights, advice, and support.
A self-described "light-skinned Black Jew," Celeste Headlee has been forced to speak about race—including having to defend or define her own—since childhood. In her career as a journalist for public media, she's made it a priority to talk about race proactively. She's discovered, however, that those exchanges have rarely been productive. While many people say they want to talk about race, the reality is, they want to talk about race with people who agree with them. The subject makes us uncomfortable; it's often not considered polite or appropriate. To avoid these painful discussions, we stay in our bubbles, reinforcing our own sense of righteousness as well as our division.
Yet we gain nothing by not engaging with those we disagree with; empathy does not develop in a vacuum and racism won't just fade away. If we are to effect meaningful change as a society, Headlee argues, we have to be able to talk about what that change looks like without fear of losing friends and jobs, or being ostracized. In Speaking of Race, Headlee draws from her experiences as a journalist, and the latest research on bias, communication, and neuroscience to provide practical advice and insight for talking about race that will facilitate better conversations that can actually bring us closer together. 
This is the book for people who have tried to debate and educate and argue and got nowhere; it is the book for those who have stopped talking to a neighbor or dread Thanksgiving dinner. It is an essential and timely book for all of us.
Praise For Speaking of Race: Why Everybody Needs to Talk About Racism—and How to Do It…
"[Headlee] lowers the temperature around conversations about race in this edifying work. . . . Written for those who are tired of arguing, debating, and still getting nowhere on the issue of race, Headlee's personal-yet-proficient approach to potentially heated parlays is sure to inspire constructive, and perhaps life-changing, conversations."
— Publishers Weekly

"A thoughtful, enlightening guide."
— Kirkus

"Celeste Headlee says we cannot go around, over, or under the subject of race in this country. We must go through it—and the way forward is to have conversations. This is simply the best book I've read on how to have those conversations. Unflinchingly honest, exceptionally well-reasoned and researched, there is so much to admire about Speaking of Race. But my very favorite element is the conversations in each chapter, excerpts from Celeste's interviews in which you can glimpse the perspective-changing power of dialogue." 
— Angela Duckworth, founder and CEO of Character Lab and New York Times bestselling author of Grit

"Award-winning journalist and professional speaker Headlee offers tips on doing something she's an expert at: speaking to and understanding others. This timely book comes at a moment of particular attention to racial tension; Headlee's book promises to help us have fruitful conversations about it."
— Boston Globe

"This is what America needs: an evidence-based book on race that doesn't divide or polarize. Whether you've been avoiding conversations about race altogether or stumbling your way through them, Celeste Headlee is the ideal teacher. Her goal isn't to make you more comfortable—it's to make you more thoughtful."
— Adam Grant, number one New York Times bestselling author of Think Again and host of the TED podcast WorkLife

"Nobody feels entirely comfortable talking about the potentially explosive subject of race, but public radio journalist Celeste Headlee is here to help everyone have open, respectful conversations on the subject.. . .Headlee brings the receipts throughout, diving deep into science and sociology to help explain the best ways to think about race and prejudice—and she fully owns up that step one, acknowledging your own biases, is probably the hardest. . . .Speaking of Race won't give you all the answers, but it will help you learn how to ask the right questions."
— Apple Books

"Headlee has created an informative, enjoyable book that functions as part-memoir, part-guidebook to having conversations about racism. A must-read for everyone."
— Library Journal

"Powerful and actionable. If you want a less racist world, you must read this excellent book—every page is packed with tools, inspiration, and insight."
— Dolly Chugh, author of The Person You Mean to Be

"Celeste Headlee is perhaps the greatest evangelist for the power of conversation and Speaking of Race is an accessible, carefully researched, and refreshingly personal exploration into how to have better, more honest discussions about race and racism. An exercise in courage and honesty, this book offers readers an understanding companion as they do the work of facing their biases." 
— Lindsay Foster Thomas, journalist and host of The ARC of Justice podcast

"Celeste Headlee knows that conversations about racism are hard and that many, perhaps most, will fail to change hearts and minds. But in Speaking of Race, she makes a powerful case that those of us who want an antiracist world must make the attempt, and she offers wise, evidence-based guidance for how to go about it."
— John Biewen, host of the Peabody Award–nominated podcast Scene on Radio

"As we continue to reckon with America's painful racial history, Celeste Headlee gives us important insight into our past and present as well as wisdom for navigating meaningful conversations for a better future."
— Christian McBride, seven-time Grammy Award–winning jazz bassist
Harper Wave, 9780063098152, 272pp.
Publication Date: November 2, 2021
About the Author
CELESTE HEADLEE is an award-winning journalist, professional speaker and the author of We Need To Talk: How To Have Conversations That Matter, and Do Nothing: How to Break Away from Overworking, Overdoing, and Underliving. An expert in conversation, human nature, reclaiming our common humanity and finding well-being, Celeste frequently provides insight on what is good for all humans and what is bad for us, focusing on the best research in neuro and social science to increase understanding of how we relate with one another and can work together in beneficial ways in our workplaces, neighborhoods, communities and homes. She is a regular guest host on NPR and American Public Media and a highly sought consultant, advising companies around the world on conversations about race, diversity and inclusion. Her TEDx Talk sharing 10 ways to have a better conversation has over 23 million total views, and she serves as an advisory board member for ProCon.org and The Listen First Project. Celeste is the recipient of the 2019 Media Changemaker Award. She is the proud granddaughter of composer William Grant Still, the Dean of African American Composers.