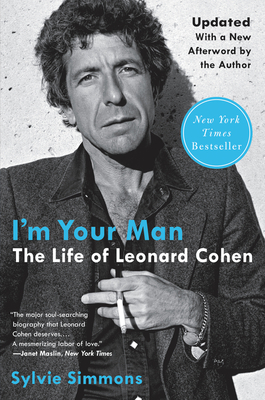 I'm Your Man
The Life of Leonard Cohen
Paperback

* Individual store prices may vary.
Other Editions of This Title:
Paperback (8/27/2013)
Hardcover (9/18/2012)
Description
The New York Times-bestselling, definitive biography of legendary artist Leonard Cohen, now with new afterword by the author

"There is a crack in everything.
That's how the light gets in."
— Leonard Cohen
The genius behind such classic songs as Suzanne, Bird on a Wire, and Hallelejuia, Leonard Cohen was one of the most important and influential songwriters of our time, a man of spirituality, emotion, and intelligence whose work explored the definitive issues of human life—sex, religion, power, meaning, love.
Yet before he even began recording, Cohen was an accomplished literary figure whose. poetry and novels brought him considerable recognition. His dual careers in music and literature have transformed one other, his songs revealing a literary quality rare in the world of popular music, and his poetry and prose informed by a rich musicality.
I'm Your Man explores the facets of Cohen's life—from his early childhood in Montreal, to his entrée into the worlds of literature and music, his immersion in Jewish culture, obsession with Christian imagery, and deep commitment to Buddhist detachment—including the five years he spent at a monastery outside of Los Angeles and his ordainment as a Rinzai Zen Buddhist Monk—offering remarkable insight into an artist whose reach, vision, and incredible talent has had a profound impact on multiple generations of writers, poets, musicians, artists, and everyday people.
Praise For I'm Your Man: The Life of Leonard Cohen…
"I'm Your Man is the major, soul-searching biography that Leonard Cohen deserves... a mesmerizing labor of love."
— Janet Maslin, New York Times

"A thoughtful celebration of the artist's life...Simmons has deftly narrated Cohen's evolution... In the end, this biography has the oddest effect: as soon as you finish reading it you feel an overwhelming impulse to go back and begin again, revisiting the story with what you've learned along the way."
— A.M. Homes, New York Times Book Review

"A new gold standard of Cohen bios."
— Los Angeles Times

"This is the bio Cohen has long deserved, and it makes every prior Cohen book practically unnecessary."
— Rolling Stone, 4 1/2 Stars

"The book is a seductive tribute to a master seducer."
— The Onion A.V. Club

"A deep, enlightening book. . . Simmons, a music journalist and short-story writer, knows how to research and write and keep a critical distance from Cohen, who opens up some but uses his usual weapons, politeness and self-deprecation, to maintain an air of mystery."
— The Oregonian (Portland)

"Leonard fought darkness through his work and... the light ultimately prevailed when he triumphantly toured the world for three years beginning in 2008... 'You could hear the hairs stand up on people's arms,' writes Simmons of the hushed reverence of his audience. This book demands a similar reaction."
— MOJO Magazine, 5 Stars

"This is a revelatory biography that investigates not just an artist's life, but the life of his art."
— Shelf Awareness

"In I'm Your Man, we see not only the life of one man who was transformed by words, but how we ourselves may be transformed by them."
— New York Jewish Week

"Simmons' rich, compelling and provocative book... is a star-studded but also frank account of how the music industry really works and, at the same time, a discerning portrait of one especially important musician."
— Jewish Journal Los Angeles

"Simmons is a wonderful writer... the book informs like carefully researched non-fiction, but engages like enchanting fiction... Like listening to one of Cohen's songs, this complex, beautiful biography requires you to think about it. This book will stay with you. It will change the way you hear Leonard Cohen."
— Paste Magazine

"[A] vibrant and enthusiastic chronicle... Carefully weaving the threads of all of his songs and albums through the patterns of his life, Simmons craftily explores the themes that regularly mark Cohen's work: desire, regret, suffering, love, hope, and hamming it up."
— Publishers Weekly (starred review)

"In this elegantly crafted biography, Simmons captures the artist who, in spite of all his highs and lows, is still sharp at the edges, a wise old monk, a trouper offering up himself and his songs."
— BookPage

"Exquisitely researched and elegantly written."
— Dallas Morning News

"The success of Simmons' book is the way it deftly integrates each facet in a unified portrait."
— San Jose Mercury News

"Cohen is a complex man and Sylvie Simmons has captured every essence of it in her remarkable book. This is a deeply insightful portrait that is guaranteed to haunt the reader much like his "Suzanne" and "Bird on the Wire."
— The Tuscon Citizen

"Compelling biography. . . A must for anyone interested in one of the most influential songwriters of our time."
— Booklist (starred review)
Ecco, 9780063114906, 592pp.
Publication Date: February 9, 2021
About the Author
Sylvie Simmons is an award-winning writer and one of the foremost music journalists working today. Born in London, she moved to Los Angeles in the late seventies and started writing about rock music for magazines such as Sounds, Creem, Kerrang! and Q. She is the author of acclaimed fiction and nonfiction books, including the biography Serge Gainsbourg: A Fistful of Gitanes and the short-story collection Too Weird for Ziggy. She has lived at various times in England, the United States, and France, and she currently lives in San Francisco, where she writes for MOJO magazine and plays the ukulele.