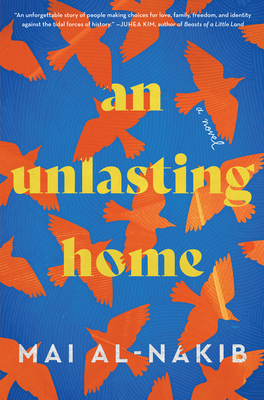 An Unlasting Home
A Novel
Hardcover

* Individual store prices may vary.
Other Editions of This Title:
Compact Disc (4/12/2022)
MP3 CD (4/12/2022)
Description
The debut novel from an award-winning short story writer: a multigenerational saga spanning Lebanon, Iraq, India, the United States, and Kuwait that brings to life the triumphs and failures of three generations of Arab women.
In 2013, Sara is a philosophy professor at Kuwait University, having returned to Kuwait from Berkeley in the wake of her mother's sudden death eleven years earlier. Her main companions are her grandmother's talking parrot, Bebe Mitu; the family cook, Aasif; and Maria, her childhood ayah and the one person who has always been there for her. Sara's relationship with Kuwait is complicated; it is a country she always thought she would leave, and a country she recognizes less and less, and yet a certain inertia keeps her there. But when teaching Nietzsche in her Intro to Philosophy course leads to an accusation of blasphemy, which carries with it the threat of execution, Sara realizes she must reconcile her feelings and her place in the world once and for all.
Interspersed with Sara's narrative are the stories of her grandmothers: beautiful and stubborn Yasmine, who marries the son of the Pasha of Basra and lives to regret it, and Lulwa, born poor in the old town of Kuwait, swept off her feet to an estate in India by the son of a successful merchant family; and her two mothers: Noura, who dreams of building a life in America and helping to shape its Mid-East policies, and Maria, who leaves her own children behind in Pune to raise Sara and her brother Karim and, in so doing, transforms many lives.
Ranging from the 1920s to the near present, An Unlasting Home traces Kuwait's rise from a pearl-diving backwater to its reign as a thriving cosmopolitan city to the aftermath of the Iraqi invasion. At once intimate and sweeping, personal and political, it is an unforgettable epic and a spellbinding family saga. 
Praise For An Unlasting Home: A Novel…
"Penetrating insight and such compressed lyricism that at times her prose seems to border on poetry. A densely imagined and beautifully written debut."
— Sydney Morning Herald on The Hidden Light of Objects

"The Hidden Light of Objects marks the emergence of an author already confident in her craft and her ability to give voice to the emotions and yearnings of her characters."
— New Internationalist

"Through a richly nuanced and generous lens, Al-Nakib's gracefully intertwined stories celebrate the living desire that connects us to home—wherever in the world that might be—as well as to the past and to each other. The most original first collection of short fiction I have read in years. A powerful voice already in full mastery of her powers."
— A. Manette Ansay, author of Vinegar Hill, on The Hidden Light of Objects  

"The old world and the new. The strife in the Gulf, once peaceful and reflective. East and West, Arabic and English, the poetry of the heart, the eye of the hawk; all these elements produce the lustrous pearls of Mai Al-Nakib's short stories."
— Hanan al-Shaykh, author of Beirut Blues, on The Hidden Light of Objects

"The Hidden Light of Objects brings forth both the light and the shadows of the contemporary Middle East in clean-edged prose that startles us, not with sudden violence or polemic, but with the ineluctable force of human desire. Kuwait itself becomes a character, full of contradictions, in this multifaceted set of stories and vignettes. Superb."
— Lucy Ferriss, author of The Lost Daughter
Custom House, 9780063135093, 400pp.
Publication Date: April 12, 2022