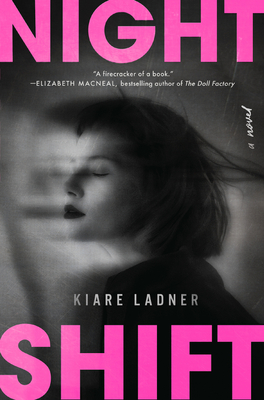 Nightshift
A Novel
Hardcover

* Individual store prices may vary.
Other Editions of This Title:
Digital Audiobook (2/7/2022)
Paperback (1/3/2023)
Compact Disc (2/8/2022)
MP3 CD (2/8/2022)
Description
"Once again, we have arrived at our favorite topic: fraught female friendship. This time it's young women working nights at crappy jobs in 90s London. You'll rip through this, reading through the night, as fixated on the story as Ladner's characters are fixated on each other." —Glamour
A riveting debut novel of complex female friendship and obsession, following one young woman's decision to abandon her normal life and join the otherworldly, nocturnal existence of London's nightshift workers.
RECOMMENDED BY GLAMOUR * NYLON * BUSTLE * THE MILLIONS * LIT HUB * DEBUTIFUL * CRIMEREADS
When twenty-three-year-old Meggie meets her distant and enigmatic new coworker Sabine, she recognizes in her the person she would like to be. Meggie is immediately drawn to worldly, beautiful, and uninhibited Sabine; and when Sabine announces she's switching to the nightshift, Meggie impulsively decides to follow her. Giving up her daytime existence, her reliable boyfriend, and the trappings of a normal life, Meggie finds a liberating sense of freedom as she indulges her growing preoccupation with Sabine and plunges into another existence, immersing herself in the transient and uncertain world of the nightshift worker.
While the city sleeps, she passes the hours at work clipping crime stories from the next day's newspapers. The liminal hours between night and day are spent haunting deserted bars and nightclubs with her eclectic coworkers and going on increasingly wild adventures with Sabine. Yet the closer she gets to Sabine, the more Sabine seems to push her away, leaving Meggie desperately trying to hold on to their intense friendship while doubting if she truly knows her friend at all.
A fresh twist on the coming of age story and a dark love letter to city life, Nightshift explores the thin line between self-invention and self-destruction, as Meggie's sleep deprivation, drinking, and fixation with Sabine gain a momentum all their own. Vividly set in late-nineties London and framed by Meggie's present-day reflections, Nightshift is a captivating and moving debut that asks profound questions about who we are and if we can truly escape ourselves.
Praise For Nightshift: A Novel…
"Once again, we have arrived at our favorite topic: fraught female friendship. This time it's young women working nights at crappy jobs in 90s London. You'll rip through this, reading through the night, as fixated on the story as Ladner's characters are fixated on each other." — Glamour, First Great Books of 2022
"A friendship grows into a life-altering obsession in Ladner's alluring debut set in late 1990s London. ... Ladner sustains a deliriously lurid rabbit hole for Meggie to go down as she fixates on her unreliable 'fairy tale friend' who she longs not only to know but also to be. The result is a tense and affecting tale of awakening." — Publishers Weekly
"In Kiare Ladner's absorbing debut novel, a 23-year-old takes a booze- and drug-fueled journey of sexual exploration when she becomes entranced by her enigmatic coworker." — Shelf Awareness
"A firecracker of a book—toxic, sexy, pacey and packed with humor. It's a long time since I read something so gloriously nihilistic, and I won't be forgetting it anytime soon."  — Elizabeth Macneal, internationally bestselling author of The Doll Factory
"The twists and turns in the story prevent predictability, and Ladner's gorgeous shadowy writing creates a daunting but exhilarating world that's difficult to leave." — The Skinny (UK)
"Kiare Ladner's hypnotic debut, set in the urban nightscape of 90s London, is a portrait of a young woman's sexual awakening and her struggle to define herself in the midst of an obsessive love affair with a coworker. Exploring the potency of female sexuality, Nightshift is a novel about the overwhelming yearning for human connection and how we shape ourselves around the things we most desire. I ate it up in two sittings!" — Ellie Eaton, author of The Divines
"Nightshift casts a hypnotic spell: the eerie allure of a city at night, the woozy thrill of love and obsession, the blurry line between self-discovery and self-destruction, perfectly captured. I tore through this novel in a haunted daze." — Natalie Standiford, author of Astrid Sees All
"In her dark and twisted novel, Ladner explores self-destruction and unhealthy obsession. The plot is as explosive as Ladner's writing and pace. She has a tight grip on the form and won't let go." — Debutiful, 12 Can't-Miss Debut Books to Read in February
"Nightshift has atmosphere to spare, and the unstable friendship at its core is rendered with the right amount of moodiness." — CrimeReads, February's Best Debut Novels
"I can't wait for this debut novel about female friendship turned toxic obsession, when Meggie decides to emulate Sabine by trading her hours to work the nightshift with her, throwing away everything good in her life to live alongside her otherworldly friend."  — Nylon, The 13 Best Books Coming Out in February
"Nightshift is one of the most exciting and provocative debuts I've read in years. Daring and dark, it explores themes of nihilism, escape, and desire, with classic noir echoes of Patricia Highsmith. Is it possible to become someone else? What are the consequences of doing so? Fearless in subject matter and stylistically brave, this is not a novel I'm going to forget anytime soon."  — Julianne Pachico, author of The Anthill
"With an honesty not unlike Elena Ferrante's in her searing novel, Days of Abandonment, Kiare Ladner recounts with absolute accuracy the lengths and depths to which some women will go in order to free themselves from whatever it is that binds them. This is a debut to be cherished." — Book Oxygen
"A brilliantly compulsive, unnerving read. A meditation on obsessive female friendship that sinks into the bone."  — Irenosen Okojie, author of Butterfly Fish
"Ladner's propulsive pace mimics Meggie's frantic emotional state; in the heat of her obsession with Sabine, Meggie pushes her own limits, trying to discover who she really is." — Los Angeles Daily News
"Ladner's gritty debut looks at the fringes of human functionality and underworld London, ultimately asking if we can escape ourselves by becoming someone else."
— The Face (UK), Best New Novelists to Keep on Your Radar
Mariner Books, 9780063138247, 256pp.
Publication Date: February 8, 2022
About the Author
As a child, Kiare Ladner wanted to live on a farm, run an orphanage, and be onstage. As an adult, she found herself working for academics, with prisoners, and on nightshifts. Her short stories have been published in anthologies and broadcast on BBC Radio 4. Nightshift is her first novel, written while studying for a Ph.D. She grew up in South Africa and lives in London.