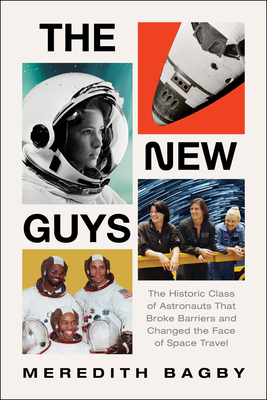 The New Guys
The Historic Class of Astronauts That Broke Barriers and Changed the Face of Space Travel
Hardcover

* Individual store prices may vary.
Other Editions of This Title:
Digital Audiobook (2/6/2023)
Compact Disc (2/7/2023)
MP3 CD (2/7/2023)
Description
The never-before-told story of NASA's 1978 astronaut class, which included the first American women, the first African Americans, the first Asian American, and the first gay person to fly to space. With the exclusive participation of the astronauts who were there, this is the thrilling, behind-the-scenes saga of a new generation that transformed space exploration
The story of NASA's Astronaut Class 8, or "The F*cking New Guys," as their military predecessors nicknamed them, is an unprecedented look at these extraordinary explorers who broke barriers and blasted through glass ceilings. Egos clashed, ambitions flared, and romances bloomed as the New Guys competed with one another and navigated the cutthroat internal politics at NASA for a chance to rocket to the stars.
Marking a departure from the iconic military test pilots who had dominated the space program since its inception, the New Guys arrived at the dawn of a new era of space flight. Teardrop-shaped space capsules from Mercury, Gemini, and Apollo gave way to the space shuttle, a revolutionary space plane capable of launching like a rocket, hauling cargo like a truck, and landing back on Earth like an airliner. They mastered this new machine from its dangerous first test flights to its greatest achievements: launching hundreds of satellites, building the International Space Station, and deploying the Hubble Space Telescope.
The New Guys depicts these charismatic young astronauts and the exuberant social and scientific progress of the space shuttle program against the efforts of NASA officials who struggled to meet America's military demands and commercial aspirations. When NASA was pressured to fly more often and at greater risk, lives were lost in the program's two biggest disasters: Challenger (1986) and Columbia (2003).
Caught in the crosshairs of this battle are the shuttle astronauts who gave their lives in those catastrophes, and who gave their lives' work pursuing a more equitable future in space for all humankind. Through it all they became friends, rivals, lovers, and ultimately, family.
Praise For The New Guys: The Historic Class of Astronauts That Broke Barriers and Changed the Face of Space Travel…
"Astronauts are the ultimate high achievers. This remarkable class of space men and women had to be—and do—even more than most. They had to change our very notion of what an astronaut looks like, our collective ideas about who gets to put on a flight suit. They brought us the groundbreaking achievement of Sally Ride, endured the heartbreaking tragedies of the Challenger and Columbia disasters, engineered the triumph of the Hubble Space Telescope and the International Space Station. As we embark on a new era of space travel, The New Guys rockets readers back into the not-so-distant past, telling the propulsive story of a brave and competitive community of explorers—men and women who changed space, and Earth, forever." — Liza Mundy, New York Times bestselling author of Code Girls
"The New Guys is a riveting page-turner that chronicles the first American astronauts to fly the space shuttle, including the first American women and people of color who broke barriers to journey to the stars. Meredith Bagby's thoroughly researched and finely crafted account captures the highs and lows of life as an astronaut—the grueling training, wild partying, cut-throat competition, and tragic losses of the Challenger and Columbia crews—all with spine-tingling thrills and genuine pathos." — Kyra Sedgwick, actor, director, and producer
"Exciting…An immersive narrative [and] propulsive ride." — Publishers Weekly
"An enthusiastic account of the NASA astronaut class of 1978…The author has done her homework, writing a gripping account of America's mature manned space program."  — Kirkus Reviews
"The New Guys will go a long way in telling the story of this historic astronaut class. I hope it will drive more kids to dream of becoming astronauts or of participating in the space program." — Major General Charles Bolden, Jr., Shuttle Astronaut and NASA's first African American Administrator
William Morrow, 9780063141971, 528pp.
Publication Date: February 7, 2023
About the Author
Meredith Bagby is a nonfiction writer as well as film and TV producer. Her previous books include: We've Got Issues, Rational Exuberance, and an ongoing series, The Annual Report of the USA. She produces with actress Kyra Sedgwick under the shingle, Big Swing Productions. Previously she was a senior film development executive at DreamWorks SKG. Bagby was a political reporter and producer for CNN and a teaching fellow at Harvard's Institute of Politics. Her education includes Columbia Law School and Harvard College.